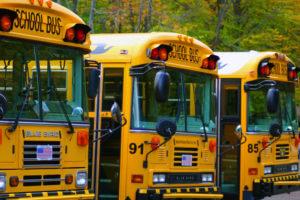 Is whiteness a commodity that can be allocated like money or social services? Maryland's wealthiest suburban counties are embarked on race-based school policies that will not end well. Busing is back in a big way in suburban Maryland.
In the 1960s, my father worked on desegregation plans in Tennessee and Mississippi as a civil rights attorney with the USDOJ Civil Rights Division. He said there was an implicit understanding among those who worked on these plans about a psychological "critical mass" in white communities. That meant that when a formerly all-white school reached or exceeded a certain percentage ("critical mass") of black students, "white flight" would ensue and the schools would rapidly re-segregate. As a matter of law, these plans had to be implemented no matter what because the segregation was de jure and there was no way to simultaneously mandate entire communities to exchange residences to achieve residential integration so the schools were always a principal focus. So "white flight" was widespread.
He also said that when the dust settled and the politics had worked their way, it was invariably only the poorer southern whites who got bused. The children of doctors and lawyers prepping for admission to Duke or Vanderbilt were never bused. The benefit to minority children from mingling with the least advantaged whites was always likely rather limited even if there was a big benefit from removing the stigma of forced segregation.
This pattern repeated in Boston in which it was judicially decided that black students had suffered academically and socially by not going to school with Irish kids in South Boston, a proposition that is difficult to defend if one has spent enough time (i.e., more than 30 minutes) in Southie to sample its intellectual ambiance. The ferocity of opposition among white parents in Boston equaled that in any Southern city.
In 2020, de jure segregation is long gone. Existing disparities in income and academics are far more likely to be the result of the Great Society and destructive ideologies than of the legacy of slavery and Jim Crow. To adopt a quasi-punitive posture toward white communities as if latent racism is the real cause is factually and morally wrong as well as counterproductive.
The current situation in the Maryland suburbs is also different in that there are no docks, factories or mines in the affected communities. The white population is almost uniformly white-collar and with incomes largely above the national average. There is no recognizable sacrificial white working-class element to use for busing fodder.
In Howard County, south of Baltimore, the plan is to select and bus entire neighborhoods to other elementary and middle schools to increase "diversity." The neighborhood-swapping idea is designed to undercut the complaint that busing severs ties between communities and the local public schools. In Montgomery County, one of the wealthy suburban counties around Washington, DC, upcounty families are in an uproar as a plan to funnel white students from Clarksburg to Seneca Valley is being imposed over loud opposition.
The other longer-range tactic apparently underway in Montgomery County is to build mega-high schools to reduce the number of high schools and to draw upon larger geographic areas to make "diversity" easier to achieve.
The enraging truth about "diversity"-fostering white liberals in power is that they do not really believe much less practice the anti-bourgeois, anti-private, anti-organic-community doctrines they publicly espouse and impose. Here is the truth:
Advantage derives not from skin color but from a family environment that fosters constructive behaviors and values. The achievement levels of so many Asian-American kids demonstrate that "whiteness" is not the key ingredient of academic and career success.
School communities in which functional families of higher educational attainment predominate will invariably lift expectations, skills, and habits broadly within the school community and the curriculum—if they are not prevented from promoting such values and expectations.
School communities in which the norm is broken families, low income, low expectations, and no broad familiarity with college preparation will establish a cognitive and behavioral environment that will not elevate students but likely limit their opportunities for formation.
The resource is healthy families with the effect of larger social promotion of positive behaviors, not "whiteness." The real resource must be preserved and fostered and must be the controlling ethos if its benefits are to be shared.
Housing policies that concentrate the disadvantaged necessarily result in dysfunctional local schools. The solution is to learn the eternal lessons of Pruitt-Igoe and never, never build large residential entities to concentrate and segregate downscale, program-dependent minorities. Once you do that, classroom proximity with upscale white kids will not undo the deformational influences of these dysfunctional communities built by government fiat.
White kids bused to become a minority population in a demonstrably inferior and more violent school far away from their home neighborhoods is a kind of collective sacrificial offering to social justice, the fate of those individuals and their families is not cognizable in paleo-liberal thinking. Oddly enough, whiteness carries the culpability for slavery but not for the disastrous injuries of the Great Society (crafted entirely by white policy gurus and politicians). Whiteness is simultaneously the mystical source of innate knowledge and behaviors that confer power and an intrinsic evil that must be constrained and punished.
To complete the harmful effect of cumulative bad policy and stupid ideology, the schools will not be permitted to rigorously insist on "white" norms of behavior and performance (presumptively racist and patriarchal), the same norms that county school officials almost certainly enforce in their own families. As a result of this ideological perversion, the "critical mass" required for adverse impact will be even smaller and the hope of any kind of curative environment for the most environmentally disadvantaged minority kids crushed out and some white kids' education and well-being sacrificed for naught.
But none of that will prevent some liberal politicians and bureaucrats from feeling good about themselves and, heck, how can you put a price tag on that?
Published in Education