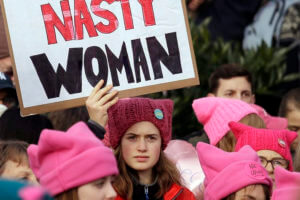 I grew up as one might imagine the youngest and only girl in a sports-oriented family would: a tomboy who had a never-ending supply of used boys' clothes, a competitive nature, and a healthy imagination. Role models (both of what to do, and what not to do) were in ample supply. My parents both worked full-time and gave my brothers and me the greatest childhood of which any kid would be jealous. We never had any idea of the financial struggles they dealt with as my father took a risk on starting his own business with no safety net but with a wife, young kids, and a mortgage to support. Although we grew up working-class and didn't have name-brand … anything, we had our parents' devotion, dedication, and support. We could do anything we could put our minds to. And I was told no differently because I was a girl.
Even though I was a girl, it wasn't an exclusionary part of my identity. It was a formative part of my personality (and why I lost all the backyard fights), but never brought up as a weakness. My being a girl – and woman – was never to be used as an excuse for cowardice or timidity or to be a crutch for self-pity. That mindset got me through college, the Marine Corps' Officer Candidate School, the Marines, and professional life. It's true there have been many challenges along the way and perhaps being a woman has made some aspects of the journey more difficult, but to have resolve and determination beat into my mind (more or less a consequence of those fistfights with my brothers) makes the challenge more worthy of pursuit.
The lure and deceit of modern feminism are that of indulging victimhood. Modern feminism has turned the idea that woman were capable of pursuing the things to which they were called and twisted it into a sort of egalitarian pipe dream: feminists offered promises of unreserved happiness to the women who rejected traditional gender roles out of spite for the so-called Patriarchal American society. If a woman did not feel fulfilled by delaying marriage and a family, it must be the construct of a sexist society in which all of a woman's needs can't be fulfilled by pursuing some "personal enlightenment" through a career.
The feminist movement took a disastrous turn when it shifted from a message acknowledging the inherent strength of women and our capacity to contribute to the diversity of ideas and skills in society, to a herd mentality dictated by a select progressive elite, chaining women to the anchor of a perpetual victim class. It was an open invitation to use gender as a way to avoid responsibility for poor life choices, to use it as an excuse to not pursue one's potential, and as a weapon to silence critics who happen to be of the opposite sex. Hillary Clinton mastered this technique. She has a complete deck of playing cards emblazoned with "Sexist" and the picture of 52 past and present Republican politicians. It's now on loan to Elizabeth Warren who played a bold hand during the Iowa debate Tuesday night.
While in college, I went to a political conference by Young Americans for Freedom. One day the young men and women were grouped into separate conference rooms. They did this to speak to the different viewpoints each group would encounter as conservatives out in the political world. Us gals were given a presentation by the Clare Boothe Luce Center. It wasn't a radical feminist screed on the evils of a patriarchal society. There were no fist-raising chants of "The future is Female." It was a primer on the contributions of the voices of conservatism's leading ladies. The lesson was to be strong about your convictions and your ideas. It resonated with me. It echoed the voice of my father who told me I could do anything I wanted because I was strong and determined. It echoed my mother who taught me that even though I was different than my brothers, I wasn't less than them.
How tragic it is for women who bought into the notion that to be equal is to be exactly the same. What message is being sent by the quota-warriors who insist on filling exactly 50 percent of boardroom chairs or congressional seats with women's … bottoms just to fulfill an arbitrary requirement? It means exactly the opposite of modern feminism's message: you are only valuable as your gender, not your ideas. This is where the mask comes off and modern feminism is exposed as a tool of the left. It stretches from behind the desk of Bill Clinton's Oval Office and extends to Michelle Obama criticizing women who voted for Donald Trump in 2016. She said this at The United States of Women summit: "What is going on in our heads where we let that (Trump win) happen. So I do wonder what are young girls dreaming about."
Young girls are dreaming about being champions of their ideas because they are good ideas; that their voices are heard and valued because of their content, not their gender; that they won't be a traitor to their sex because they don't hold the proper progressive ideas or choose to be stay-at-home mothers who raise kids and lay the foundation for a free and prosperous young generation of thinkers and doers and fighters.
In 2006, Sen. Kyrsten Sinema said, "These women who act like staying at home, leeching off their husbands or boyfriends, and just cashing the checks is some sort of feminism because they're choosing to live that life. That's bull[expletive]." My Grandma Joan, who was a real-life Rosie the Riveter during WWII but went back to being a mere housewife after the war would disagree. She would probably recommend Sen. Sinema take a short walk off a long pier.
Modern feminists have fought to drown out and silence any dissent within their ranks and maintain their power over women's issues by convincing women and girls they are born victims and, therefore, are entitled to special protections and privileges. We are doing irreparable damage to our young women when they hear the message that to be equal to men, women must be the same as men. We should be embracing and celebrating what makes men and women different and how each contributes to society, the community, and their families with their unique strengths.
It's wrong to condition women into lives of low expectations by convincing them they are judged solely on their gender. The tired, worn, suffocating old notions of feminists desperately need a new generation of victims. We need to deny them their source and empower young women by encouraging them to follow their hearts and minds because they are women, not despite it.
---
*Please make note I consider gender to be immutable. Thank you!
Published in Policing