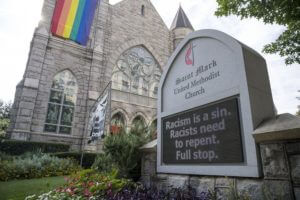 Many of you have heard of the proposal for a formal separation of the United Methodist Church into a conservative and a liberal church. On one hand, our bishops and bureaucracy are strongly liberal. But despite being a mainline church, American Methodism has a plurality of conservative, traditionalist members, and there's a strong evangelical current. Moreover, through our missionary work, we have grown strongly overseas, especially in Africa, and these members are overwhelmingly conservative. Last year, the number of conservative delegates grew to an outright majority and were able to pass the Traditional Plan, which re-enforced existing discipline for clergy violating rules against homosexual practice or performing same-sex marriages.
So, with the discipline clear and with a growing conservative majority, is all well for my side? It seems not. Acknowledging the liberal hold on the institutions and the episcopacy, a proposal has been put forward that anticipates the formation of a new traditional Methodist denomination and would allow individual congregations or whole conferences to vote to separate from the UMC and join the new church. There would be a $25 million payment to the new denomination. I haven't seen anything about the ownership of local church property, but I suspect congregations would keep those. The property fights that have characterized recent splits in other denominations have been blessedly absent in our discussions.
Mark Tooley of the Institute for Religion and Democracy expects that around 3.5 million in America will remain in the UMC, which will become a liberal church. Around 2.5 million Americans will leave for the new conservative Methodist church, along with nearly all 5.5 million foreign Methodists.
So what do I do? Though I'm a Tennessean, we live now in West Virginia, which has a high Methodist population, and we've been settled into a church for the whole 12 years we've lived in this city. The subject has rarely come up, either in the sermon or Sunday school, but I kind of think our members are probably fairly well divided among the two sides. Our new pastor has been bringing the topic up repeatedly in sermons (as well as the underlying moral issues that have prompted it), and it's clear he's on the liberal side.* There's a fair chance that this church may stay with the UMC.
There are lots of other Methodist churches in the area, and a few of them will probably go with the traditional side. However, when we moved here, we spent several weeks finding the right church. In several cases, the people were great, but the service was too modern for me. Projection screens, praise band, and so on. So what do I do if the churches with the theology I agree with all have cringe-inducing worship services, while the churches whose services draw me in spout politics and theology that pushes me away?
I'll note that I'm not looking for replies of "You should quit and join denomination X, instead." For now, I'm thinking I could transfer my membership to my old church back in Tennessee (evangelical and will go with the traditional denomination), so that I'll be a member of the new denomination, and then I'll keep going to our church here in town until and unless the politics drives me away.
---
*Incidentally, these are the only times I have ever heard homosexuality mentioned from a Methodist pulpit in my life, despite being in this denomination since I was born. Conservatives are not railing against it; it's the other side pushing for it.
Published in Religion & Philosophy