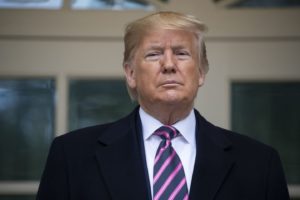 Democrats portray President Trump as an incompetent fool and an evil genius and a political ignoramus who doesn't understand Washington and a political powerhouse who must be impeached because he's unbeatable in an election. All at the same time. This seems odd. But not as odd as their apoplectic reaction to his election.
Hillary was not that popular, even among the Democrats that she had not cheated to get the nomination. Why were Democrats openly planning his impeachment even before he was inaugurated? He was a lifelong Democrat from New York City, for Pete's sake. Did they really expect him to govern as a conservative? So much of this has been beyond my grasp from the beginning.
Clarice Feldman attempts to explain this in a fascinating article on American Thinker called "Trump is Toto." Please read her well-thought-out article rather than my hurried summary, but she thinks Trump's approach to the Middle East is emblematic of what Democratic leadership understood about him from day one:
The actual problem that the left sees more clearly than the right is Trump's complex idiosyncrasies and style conceal a simple truth; declare the left's shibboleths so much bull$#!% masquerading as fairy dust and their mystique and, more importantly, their political advantage goes poof!
She uses Trump's recent approach to diplomacy with Iran to illustrate her point, comparing the way President Trump handled Iranian General Soleimani to the way President Carter handled the Iranians taking over our embassy and holding 52 hostages for 444 days in 1979 (Ms. Feldman's comments are in italics, with extensive quotes from a piece by Caroline Glick):
If President Jimmy Carter acknowledged that the "students" weren't students, but soldiers of Iran's dictator Ayatollah Khomeini, the US would be compelled to fight back. And Carter and his advisers didn't want to do that.

So rather than admit the truth, Carter accepted the absurd fiction spun by the regime that Khomeini was an innocent bystander who, try as he might, couldn't get a bunch of "students" in central Tehran to free the hostages.
Hoping that Iran would be satisfied, they left Khomeini alone.
Khomeini and his "Death to America" shouting followers got the message. They understood that Washington had given them a green light to attack Americans in moderate and, as Smith put it, "plausibly deniable" doses. it. For the next 40 years, Iran maintained its aggression against America. And from Ronald Reagan to Barack Obama, every president since Carter accepted and kept faith with Carter's decision not to hold the Iranian regime responsible for the acts of aggression and war it carried out against America through proxies.
Trump's decision to kill Soleimani along with Muhandis destroyed the Carter administration's Iran narrative.
By killing Soleimani, Trump made clear that the blank check for aggression the previous six presidents gave Tehran is now canceled. From now on, the regime will be held responsible for its actions. From now on US policy towards Iran will be based on reality and not on escapism.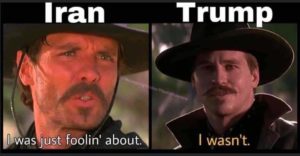 * End quote *
I view Donald Trump as our first independent president. He wasn't developed in the party system of either party, so he had no friends in the system, and no one knew or trusted him. I blamed his isolation and independence for Washington's rejection of him from the day he showed up.
But I think Ms. Feldman's theory makes more sense. So much of the Democrat message is based on baloney, and they know it. They say they can show strength in foreign policy by projecting weakness. They say we can tax our way into prosperity. They say that capital punishment is unconstitutional but abortion is a constitutionally protected civil right. They call Republicans childish and they worship Greta Thunburg. I could go on and on, and so could you.
The only way such nonsense can withstand scrutiny is by avoiding scrutiny. With academia and the media on their side, they face very little scrutiny.
But then Donald Trump shows up and simply disregards their policies as complete baloney.
Democrats: "But Mr. Trump, that's just not how things are done in Washington."
Trump: "I don't care."
This an existential threat to leftism in general, and the Democrat party in particular. And they know it.
Ms. Feldman quotes the article from Ms. Glick, in which she compares Donald Trump to Dorothy's dog in The Wizard of Oz. The dog destroyed the wizard, not with forceful debate or escalating violence – it just pulled back the curtain, and exposed the wizard as a fraud, whose only strength was deception. As Ms. Glick said,
Trump isn't Mussolini or Hitler. Neither is he Abe Lincoln or Daniel come to judgment. Donald Trump is Toto.
The Democrats may wish Trump was Hitler. But Toto is worse.
And they know it.
Published in General