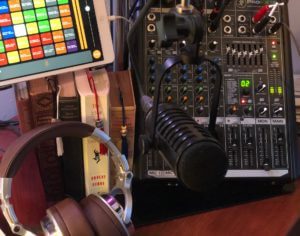 Then there was the time back in my radio days —1996, I believe — when my charming cohost, Sydney J. Michaels, volunteered her opinion that, "Dave, you have a face for radio." She was quick to add that I had the voice for it as well, which was very kind of her. And judging from recent listener trends (the number of downloads of "The Dave Carter Show" has increased nearly 1,000 percent in the last 60 days alone), it seems that a rapidly increasing number of you share Sydney's assessment about what you're hearing, which quite honestly leaves me happily shocked, humbled and grateful beyond words.
What's even more important, of course, is that I hear from you. Which is why I followed closely the responses to Blue Yeti's New Year's Eve post, "2019 Ricochet Focus Group," wherein he asked several questions of our members. One of those questions had to do with the podcast offerings at Ricochet, and your comments and suggestions were quite insightful and intriguing. A member who goes by the username, ToryWarWriter wrote:
I would like a podcast where we get a professional interviewer to interview members of Ricochet. I think that would be a great program. We got a lot of interesting people and I think it would people to get to know the membership better.
In response, Blue Yeti wondered if that might be something I would be interested in, which was good because I would have jumped at the chance in any event. Ricochet, after all, belongs to our Members and they are a fascinating and wonderfully engaging cross-section of America whose voices are worth listening to.
The ensuing discussions and planning that followed ToryWarWriter's suggestion have blossomed into what will be a regular segment on my show, and one which I'm eager to get rolling. Going forward, "The Dave Carter Show" will feature a Meet The Member segment during which it will be my pleasure to interview Ricochet Members about their perspectives, their posts and/or comments, their interests and a great deal more.
Ten years ago, when Ricochet launched, one of the most enjoyable yet surprising features of the thing was the sense of community that resulted in numerous "Meet Ups" springing up across the country. Since I basically lived on the road at that time, I was more than delighted to pop in on these gatherings and bask in the warm friendship and sparkling wit of Ricochet's members. Compared to you folks, the rest of the world seemed dumb as an oyster.
My hope is to enjoy that same warmth and fun spirit in my conversations with you on the podcast. But I'll need a little help here please. I'll be spending more time on the site, reading more of your posts and comments and looking for members to interview, but my time is necessarily limited. So I welcome — no no, I really really need your suggestions on members you would like to hear from. To that end, feel free to throw out some ideas in the comments below, or reach out to me via Ricochet's direct message service and let me know your thoughts and nominations, etc.
And if you're not a member? Why not get in on the fun? You can even make untoward remarks about whether or not my face is suitable for radio or podcasting. I have fairly thick skin after all, and I'm reminded of Howard Hughes' remark about Hollywood star Clark Gable, saying that, "Clark Gable's ears make him look like a taxicab with the doors open." I can be at least as graceful. So let the fun begin, and I'll look forward to talking with you soon.
Published in General