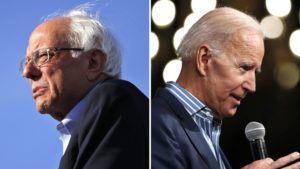 Imagine being a loyal Democrat voter today. Say, over 40 years old, fan of JFK, with kids, a job, and some financial responsibilities. The world must look awfully strange right now.
Just imagine. Global warming is proven by warm weather, cold weather, droughts, and flooding. Men are women, and women are men. Except when they're not. You have a right to other people's money, but not to your own. We can increase spending without increasing taxes. It's ok for Elizabeth Warren to call herself a Native American, but it's not ok for Candace Owens to call herself black. The Pope's a Unitarian. The president is a lifelong Democrat who lives like a Vegas celebrity and governs like a conservative. Jeffery Epstein killed himself. The two leading nominees for the presidential nomination of "the party of youth, women, and minorities" are Biden and Sanders, two white guys who are 77, look like they're 87, and sound like they're 97.
I could go on, but I suspect a significant number of Democrat voters across the fruited plain are publicly supporting their party but privately wondering, "What the [redacted] is going on around here?" Add in Trump's appeal to minorities, the booming economy, and the recent electoral disaster for the Socialists in the UK, and I'm beginning to understand why the Democrats keep trying to impeach Trump, despite lacking evidence of any crime.
Dems realize that some of their increased goofiness may cost them some of their traditional voters, and Trump is going to pick up some of the black vote. The good economy is a disaster for them. It's possible that they could lose big next year. And the sillier their impeachment efforts become, the worse I suspect their internal polling must look. Maybe they're not stupid or crazy. Maybe they're just desperate. And maybe there's a good reason for that.
I could be wrong about all this, of course. There may be no limit to the absurdities that Democrat voters will tolerate.
But what if there is?
I wonder what the Democrats' internal polling looks like. I think I know. But it's hard to say, I suppose.
But I wonder…
Published in General