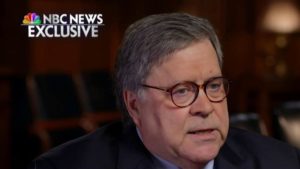 This is one of the interviews Bill Barr did that got so much criticism from the Dems and the liberal press. As for me, it has restored my faith in the justice system. No. That's still a bit too strong. Let me just say it makes me cautiously optimistic that Justice will ultimately be done.
Horowitz did a great job uncovering much of the corruption at the FBI. No. Let me rephrase that as well. Horowitz did a great job confirming and thoroughly documenting what a myriad of both professional and independent citizen journalists had previously uncovered by crowdsourcing and sharing their research in the Twitter community. But Horowitz left many of us terribly frustrated when he refused to connect the dots and identify bias as the source of the FBI malfeasance. Horowitz counted every tree but missed the fact that there was a forest there.
Bill Barr has made it clear that, while determining motivation may not have fallen within the purview of Mr. Horowitz, that sort of determination is solidly within the purview of Mr. Durham.
Barr also mentions the Intelligence Community several times in this interview, leading me to believe that the role the IC played in this charade, which was totally ignored by Horowitz, will finally be addressed when Durham completes his work sometime around the middle of next year.
It is obvious to me why the Democrats and the mainstream press have resorted to a desperate campaign of character assassination against both Durham and Barr, but it's too late for that. They can't stop what's coming.
Published in General