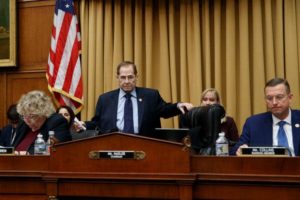 This morning we are graced with "news" that House Democrats will present two articles of impeachment to the full House. The two "charges" are probably the two most vague, unspecific, unconstitutional things they could manage to throw out without dropping the whole thing altogether, proving that at this point mostly about the 2020 election and doing as little damage to their brand as possible.
If they fail to add to these two, they will be left with "charges" that not only have nothing to do with law or the Constitution but are flaming examples of exactly what the Founders/Framers were trying to prevent. It would be hard to think of two that would better illustrate the "maladministration" suggestion rejected by Madison and the rest of the Constitutional Convention, including the man who originally suggested it.
This across-the-board coup attempt by media, Democrats, and Never Trumpers of both the open and closet varieties has moved from one hoped-for offense to another as each proved to be empty when exposed to sunlight and fresh air. Bribery, for instance, was such a buzz word only a few days ago but is nowhere to be found so far in these charges, much too specific and requires something that at least resembles evidence.
Monday's hearings proved to be just another Democrat embarrassment to any who bothered to look or listen beyond the selected network soundbites. I have truly been surprisingly proud of the fight and focus Republicans have shown during the House proceedings. I hope that their Senate brothers measure up. I do not have my expectations as high as I would like. But this nation deserves for the GOP Senators to step forward as clearly as the members of the GOP House have.
What are these "other high crimes and misdemeanors" which the Democrats have landed on?
Abuse of Power is not only vague beyond description but can be applied to almost any political opponent if one lets their imagination wander very far. In far, it is almost comical considering that this administration has followed what might well be considered the most constitutionally impeachment president we have had. There was hardly a day, and certainly not a week, that went by when BHO did not thumb his nose at either existing law or the Constitution with an executive order or open act. I believe it can be argued that this president has closely followed constitutional guidelines more faithfully than in any in quite some time.
Obstruction of Congress, not obstruction of justice mind you, refers to nothing more than a separate and equal branch of government exercising its rights. Never has a president been required to provide papers to Congress without either consent or a ruling of the courts. President Trump has done little more than claim that right. What these charges suggest are powers of an equal branch that Congress simply does not have. This alters if not destroys the very foundation of our system.
We will see if they can invent something else that they hope can pass the smell test for 2020 voters before any vote of the full House next week. But so far, they have only had to retreat more and more as this years-long coup attempt plays out.
Published in Politics