I told Mrs R that if she hadn't shredded all of our canceled checks and credit card statements, that I'd be able to use them to put dates on some family travels and photos. It would also help me complete a detailed timeline of family history.
The canceled checks are all gone, but a couple of weeks ago she found a stash of credit card statements from the late '80s that somehow hadn't been tossed. Those are some of the very years that I wish I remembered better. We had children at home, so those should have been the best years of our lives. Some events stand out, but too much of it went by in a blur.
Even better than the credit card info, she brought out a stash of family newsletters from those days. Doing the newsletter may have been my idea. If so, it was one I had heard about from elsewhere. But a sister picked it up and ran with it, editing several issues for our extended family over a five year period. Looking through the issues, I see that Mrs R and our kids were more faithful contributors than I was.
It was well underway before we voted on a name for it. "The Restroom Reader" won out in a runoff election after coming in no better than fifth in the first round. Other contenders included "The Tie That Binds" (winner of the first round), "The Compleat Blackmailer," "Black Sheet of the Family," "Apocalypse & Apothegm," "Not Necessarily News," and "Schichte der Geschicte." My brother claimed that it meant something like "slice of life."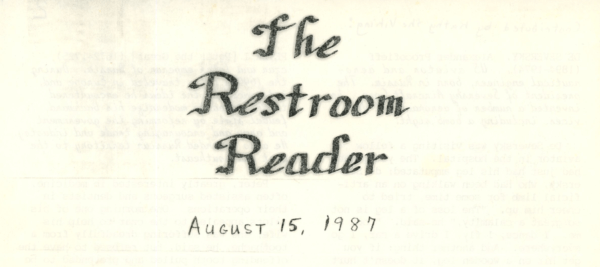 It is doubtful that a family would attempt such a newsletter these days, now that there is Facebook. But will Facebook allow us to bring back a compilation of old family stories after 30 years have passed? Maybe, but it's not optimized for that like the printed word on paper is.
The newsletter included lots of book reviews and various jokes and news items cut and pasted from elsewhere, but here are some news excerpts that can be shared outside the family. (Some of the names have been changed to codes, not to protect the innocent but to protect me.)
This one from the first issue was ghostwritten for M3:
It's lots of fun being sixteen months old. I love to play outside and watch the baby animals, especially the chicks. My specialty is rearranging and redecorating our house. All the contents of Daddy's desk drawers are more accessible if I put them in my toy box. I can't understand why Dad gets so upset. Makes good sense to me. The books from the bookshelf look much better in our new (but unused) toilet. I can't understand why everyone can't find their things under my new system. Don't leftover potatoes belong in the cupboard and my clothes in the cat's water dish?

The other day I came to my Mom with my best teasing expression with two eggs hidden behind my back. You should have seen the look on her face when I pulled out the eggs and waved them around. When she tried to take them away I waved them even more. Finally I helped her put them away and not one was broken.

I don't talk very much yet, but I understand most everything that's said to me. I just started to shake my head for yes and no.
In another issue, Mrs R wrote:
M3 and I started going to a Bible Class every Thursday. There M3 attends a special class that's structured like Sunday School. The first time he only smiled during cookie time. Now he readily climbs into the laps of the workers when he arrives and participates in the different activities. Cookie time remains his favorite activity. Once, during rest time, he noticed someone didn't have a pillow so he got up and gave that child his pillow. Hope he is that thoughtful when he grows up! [2019 note: He is still like that.]
And from one of the last issues, my sister, who came with us on a three-generation, two-vehicle trip to the Maritimes wrote:
At one point D2 decided he needed his hair cut. Since mothers somewhere along the line become less skilled at doing such things, D2 decided to do it himself. I volunteered and with some trepidation D2 let me begin. I should have known better. I finally said, "You should have let Grandpa do this. He's good at cutting hair. D2 quickly replied, "No way. I've heard how he cuts hair. Just look at my Dad! [2019 note: I probably didn't have a lot more hair then than now.]
Here's one I wrote:
On Prince Edward Island, M3 showed us that he had quite a knack for clam-digging. He wanted to take some of his clams back to the campground to show to Grandma, but D2 was appalled at the idea. He insisted they should be put back in the water so they wouldn't die. K1 said, "Dad, your son is turning into a Greenpeacer! Do something!"
From the same article:
Last June we had a "folk" service at church — much like those of 15-20 years ago. K1 and D2 didn't like it. It seemed too much like the 60s to them. K1 said, "It reminds me of a bunch of people sitting around a campfire and … and … wearing bellbottoms!
From a trip to the Black Hills with Grandma in 1985:
My favorite part of the trip was not in the Black Hills, but on the way there, in the hills west of Pierre, which inspired Mom to tell stories of her days on her Uncle Carl's ranch and horseback riding in the hills of North Dakota. During the whole trip K1 and D2 switched places every time we stopped, so as to take turns in the seat of honor next to Grandma.
K1 wrote about her high school French class trip to Paris, and my parents included travel news and some old-time reminiscences, including details I had forgotten. Mom included a cartoon version of the story of how we got separated while driving up the left coast of Newfoundland.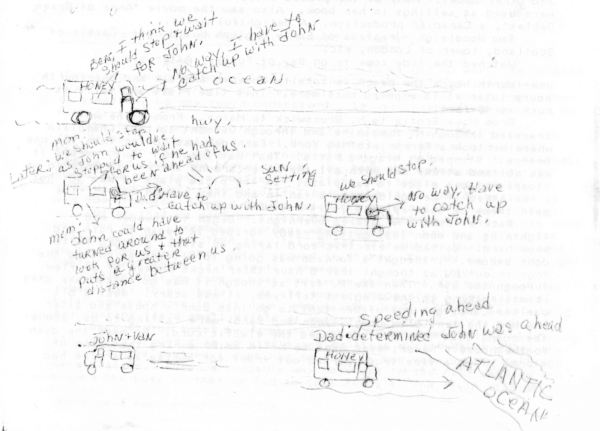 It's probably completely unreadable unless you click on it to make it larger. ("John" refers to me, btw.)
My siblings and their spouses contributed, too. One item was from my youngest sister:
Q. What is President Reagan's secret plan to raise taxes?
A. Lose to Mondale.
I wish we had 40 years worth of this stuff, but I'm glad for the few years when we did this newsletter. Now they don't seem like such an empty space in my memories.
Published in Group Writing