I used to ride motorcycles way back when (an expression which translates to "Damn, I'm old."). I started riding when I was 14, always on borrowed machines. I bought my first motorcycle for $200, a used Honda CB-160. I rode that thing for a couple of years, then sold it—for $200.
In college, I sold my car and bought two motorcycles—a Honda CB-450, and a Honda XL-125. I rode those for a couple of years until I started dating a gal who refused to ride (makes dating tough, but she had a car). Unfortunately, both bikes got stolen. I ended up buying a car, then broke up with the girlfriend.
After I joined the Navy and went through a year and a half of OCS, Nuke School, and Prototype, I bought a Honda CB-650. My roommate and I loved riding through the Connecticut countryside, although the frost heaves in the roads made us keep our speed down.
I was married (wife #1) when I bought my last motorcycle. In fact, she encouraged me to trade my 650 for a bigger bike. I ended up buying my first non-Honda, a Kawasaki 1000 shaft drive. I installed a Vetter fairing and the Samsonite Tribar luggage system and turned it into a sweet touring machine, one I would drive from Connecticut to Raleigh and back many, many times. Divorced the wife, kept the bike.
When I met my current (and in her words, "his final") wife, she wasn't all that keen on riding. I can't blame her—I don't like riding on the back of a motorcycle either. However, I continued to ride up to 1996, when I finally decided it was time to hang up my helmet. It's not that I was tired of riding, but the roads down here aren't well maintained, and other drivers seem to not give a [redacted] about motorcycles. Still, I could be talked into getting a new, small-displacement street/trail bike. But instead of the beautiful teardrop gas tanks from my youth, the gas tanks today look like someone holding up a fluorescent diaper.
In fact, if I could have any bike now, it would the classic Honda SL-350: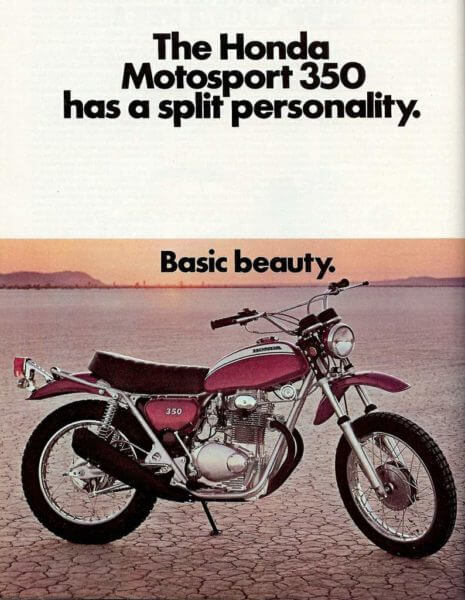 It wasn't the best off-road motorcycle, but IMHO the best looking.
I've ridden in beautiful weather, heavy downpours, even snow. However, it's probably safe to say my riding days are over. Damn, was it fun . . .
(Sorry, I think I used "I" more than Obama did in any of his speeches.)
Published in General