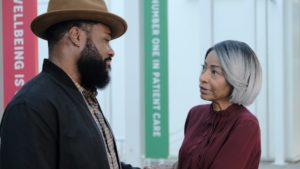 I don't watch TV. My wife enjoys it, so I try, sometimes. I'll sit with her on the couch to watch a program, but I rarely make it halfway through. Fifteen minutes in, I'm up wandering around, or reading something. I just can't do it. But sometimes I try, and I'm quickly reminded why I can't.
Last night, she was watching a program called "The Resident." It's an "ER" type of show, about young, beautiful, impulsive, passionate, beautiful doctors in training. I watched for at least five minutes. Maybe ten. But then there was an absolutely remarkable scene which reminded me that I had something important that I had to do somewhere. Forgive me if I get some of the back story wrong, but here is how I understand it:
Dr. AJ Austin is a black surgeon who discovers that he was adopted, and arranges to meet his birth parents. His mother, as it turns out, was also a physician. He meets his birth parents in a restaurant. The hipster Dr. Austin, of course, wears his hipster hat indoors, at the table, to demonstrate that he is a caring compassionate urban hipster, or possibly to point out to his mother that he has such horrific table manners that she probably should have raised him herself.
And before we get to the remarkable dialogue of this remarkable scene, let me remind you that this was written by liberals, for purpose of promoting liberalism. This was not produced by conservatives, for the purpose of making liberals look bad. Bear that in mind as you read this dialogue, as AJ Austin's parents try to explain to him why they gave him up for adoption while she was in school:
Mother: "Medical school was like a dream. Full ride, good grades."

AJ Austin: "I understand. You had priorities."

Mother: "No. No, not priorities."

Father: "She could have ended the pregnancy. Credit us that. We saw it through."
Holy Toledo.
First, it sounds like she is claiming to have no priorities whatsoever, but I think she meant to say that her career was not a more important priority than her child. Well, ok. We'll come back to that later.
But what really gets me about this scene is that the liberal authors of this liberal program are openly acknowledging that if his mother had had an abortion, that AJ Austin would never have lived. But she didn't have an abortion, so he's alive. So even those who support abortion acknowledge that it ends a life.
What a chilling admission.
Look at it from AJ Austin's point of view. Like many adopted kids, he wonders why his own mother abandoned him. It's only natural to wonder such things. Facing her son years later, the parents feel guilty about it, but instead of just saying, "I wanted you to have a better life than what I could provide for you at the time" or something like that, she instead says, "You should be happy that I didn't murder you."
Remember that this is not actually an off the cuff comment from a nervous person in a conversation. This was written by a team of professionals. This is exactly what they wanted to say.
What a way to make the mother look virtuous.
The conversation continues (and remember, she just got done telling her son that her career was not a higher priority than him):
Mother: "At 22, it wasn't just Lamar who wasn't ready. I didn't think I would be a good mother. I still don't know if I ever was. But I knew I would be a good doctor. A really good one. And it was a time when there were almost no doctors who looked like me. That mattered. I had a goal, a mission, something to prove, and I proved it."
Translation: I was forced to abandon my child by evil white racists.
Um, gee Mom, I'd never thought about it like that. That makes perfect sense. Thanks for explaining why certain social problems are more important than your children. Tell me, if global warming had been popular in those days, would you have murdered me to reduce your carbon footprint?
Look, I know that they have to come up with an hour of this stuff every week, and they may not have time to have this make sense. And I know that many of us make decisions in our youth, especially under difficult circumstances, that we later regret. That's not my point.
I'm just amazed what modern leftists consider to be positive character traits. They want to illustrate virtuous black people. And this is how they do it. They could have done it differently. The mother got pregnant young, gave her baby up for adoption, completed her education, and both she and her child had a good life, overall. Hey, tough situation. She did the best she could. Just explain that. She did the best she could, and things worked out well for everyone in the end. What a great story!
But no. It's not her fault. It's society's fault. Evil racist white men. They made her abandon her child, so she would have time to become a black female doctor, which evil racist white men hate. We're lucky that she didn't give into those evil racist white men and actually murder her child. That would not have been her fault, either, of course. Good for her! Way to stick it to the man!
It's better, I suppose, if you look at this TV program as an impressionistic painting. Appreciate the overall message, and ignore and the messy, squiggly lines. White men are evil racists. Microaggressions kill babies. Unless a mother shows such remarkable strength of character that she can overcome evil white male racists and give birth to the child she conceived and finish the medical degree that she started. As long as we can agree that white men are evil racists, it may be better if you don't pay close attention to the details here. Just eat your almond butter and avocado crackers, and absorb what we're feeding you here.
Goodness.
The rest of the show was probably equally horrifying, but I had something important I had to do somewhere…
Published in General