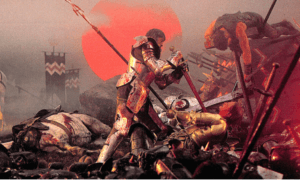 At the Battle of Camlann, King Arthur fought his bastard son, Mordred. In the end both were dead: Arthur pierced with Mordred's lance and Mordred by a thrust of Arthur's sword. Mordred was the spawn of incest between Arthur and his sister. In the telling of the Arthurian legend in the movie Excalibur, this liaison was a result of a spell, not unnatural lust on the part of Arthur. Even so, Arthur's punishment for incest is his own death at the hands of his bastard. At least that is what is prophesied. Arthur seeks to avoid this fate by banishing his baby son. But Mordred returns years later to foment rebellion and take Arthur's crown. The ensuing battle only ends in death at the hands of each other.
Keener minds than my own might fashion this into a metaphor of the American experience. A foundation of liberty, but not for all. A conflict inherent in the dynamic tension that exists between the power of the individual and the power of the collective. A complex modernity that relies on technocrats whose moral fiber is tested not to take advantage of and control the masses for the benefit of the elite.
Are we obliged to share the fate of Arthur and Mordred? Is there a way out?
Bill Maher is suggesting that there needs to be. His monologue on "Let it go" (hat tip, Ann Althouse) asks his progressive followers to accept that no one is going away. Maher says that if progressives think there is an opportunity for absolute and eternal victory, they are kidding themselves. Although his characterization of those who support Trump is crude, in fairness it is no cruder than the darker thoughts of those of us who feel Trump is being unfairly persecuted and our Constitution put under threat.
So be strategic about this short term conflict between now and November 2020. The progressives are not going anywhere regardless of the margin of victory that Trump might achieve. The battle is perpetual. Stay out of the reach of the lance or the sword.
Published in General