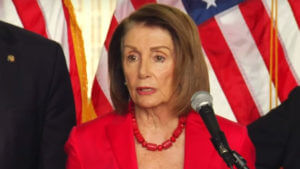 Reporter James Rosen of Sinclair Broadcast Group asked Nancy Pelosi a question at her weekly press briefing Thursday. A very reasonable question, I think anyone would agree.
He asked, "I wonder if you could explain to the American people why the legal rights of the whistleblower should prevail in this political setting over those of President Trump, who should ordinarily enjoy a right to confront his accuser?" His question is reasonable because Mr. Trump is an American citizen with constitutional rights that do not disappear when he is elected to political office.
Nancy Pelosi's response was remarkable: "Well, let me just say this, I will say to you, Mr. Republican Talking Points, what I said to the President of the United States. When you talk about the whistleblower, you're coming into my wheelhouse. I have more experience in intelligence than anybody in Congress." Holy Toledo.
First, he's asking about the Constitutional rights of the president. How is that "Republican Talking Points?" If the Constitution is a Republican talking point, then the Democrats are in deeper doo-doo than I thought. And I thought it was pretty deep already.
Second, this section of her response: "When you talk about the whistleblower, you're coming into my wheelhouse." Huh? What does she mean, exactly, by this? I'm not sure how to respond to that.
Third, and the most entertaining part, "I have more experience in intelligence than anybody in Congress." That just begs for some wonderful jokes – it's too bad that all the late-night talk show guys can't joke about Democrats. But it's also interesting. I think. Does this mean that her whistleblower wheelhouse has something to do with military intelligence? Or something? It seems she was offended that anyone would question her royal highness on such a mundane matter and sought to put him in his place. Or something.
Mrs. Pelosi is the Speaker of the House. One of the most powerful people in the United States government. And one has to wonder, is she ok? Hopefully, she was drunk; so bombed out of her gourd that she couldn't even speak coherently. I hope that's the explanation because the only other explanation is that this is just how her brain works these days. Or doesn't work.
Her response is also remarkable because of the completely predictable nature of the question. Surely she expected a question along these lines. It seems an obvious problem – surely someone will ask her about it at some point. How could she not have been prepared to address this most basic point? Or was this her prepared response?
Holy Toledo.
Mr. Trump speaks poorly, in my opinion, but he communicates extremely well. When I read one of his statements, I sometimes shake my head at his English, but I know exactly what he meant.
This is not the first time I've read a statement by Mrs. Pelosi, and I shake my head at her English, and I have no idea what she means to say.
Mr. Trump's statements are often simplistic and blunt. Mrs. Pelosi's are often muddled and incoherent.
I really wonder if she's ok. Lord help us if her mind works the way it appears to work.
Published in General