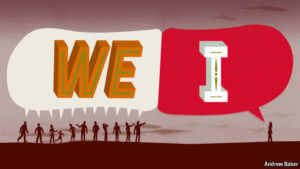 Institutions give us more meaning than rugged individualists would like to admit. When those institutions fail, people can have a crisis of meaning.
If you will forgive a personal example, I have recently come to the conclusion that Academy is utterly corrupt to the core and is now a hindrance to humanity rather than a boon. Like any sensible conservative, I was aware of the utter vanity and foolishness that took place on college campuses. But all human institutions are corrupt and academics have been a kooky lot since we built the first university somewhere in the Middle East.
Now I am growing more and more convinced the poison is slipping into the heart. It is probably necessary to dramatically cut funding and enrollment and start creating other means of education, accreditation, and I.Q./social class sorting.
In a similar fashion, the college newspaper has been equally disheartening. There is no expectation that they should talk to anyone who disagrees with the most current version of progressivism. Perhaps I'll write another essay later about the corruption of these institutions, but I wish to focus on individual meaning for the purposes of this essay.
I felt a loss of meaning when my institutions had failed me. Suddenly it didn't matter if I got an A on a test or if my article in the college newspaper got twenty likes. The class and the newspaper weren't worthwhile, so my contributions weren't worthwhile. It follows that my life itself had less meaning and purpose because the world around me had become much less meaningful and purposeful.
Now I don't have faith, so it's quite arguable that institutions have a bigger effect on me than they would on a man of faith. "3 Put not your trust in princes, nor in the son of man, in whom there is no help." Pslam 146:3. Alternatively, GrannyDude provides a fascinating counterexample (link) to my own experience. She is struggling with the Unitarian Universalist Church and its devotion to wokeness over inclusion and debate. However, she believes in the G-d and Jesus, so she seems better able to cope with the myriad of weaknesses that inhabit the children of Eve.
What seems to be true in the micro seems to be true in the macro. Robert Putnam, Charles Murray, and Tim P. Carney and many other brilliant and well-researched writers have been describing what happens to people when institutions fail. It's not great. We've all heard of the dysfunctions in the Rust Belt: the corporations move out, people stop going to Church, and the drugs move in creating a big increase in suicide, divorce and absent fathers.
In an interview with Andrew Heaton, Tim P. Carney mentions that when institutions fail, people become isolated and they lack hope and purpose. After all, Alexis de Tocqueville believed that American exceptionalism was based on our ability to create dynamic social groups that can fix our own local problems. We don't need some Duke or Viscount of the whatever to do things for us. We could do things for ourselves.
When people aren't plugged into larger institutions, they find it harder to get jobs, take care of their kids and their mental and physical health are more likely to decline. I recommend listening to the whole interview with Tim P. Carney,
He has this nice line that the best way to feel less alienated is to belong to an organization that is about something you are interested in and that has a higher goal than the individuals in it. It is this higher goal that gives meaning to people, Newspapers provide jobs and income to otherwise unemployable people. But more than that, when a Newspaper serves the higher purpose of pursuing the news, it gives the reporter a sense of meaning. Parallel to the macro is the micro example of Ravi Zacharias who describes his suicide as emerging from a lack of meaning.
India is a culture of academic excellence. If you're not doing well there you're in trouble, and it's also a culture of shame when you're not succeeding academically. So, I did the horrific thing. Till this day embarrassing me because I don't like talking about it… I attempted suicide when I was 17 and it was not out of any neurological disorder, it was not any biochemical thing. It was the fact that I just didn't have meaning, there was no purpose in life for me,
Now the choice to attempt suicide was done by the individual Ravi Zacharias and the responsibility falls on Ravi Zacharias. However, were I a doctor at the young Zacharias's hospital bed and I asked him if he had strong connections to other meaningful institutions, I'm pretty sure he would have said no.
In conclusion, institutions matter intensely to people. They literally get sick if they aren't connected to institutions. The core of the classically liberal conception of human rights is rooted in the dignity of the individual. And that's how it should be when it comes to law and government. However, when it comes to civil society, a culture of individuals is a miserable place.
Published in General