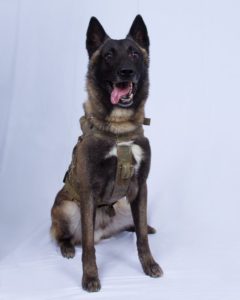 Meet Conan. He's the amazing dog that led Delta Forces A- Squadron into the tunnel pursuing Abu Bakr al-Baghdadi. He's recovering from his injuries and is one of many courageous dogs who are serving with our armed forces. The military holds these dogs in high esteem:
The multipurpose canines, usually German shepherds or Belgian Malinois, are capable of a variety of tasks, including attacking the enemy and bomb-sniffing. They are often the first into the breach in a fight, giving them special significance among the special operations forces with which they operate.

The Belgian Malinois has become so highly regarded that there is a Special Operations Force Dog Memorial in Fayetteville, North Carolina.
'The dog holds one rank higher than who's handling them because that's how valued they are as a team member,' Deborah Scranton, a filmmaker who directed the documentary War Dog: A Soldier's Best Friend, told the Washington Examiner.

Traditionally, the dogs hold the rank of a non-commissioned officer. They outrank their handlers as a way to prevent mistreatment, according to the U.S. Army.

'That's out of respect,' Army Sgt. 1st Class Regina Johnson, operations superintendent at the Military Working Dog School, told Linda Crippen of the Army's Training and Doctrine Command.

'I see it all the time, especially in these young handlers. They make the mistake of thinking they're actually in charge. You've got to tell them, 'Hold up. That dog has trained 100 students. That dog is trying to tell you something.' I think the tradition grew out of a few handlers recognizing the dog as their partner.'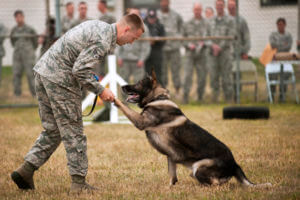 Dogs are not immune to the same traumas that humans experience after the demands of war:
War dogs experience severe emotional trauma during deployment, and for some it becomes too much. Gunner, a Marine bomb sniffing dog became so skittish and unpredictable during active duty that he was declared "surplus" by the military and released from service. Gunner was adopted by the family of Corporal Jason Dunham who was killed near the Syrian border in 2004. He and the Dunhams are working on healing together.
And when a dog is killed, a special ceremony is held for him, and this poem, Guardians of the Night, is read:
Trust in me my friend for I am
your comrade. I will protect you
with my last breath When all
others have left you And the
loneliness of the night closes
in, I will be at your side.
Together we will conquer all
obstacles, And search out
those who might wish harm to
others. All I ask of you is
compassion, The caring touch
of your hands. It is for you that I
will unselfishly give my life And
spend my nights unrested.
Although our days together
May be marked by the passing
of the seasons Know that each
day at your side is my reward.
My days are measured by The
coming and going of your
footsteps. I anticipate them at
every opening of the door. You
are the voice of caring when I
am ill. The voice of authority
when I've done wrong.
Do not chastise me unduly For
I am your right arm, The sword
at your side. I attempt to do
only what you bid of me. I seek
only to please you and remain
in your favor.
Together you and I shall
experience A bond only others
like us will understand When
outsiders see us together Their
envy will be measured by their
disdain.
I will quietly listen to you And
pass no judgment, Nor will your
spoken words be repeated I will
remain ever silent, Ever vigilant,
ever loyal. And when our time
together is done And you move
on in the world Remember me
with kind thoughts and tales,
For a time we were unbeatable,
Nothing passed among us
undetected.
If we should meet again on
another street I will gladly take
up your fight, I am a Police
Working Dog and together We
are guardians of the night.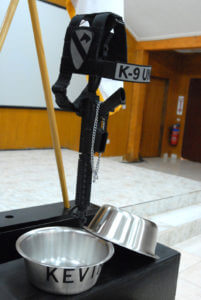 Published in Military