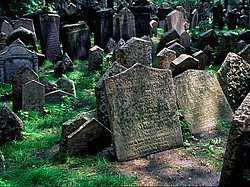 In the last few years, I've written about American Jews and their future, especially regarding their allegiance to the Democrat or Republican parties; recently, the numbers haven't changed much. Most non-traditional Jews (about 70 percent) identify as Democrats and the remainder of Jews, mostly Orthodox, support Republicans.
Rather than look at party affiliation, however, I've become increasingly concerned with the growing emergence of the radical Left and the Jewish affiliation with them. In addition, the efforts to make Judaism more "palatable" to Jews who are not Orthodox is slowly tearing at the fabric of the Jewish faith. Ultimately, my concern is that the existence of the faith could be in jeopardy on two fronts: the growth of anti-Semitism, and the disinterest in continuing the Jewish faith in a form that resembles its roots.
The first front, anti-Semitism, has been of growing concern. The main source for data is the Anti-Defamation League, which has become strongly influenced by the Left. In 2017 the League reported an increase in anti-Semitism of 57 percent, ranging from anti-Semitic tweets to bomb threats sent to Jewish institutions. Our federal government also collects information on anti-Semitism here. At the federal government level, we have also seen a reluctance to hold members of Congress accountable for anti-Semitic rhetoric.
Although these data are cause for concern, I think that the Jewish community is at even greater risk for discounting anti-Semitic attacks, and I think those responsible may in part be the Progressive Jews themselves; they either keep silent or ally themselves with Progressivism.
In many ways, Progressivism is a secular religion. Here is one source's definition of religion and secularism:
. . . in the social sciences, when trying to describe religious life, we refer to the 3-Bs: belief, behavior, and belonging. Religion generally involves one, two, or all three aspects, to varying degrees, and depending on the religious tradition or culture at hand. By belief, we mean belief in supernatural beings or entities, such as God or gods, spirits, angels, demons, jinn, etc. as well as non-empirically verifiable realms, such as heaven, hell, etc. As for behavior, we mean things like ritual performance, prayer, holiday celebrations, fasts, feasts, confession, bat mitzvahs – the myriad things people do in relation to religious beliefs. And by belonging, we simply mean identification with or membership in a religious community, tradition, denomination, or congregation.

So to be secular means that 1) a person does not believe in supernatural beings, entities, or realms, 2) a person does not engage in religious behaviors, and 3) a person does not identify as religious and is not a member of a religious community.
A number of questions arise out of these definitions: (1) What does it mean for a Jew to be a secular Jew? (2) Can a secular Jew (who doesn't believe in G-d but in Progressivism) still be a Jew? (3) By whose standards? Finally, and the most serious question is, (4) What are the ramifications for a Progressive Jew, and to the Jewish community and faith, when Jews don't believe in the G-d of Judaism, but rather their own vague, mystical version of G-d, or no G-d at all?
In setting out to look at those who affiliate with Reform Judaism, the most liberal group in the Jewish faith, I wanted to better understand their beliefs. It's no surprise that the actual beliefs vary from Jew to Jew, but here is one set of ideas from a Reform Rabbi:
There is no catechism, and there are no required beliefs. Everyone is free to believe and profess whatever they have learned about and believe. In fact, I know of one Reform Rabbi who believes that Torah was revealed at Sinai. Some of his colleagues (myself included) may not agree with him, and may not even understand how he reconciles that belief with Reform Jewish philosophy, but that doesn't disqualify him as a Reform Rabbi. . . Many Reform Jews have a deep belief in a God that is not literal or theistic, but rather is more mystical or spiritual. Many believe that though the Torah was written by humans, there is still a deep, abiding and divine wisdom that is imparted through the teachings which separates Torah from other literature (bold sentence by me).
From his definition, I assume that Jews can believe in anything they wish; they can create their own understanding of God; the Torah was written by man, but it still offers wisdom. Could someone explain what the bolded sentence means?
Conservative Jews are substantially more observant than Reform, but the amount of practice, observance and community participation varies from family to family.
When we turn to the descriptions of Progressive Jews, secular Jews (which may include many Progressive Jews) and Reform Jews, a disturbing factor stands out: They have the religion of Progressivism: secular Jews have no belief in God; Reform Jews believe in their own manufactured belief in G-d; and Conservatives are a mixed bag. There is no traditional religious grounding to be had.
I do understand that many of these Jews across the spectrum may practice some Jewish rituals: holding a seder or lighting Chanukah candles and exchanging gifts. But most of these practices in most families are superficial and often don't include the deepest meaning of these occasions.
Why does all of this matter? I'm proposing that the less connection that Jews have to Judaism, the less commitment they will have to its survival; we have seen this occur in history, time after time. After over 2,000 years, Judaism might be changing into a kind of identity, like being a football player or a gourmet cook. The Progressive Jews in their many forms will have other priorities: creating an ideal world, fighting climate change, providing healthcare for everyone, and eliminating obstacles that are in their way; these causes will become their new idols. The only problem is that religion and religious beliefs will continue to be seen as roadblocks to the overall Progressive movement—by Jews and non-Jews alike. And the Jews will be more vulnerable than ever to anti-Semitic forces.
What will the Progressive and secular and even Reform Jews do then?
[For those who don't know me, I was raised with little background in Judaism but have always had a strong belief in G-d. I, like many non-Orthodox Jews, married a gentile. I call myself a returning Jew, and am grateful to all those who have helped me along the way. So I am part of the problem, as well as (hopefully) part of the solution.]
Published in Politics