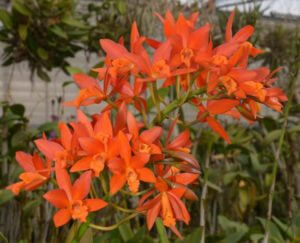 Did you know there's a beautiful orchid called Trick or Treat? There are several different types, but they mostly have one thing in common: they have the bright Halloween orange. And my first sight of one was at my uncle's home.
Uncle Al had raised orchids for many years. He had a greenhouse at his home in Massachusetts, but when he moved to Florida, he didn't require a greenhouse. By the time we followed my aunt and uncle to Florida, he had over 100 orchid plants. And I wanted to have some of my own.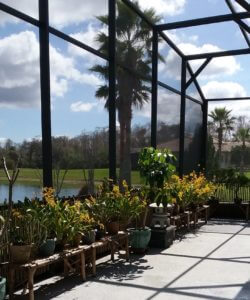 So my uncle became my orchid mentor. He gave me my first couple of plants, and then I went shopping on my own. I decided I would display mine on bamboo benches, which I discovered don't last forever, but are lovely to use. (We always have a few in reserve for replacement purposes.) Displayed in front of a bamboo lattice we attached to our screenhouse, the benches and blooms created an Asian retreat.
My uncle knew everything about orchids: the time of year they bloomed, how hearty they were, which ones liked sun and those that preferred shade; how to fertilize them, how to re-pot them, how to determine which ones needed watering and which ones didn't. He had so many plants that there were always blooming plants on his lanai.
Before he died, he was in an assisted living apartment. We made sure his plants were watered; fortunately, he had an automatic watering system for most of them. But we knew we couldn't take in all his orchids: he had them literally hanging from the roof of his lanai. I asked him about the possibility of notifying friends that we would be giving them away, and they could come on a specific day and take "x" number of plants. (We decided that we'd limit them to five since most of them weren't orchid growers.) Since I wasn't giving them away to just anyone, he liked that idea. So for three hours on just one day, we gave away his orchids. I took home about 15 of them. One person even wrote Uncle Al a thank-you note; he loved that gesture. He left this world a few months later.
Over time I've lost a few of the plants. He didn't realize that the plants he was treating for fungus were actually infected by an incurable, infectious virus; they showed their illness through dark spots on the leaves. I had an acquaintance who is an orchid expert and consults to Disney World if he would take a look at the plants; he was kind enough to do it free. That's when I learned the plants had an incurable virus, but could still live a very long time.
I've also learned that as long as the plants are able to drain, they aren't fussy about how much water they receive; they also retain a lot of water. At this point the lanai has lovely purple flowers; this is their time. Orchids bloom at different times of the year, and their blooming always reminds me of uncle Al.
I haven't added to my collection; they are like a family blessed by my uncle. I will care for them as a tribute to their beauty, and to my uncle whom I dearly loved.
Published in Culture