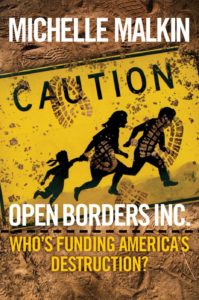 A year ago, frustrated with the media's pathetic coverage of the burgeoning, 7,000-member migrant caravan from Central America to the United States, I posted an intemperate tweet. Long deleted, I asserted that the Open Society Foundations – funded by currency trader, billionaire, and left-wing "philanthropist" George Soros – was behind the caravan.
The left-wing Twitter Mob's response was quick and ferocious. Reporters, including the New York Times' Ken Vogel and others from Bloomberg, CNN, and the Washington Post reached out to me. Despite the fact my Twitter account (with a whopping 2,200 followers at the time) was always personal and never affiliated with my employer, it didn't take much for The Mob to inundate my employer's senior executives with scores of emails and demands for my head, never mind the fact that I was already halfway out the door as part of a planned retirement.
CNN actually reported that I had been fired (completely false), and a few wags decided to edit a Wikipedia page about my service as Secretary of the Senate with lies about me. Nevermind that the social media mavens at the Open Society denied that they had anything to do with that caravan. Bloomberg wanted to chat about my social media posts on other issues, such as same-sex marriage. You know the motive.
I felt bad for the hassles my employer experienced, but it didn't take long for evidence to surface that I was mostly correct. And, now, Michelle Malkin has penned a terrific and well-documented book (one of many she's written) titled, Open Borders, Inc. I wish I had both her journalistic skills (I used to be a newspaper editor) and courage. I especially wish her book had been published when I had my confrontation with the Twitter Mob. I would not only have been well equipped to respond but easily proven the Open Society's blanket denial was a flat-out lie.
Of course, any criticism of the Soros empire is met with the usual response – a "far-right" and "anti-Semitic" attack on someone who is "fighting corruption" and for a more "open society," no matter that the Open Society Foundations are consistently rated as the most opaque in the nonprofit world. Michelle addresses that, again with documentation, in her book. Even Fox News banned (for a while) a Judicial Watch investigator who dared utter the name "Soros" in regards to the caravan issue. When you spend billions on your cause, money not only talks, it silences.
But, as a wise sage once said, a lie gets around the world before the truth gets its boots on. Well, with Michelle's latest book, but truth has its boots on and is on the march.
Michelle's book, especially chapter two, deeply documents the Soros World engagement in moving migrant populations and advancing migrant "rights" not just in the US, but in Europe as well, and even with acquiesce of our own government and your taxpayer dollars. She deeply documents the plethora of "nonprofit" organizations that advance a globalist agenda that includes open borders and destroying national sovereignty. It is an eye-opener and a must-read, whether through audio (such as Audible.com) or written form. She also outlines various Hollywood and corporate entities who are all too eager to get into the act.
She concludes with a nice prescription of things regular (normal) Americans can do to challenge this insidious effort, starting with some "what not to do" suggestions, like not subsidizing entities behind this. I was rather amazed at the role of the US Catholic Conference of Bishops behind this, along with Catholic Charities and others, but I shouldn't be surprised. It's a must-read, and a must-follow with respect to her sage and practical advice.
Published in Immigration