When one spends as much time as I do looking through historical documents, from time to time, unexpected and really quite amazing things turn up. A good example is a letter I found several weeks ago written by a ten-year-old boy to the governor of Mississippi in 1898. Before I can tell you about the letter, however, you need a little background on the events that led the boy to write his heartfelt missive.
On April 25, 1898, the US Congress approved President William McKinley's request for an armed intervention in Cuba, and declared war on the nation of Spain. In my home state of Mississippi, most citizens were in favor of the war, and Senator Edward C. Walthall introduced a joint resolution to Congress, asking for an American intervention to "save the people of Cuba from the cruel fate of annihilation by…the Spanish Government." (Mississippi and the Splendid Little War of 1898, Journal of Mississippi History, May 1964)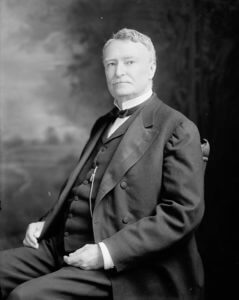 Mississippi Governor Anselm J. McLaurin was not so certain that the conflict was necessary. When asked by newspaper owner William Randolph Hearst for his views on the war he stated:
"If Spain is prosecuting a savage war upon a defenseless people and disregarding all the rules of warfare observed by civilized countries, and our government feels that it is our duty to stop such butchery at our doors, let it be so announced. But we should not take for a pretext for war an incident for which we can not declare upon evidence that Spain was responsible. To proceed upon such a pretext would encourage other disasters such as the destruction of the Maine." (Clarion – Ledger, February 18, 1898, page 5)
When war was officially declared, Governor McLaurin issued a proclamation in which he laid out what was being asked of Mississippi by the federal government:
"The Secretary of War, by direction of the President, has requested two regiments of infantry from the State of Mississippi as the quota of volunteers to serve for the period of two years unless sooner discharged." (Mississippi and the Spanish American War by Carter Gallagher)
The call for Mississippi to provide two infantry regiments for the war was met with great excitement, and young men flocked to Jackson as military companies from all over the state arrived in the capitol to answer the call. One eager Mississippian, however, decided to put his request to serve directly in front of Governor McLaurin. On March 12, 1898, the state's chief executive received the following letter in his morning mail:
Natchez, Miss.

Govenar McLaurin

I am a lad of ten years old, very active; I can skale a wall, I can climb a tree as well as a cat can. I love the sound of musick speshily of drumbs. I dont herd them only when the circus comes two town. I should like to be a drumer boy very much. I think that I should offr my services for my country.

Pleas gourbner

Burke Barton

(Correspondence of Governor A.J. McLaurin, Series 831, Box 1139, Mississippi Department of Archives and History)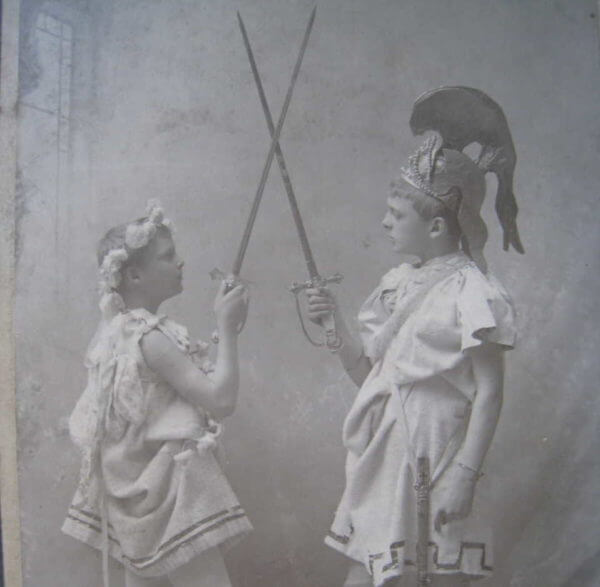 Fortunately, the state of Mississippi was not so desperate for soldiers that it would take a ten-year-old boy into the ranks. But I had to know more about this precocious child who wanted to serve his country, so I started doing some research. James Burke Barton was the son of Robert and Maude Barton of Natchez. On the 1900 U.S. Census, James was living with his parents, two brothers, one sister, and an aunt in the family home at 71 Homochitto Street in Natchez. (1900 U.S. Census, Natchez Ward 4, Page 17, ED 10)
Apparently young Burke could not get the military out of his mind, for the Natchez Democrat had the following article in the November 5, 1905, edition of the newspaper: "Burke Barton is attending the military school in Staunton, Virginia, and is taking high standing as a student."
The July 8, 1906 edition of the paper had this followup:
"Master Burke Barton has returned from Staunton, where he has been attending college. He has sustained the reputation of the Natchez boys, having received high honors. He will go to Washington – Lee University in the fall."
Burke Barton attended Washington and Lee for several years, but he did not graduate; by 1910 he was back in Natchez, and a September 25, 1910, article in the Natchez Democrat showed that both Burke and his brother David were members of Company C, State National Guard.The article noted that "From the military view, Natchez boasts of two of the very best companies in the state of Mississippi and at each of the annual encampments the boys succeed in making records for themselves which are highly gratifying to the citizens at large." (Natchez Democrat, September 25, 1910)
In 1914, conflict came once again to Europe with the start of World War 1. It must have rankled young Burke that the United States had not yet entered the conflict, but he was not one to be discouraged. The next year Burke and his brother David found a way to see the war in an up-close and personal way. The May 25, 1915, edition of the Natchez Democrat carried the headline "THREE NATCHEZ BOYS LEAVE FOR THE WAR ZONE," and the article explained that the brothers, along with friend Charles F. Wood "left Natchez Monday night and will embark on a ship conveying horses and mules to the warring nations. Filled with high spirits, they care nothing about their means of transportation it is simply a means of getting to their destination."
The local newspaper followed the trip of the three boys, and reported on May 30 in a bold headline, "ON BOARD MULE SHIPS BOUND FOR WAR ZONE; David C. Barton, of Natchez, sailed on the mule ship, 'Nortoman' for Liverpool, England, May 21. He is an assistant foreman. J. Burke Barton, also of Natchez sailed on the mule ship 'Baron Napier' on May 25 for England." (Natchez Democrat, May 30, 1915)
The boys had quite a trip, and in late June the Natchez newspaper reported: "NATCHEZ BOY ON SHIP CHASED BY GERMANS" the article went on to explain that:
"David Barton, one of the Natchez young men who went to England on a mule ship, arrived safely, although the ship he was on was chased by a German submarine. He writes that when the submarine appeared a British torpedo boat arrived on the scene and blew it up. He thinks that the trip has greatly benefited his health, and states that of the 777 mules on board only one died. J. Burke Barton, his brother, is also in England, having gone five days later on another mule ship." (Natchez Democrat, June 24, 1915)
Burke Barton eventually made his way back to the United States, and apparently his time spent overseas increased his longing for home. On October 6, 1915, his local newspaper published a poem he wrote entitled, "Mississippi, 'The State of the Blessed.' The poem goes on for many lines, and ended with this heartfelt message:
"Ah! the wind tells me quite plainly, as over the sea I roam, of the love I felt behind me, and that dearest spot – called home!" (Natchez Democrat, October 6, 1915)
Over the next two years as the war raged in Europe, I didn't find much documentation on the whereabouts of Burke Barton, but the young man was probably busy with family matters, as his father Robert was suffering from an extended illness. This sickness ended with the death of Robert Barton on May 3, 1917. His death left five children fatherless, and Burke being the second oldest, he probably had to step in and help his mother and younger siblings.
In addition to his responsibilities to his family, Burke also had to worry about being called to active duty with the National Guard, as the United States declared war on Germany on April 6, 1917. He did not have long to wait, however, as his unit, the Dixie Machine Gun Company of Natchez, part of the 2nd Mississippi Infantry, were mobilized in August and ordered to Jackson for additional training. When it was time to leave Natchez, Burke's company formed up at their armory and marched to the train depot and was:
"preceded by a large number of citizens marching in columns of fours, Confederate Veterans and the Sons of Columbus Band…The interval in which the members of the company were bidding farewell to their mothers and others near and dear to them brought home the realization of war to all who were present and the thought was uppermost that soon the young men would be in a far country, away from home and friends and facing war in all its terrible aspects." (Natchez Democrat, August 30, 1917)
After being federalized, Burke's unit, the Dixie Machine Gun Company, was made part of the 142nd Infantry Regiment, 39th Infantry Division, and sent to Alexandria, Louisiana, for additional training. A local newspaper in Alexandria made note of just how rigorous the training was for these men:
"The 142nd Machine Gun Battalion went on a ten mile hike yesterday morning. They made unusually good time and though they were pretty well tired out when they got back. They all learned some things which are going to be mighty valuable to them…The mules and machine gun carriages make a pretty sight as they lined up on the road and their efficiency is being demonstrated by the way they stand up under long tests. The gun carriages now in use and the harness came from France where they have seen actual service in fighting." (The Town Talk, Alexandria, Louisiana, March 23, 1918)
It's ironic that Burke Barton, who had spent years of his life training to fight for his country, in the end, got very little opportunity to do so. The young soldier was not sent overseas until August 1918, and once the 39th Infantry Division arrived in France, it was not sent to the front lines. Initially used as training cadre, eventually, most of the men were sent as replacements to combat units that had suffered heavy casualties in the Meuse – Argonne Offensive. (https://en.wikipedia.org/wiki/39th_Infantry_Division_(United_States)
In late October 1918, Burke Barton was transferred to a machine gun company in the 327th Infantry Regiment, 82nd Infantry Division. This unit was heavily engaged in the Meuse – Argonne, and Burke may very well have seen combat with the 327th, although without having a copy of his service record on hand it is impossible to say for sure. (World War 1 Statement of Service Card, James B. Barton, Mississippi Department of Archives and History; also https://www.327infantry.org/bastogne/327th-infantry-regiment-history/327th-infantry-history-world-war-i/)
World War 1 ended on November 11, 1918, but Burke Barton was assigned to occupation duty in Europe and did not return home until the summer of 1919. When word of his pending arrival reached Natchez, the good news soon found its way into print:
"Mrs. R.W. Barton has received news from her son, Mr. J. Burke Barton, from Camp Shelby, where he is awaiting his discharge. Mr. Barton arrived in the states from France on July 9. Mrs. Barton also received from the University of Marseilles a few days ago, certificates awarded her son on the completion of a special four and a half months' course there, where he specialized in the study of the French language. Mr. Barton is expected to arrive from Camp Shelby in a few days." (Natchez Democrat, July 23, 1919)
After returning home to Natchez, Burke became an engineer, but by 1930 he was living on Bourbon Street in New Orleans and was making his living as an agent of the U.S. Treasury Department. (1920 U.S. Census, Adams County, Mississippi, ED 10, Page 22A; 1930 U.S. Census, New Orleans, Louisiana, ED 82, page 17A.) At some point after 1930 Burke got married, had a child, and moved to Birmingham, Alabama. He was living in Birmingham when he passed away on December 9, 1947, just four days after his 58th birthday.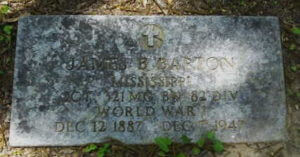 James Burke Barton's body was brought back to Natchez for burial in the city cemetery. His obituary noted:
"Mr. Barton was a veteran of the first World War. He is survived by his wife, Mrs. Helen Barton, and a daughter, Miss Helen Barton, both of Birmingham; one sister, Mrs. Alice B. Yerger, Jackson Miss.; two brothers, David C. Barton, New Orleans, and George Barton, Jackson." (Natchez Democrat, December 9, 1947)
Today, James Burke Barton is at rest in the Natchez City Cemetery, with a government stone that marks him as a veteran of World War 1. It does not note, however, that he was a would-be veteran of the Spanish-American War, a ten-year-old boy who loved his country so much that he offered his services as a drummer boy to the Governor of Mississippi.
Published in History