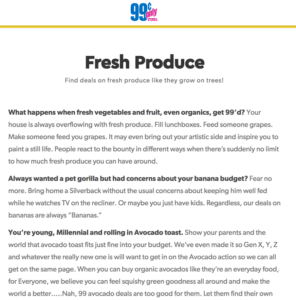 Who really is in touch with the poor, the Fort Worth mayor and city council or the 99 Cent Only CEO? The Fort Worth city council is moving down the tracks towards imposing limitations on low-cost stores, generally labeled "dollar stores." They are doing so for two stated reasons: blight and "food deserts." Any citizen can refute the second claim by a simple internet search. Any citizen living in the area could do the media and their own city council's job, by simply walking through a 99 Cents Only store with their phone camera rolling in video mode.*
The very deepest discount stores operate like every other business that is not in bed with the government. That is, they identify locations where they can sell enough goods to make a profit. By definition, a dollar store is operating on the very thinnest of margins, so they have to consistently offer the stuff people want. Happily, this results in at least one such business offering the very items we are perennially told are being denied to the poorest among us.
The Dollar Tree store chain fills smaller retail spaces in older strip mall retail properties. It is also more than just a place to grab some paper plates, napkins and plastic utensils for a party. Many of these stores include a frozen and refrigerated food section. The frozen section always stocks vegetables and fruit, in addition to frozen prepared foods. The grocery aisle always includes rice, beans, dried pasta, canned tomato products and more. In short, you can put together nutritious meals from that small store, which you can get in and out of much more quickly than a supermarket.
Each location showing on the map has frozen/refrigerated foods and accepts the government debit card that replaced food stamps. Of course, the selection is quite limited, but the invisible hand of actual cheapskates (like me) and those who barely make it through the month, often with government assistance in the form of food stamps (now "EBT"), has moved a competitor to answer the real demand for more groceries and fresh produce. I give you the 99 Cents Only stores:

Yes, that is in Fort Worth, Texas. Yes, there are more stores in the area. Everything is sold by the piece or cleanly packaged in plastic so you know what you are getting for 99 cents. The fresh produce generally needs to be used within a few days, but that fits the needs and habits of the shoppers. If you have to walk home or catch a bus, you are back to the old model, before supermarkets drove the small mom and pop grocers out of business. You likely buy for the next few days.
Look at the way this company approaches its customers on the internet. You are not marginal, you are not settling for this, you are a frugal bargain hunter who should be proud to be part of a community, the "99ers." Look at this pitch on fresh produce:
Fresh Produce

Find deals on fresh produce like they grow on trees!

What happens when fresh vegetables and fruit, even organics, get 99'd? Your house is always overflowing with fresh produce. Fill lunchboxes. Feed someone grapes. Make someone feed you grapes. It may even bring out your artistic side and inspire you to paint a still life. People react to the bounty in different ways when there's suddenly no limit to how much fresh produce you can have around.

Always wanted a pet gorilla but had concerns about your banana budget? Fear no more. Bring home a Silverback without the usual concerns about keeping him well fed while he watches TV on the recliner. Or maybe you just have kids. Regardless, our deals on bananas are always "Bananas."

You're young, Millennial and rolling in Avocado toast. Show your parents and the world that avocado toast fits just fine into your budget. We've even made it so Gen X, Y, Z and whatever the really new one is will want to get in on the Avocado action so we can all get on the same page. When you can buy organic avocados like they're an everyday food, for Everyone, we believe you can feel squishy green goodness all around and make the world a better…..Nah, 99 avocado deals are too good for them. Let them find their own thing!

You never know what's new and fresh that just came in but there's plenty to keep demanding 2 year-olds, 4 year-olds, 14 year-olds and even 44 year-olds who all like different things, happy.
Contrast this to every media report and every city council utterance. Note that the supposedly well-meaning public "servants" always come back to central planning, regulations, and a preference to answer the problem or "crisis" with government, government favored business, or politically allied non-profit groups.
So, a move to limit store locations and to dictate what they stock is moving forward in Fort Worth, one of the last supposedly conservative large metropolitan areas. That same Texas "conservative" crew apparently never managed to get past "studying" amending Fort Worth city ordinances so that small entrepreneurs could take a pushcart or small panel truck into neighborhoods, selling fresh produce like they were operating an ice cream truck. I linked the relevant current ordinance chapter, and invite you to consider the "farmers markets" section.
Consider the current local law. Consider the announced desire to restrict dollar stores as supposedly driving out other, preferred (because their brands are higher status) businesses. Perhaps, take a listen to the Mark Davis Show podcast on dollar store regulation today. Consider the soundbites. Then look at the text, images, and links above. Who really is in touch with the poor, the Fort Worth mayor and city council, or the 99 Cent Only CEO?
---
*A text-based visual tour of a grocery trip to a 99Cent store:
Grab a shopping cart outside.
Enter and turn hard right. (Of course, you should turn hard right!)
Walk along the front wall shelves, on your right shoulder. See the pasta sauces, all name brand. Now see all the shelves of dried pastas, from regular, to whole wheat, to spinach, to Omega-3 enriched. Rice: white, brown, parboiled. Dried beans of all sorts. Don't run into the side wall! You are looking at all the standard condiments.
Turn left. (Sorry but that is how geometry works.)
Look left: canned fruit, peanut butter, jelly, honey. Look right: vinegars, oils, salsa, Latin American food canned goods.
Move along towards the back wall.
Look left: baking goods from box mixes to all the raw ingredients. Coconut milk? Yup. Look right: canned vegetables and beans.
Keep looking right: Hamburger helper/rice/mac-and-cheese boxes. Canned meats (tuna, sardines, salmon, generic Spam, Vienna sausages), followed by an impressive array of spices, especially larger packages of peppers and other items you need for spicier foods. Don't run into the back wall!
Turn left. (Sorry but that is still how geometry works.)
Straight ahead are the fresh produce displays. You just passed the fresh bread shelves as you dashed to grab a bunch of bananas! Yes, there is fresh milk in the refrigerator case on the back wall.
Notice how efficient this is, how quickly you can grab what you need for healthy meals, without wandering the aisles. Yes, there are other aisles, oriented front-to-back, stocked with breakfast foods, coffee, tea, other beverages, snacks, and shelf-stable desserts.
As you head to the front to check out with a human being, perhaps you'll grab a fresh toothbrush, dental floss, and tube of toothpaste, with recognized brands all for … $0.99. Is your tube of Colgate really better if you pay $3 for it? Sure there is plastic junk in the store, and there are the sorts of cleaning supplies you need to keep your own place, or maybe the places you are paid to clean, clean.
Published in Domestic Policy