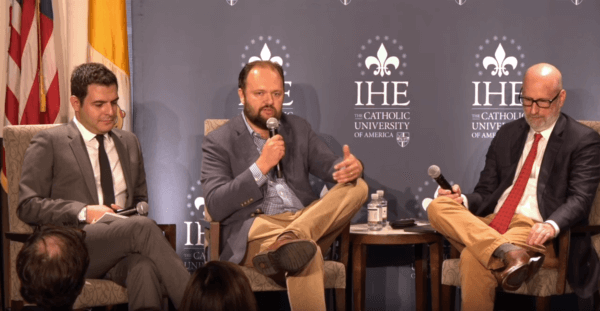 I thought I was taking a risk by ignoring the ongoing "debate" between Sohrab Ahmari and David French over the last few months. After watching their recent debate at Catholic University, I feel much better about my willful ignorance.
Warren Buffet often says the challenge with investing is to wait patiently for the right pitch to come, even when people in the stands are yelling,"swing, you idiot!" My sense is that French is the guy at bat and Ahmari is the guy in the stands yelling in exasperation. I guess the punditry would be like two sports commentators trying to tease out a game strategy based on that guy's outburst. It was difficult to identify two positions and I think that's because there weren't two different views, certainly not competing visions of the future of conservatism.
As bewildering as the debate was, I was able to notice a clear line of distinction about how they view Christian engagement in the public square, and the metaphor of ancient Rome was helpful in bringing that to light. Ahmari has this view that Christianity became a religion for the masses only after Constantine gave it the official sanction of the empire. (I'm intrigued about why he believes this because I find it completely wrong and backwards.) But on this view, he sees his mission as forestalling the Colosseum and its persecution of Christians. Interestingly, Ross Douthat asked at this point whether Ahmari wasn't just trying to protect its privileged status, defending Constantine. French, by contrast, sees the public square as neutral-to-hostile space in which Christians do their best to influence and change it in light of the implications of the gospel. This was the only clear disagreement I heard in the debate.
Mark Tooley, at Juicy Ecumenism, put it another way:
The divide between French and Ahmari is maybe not so much Protestant/Catholic as Thomist/Augustinian. The former school, focused on natural law and church authority, often has more confidence about building the semblance of a righteous society. The latter, more focused on humanity's fallen nature, is less trusting of church or state reliably sustaining virtue and true religion in society.
While I'm skeptical of Ahmari's historical view of the church's development I'm sympathetic to the argument that if you have the privileged status then you should use it. But, at best, it's just a means to an end. As Jesus said, His kingdom is not of this world. So, I think I side more with David and I think it's in keeping with the biblical examples we have in people like Joseph, Daniel, and the Apostle Paul. If Christians are supposed to win the culture wars, using state power as a means, then God has made a huge oversight in leaving that out of the New Testament.
This is an interesting topic of much needed debate and there is a lot to say on it. I'm reminded of Rod Dreher's recent book on The Benedict Option. I think this shows that we need to be aware that we are heading into a new era not unlike late antiquity in the Roman Empire. We find ourselves in a pagan culture with little awareness of Christianity (even hostility to it) and a variety of beliefs and practices around "spirituality." Hopefully more people become aware of the trend and work through how to navigate these challenging times.
Published in General