I just deleted the draft of a think piece on the abuse of climate change girl and using kids as political props because something way more important, to me, anyway, has happened. Our 13 1/2 year old dog died. It's not like we didn't see it coming a few months ago as he was experiencing some changes in behavior. I looked him straight in the eyes the morning of September 11 during my usual bout of tears every year on that morning and told him, "Don't do this today." He didn't listen, and did what he pleased, as was his usual way.
Our daughter wanted to adopt a puppy from a local shelter with her $40 in birthday money she had received when she turned 8. She picked out the runt of a litter of 13 pups someone had abandoned at the shelter. We never knew his breed, just that he was like a shepherd, collie, husky, something. It didn't matter. He was perfect to her. She spent her $40 and we spent the rest, which as anyone with dogs knows, isn't chump change over 13+ years. We'd totally do it all again. Anyway, she named him Lucky, and that he was. He probably wouldn't have lived past 5 years old with anyone that couldn't have taken care of him the way he needed. Everyone would say we saved him, but in reality, he saved us. As dogs do.
He didn't have an exact birth date, but we counted back 6 weeks from the day we got him and celebrated him on New Year's Day. He was lovingly dressed in a Build A Bear basketball jersey until he grew too big. The kids used to walk Lucky and Jackson, our Bichon, every day and at the end, race them back to the house. One day Lucky got going so fast he ran one of my kids into a tree. (You can laugh at that; we did.) She didn't think to just let go of his leash. He would dig and make a den under the deck and laid there on cool days, even though he was an indoor dog. He ate my camellias, and dug up other plants, which aggravated me, but then we discovered he was catching moles and rats that decided to invade our back yard. If the front door was opened for any reason and he saw his chance, he would make a break for it and take off through the neighborhood and woods behind our house. One of the last times he did that we didn't go after him that second and he came right back. It was clearly no fun if we weren't chasing him.
He was with us when Jack died, who had been with us for 18 years. He was just around 2 or 3 then, but I'll never forget how he stood and stared at his little buddy and we all were just so touched by that. Then he gently stole the milk bone one of my kids put next to the dead pup to be buried with him. Then as we buried the dog, Lucky stepped in the hole like a drunk uncle at a family reunion. Probably looking for more treats. Who knows. He made us laugh. He was there when we moved across the country and gave my kids comfort at a time when they were pretty upset. We drove with him and our Golden, Jasper, in the back of our Honda Pilot. Excellent travel buddies. Until one night he refused to walk up a set of open stairs at a motel along the way and had to be carried up. He was 90 pounds but my husband obliged. He was probably thinking what the rest of the family was. I'm not going up there. I can't believe mom picked such a crappy place to spend the night.
We weren't sure how he would adjust to the desert, but after his first and only run out the front door in his new surroundings, he figured out it wasn't as great to be on the lam in 110 degrees. He was a dog of comfort. Five years ago when we first got back to Arizona he had major surgery. We were advised we could put him down then, as the surgery was not cheap, but the cost was well worth having more years with him as long as the surgery was successful and he wasn't suffering. It was a success, and he was still happy and loving and greeted everyone who came in the door even if we were only gone for an hour. But just like people, dogs slow down a bit. He still liked his walks right up until the end but didn't go as fast, or as far. He began to pace at night and barked at nothing, even at rest, and we knew he was losing his cognitive abilities. Then the night of September 11, he couldn't get up and that was that. He seemed as fine as he usually was during the day and it happened just in a matter of a couple of hours. When I tweeted about him going to the emergency vet and not coming home, then about how Jasper was mourning the loss, something amazing happened. Complete strangers began sharing the post and sharing their stories about how their own pets mourned the loss of another in the house. We had a Twitter doggie grief session that I didn't see coming. And that I very much appreciated.
The next day I got the Chewy subscription with his food and meds. Then an email from the vet saying he was due for his rabies shot. Then the realization I only had one bowl to fill in the morning. There will be a reminder every day that he is not with us anymore and I know I am not alone in those sad feelings. People who love pets bond over them. People I don't even know were sad for us, prayed for us, and sent me kind messages. I've kept those in mind as we struggle with the hole in our family. Lucky is not following me down the hall at night or laying by my bedside. He's not snoring or getting up at 2 am to stare me down in his restlessness to let me know he's there. He's not getting coffee with me in the morning and won't be enjoying the weather on the porch when it cools down. One of my daughters came into the room the other night, as she heard me crying, and asked if I wanted her to lay down by my bed and snore. Thank goodness for humor.
I know the grief will subside and I keep saying NO MORE DOGS. Our hearts can't take it! But, our hearts were filled up having known and loved him. We are better people for it. We are the Lucky ones.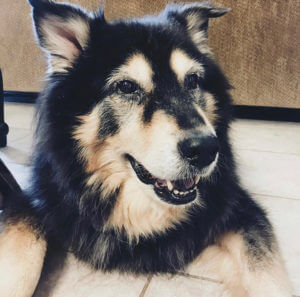 Published in General