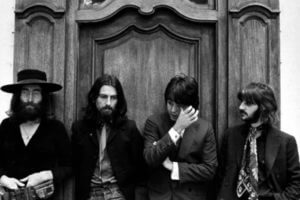 One of the most entertaining hypotheticals for Beatles' fans to discuss is what the Beatles would have sounded like or recorded if they had stayed together after the release of Let It Be.* In a sense, this is an even more fruitless counterfactual than another popular one: What songs would have been on The White Album if it hadn't been a double album (which I have already covered). Unlike the case of that what-if, the songs the Beatles would have done together were never released as Beatles songs. And to imagine the Beatles staying together after 1970 is to wish away the centrifugal forces that had by that point already largely torn the four musical titans at the band's center apart.**
But Beatles' fans such as myself speculate nonetheless, aided by morsels such as collaborations between members after the break-up (most notably in the almost-Beatles song "I'm the Greatest!"), and demos of songs that later became solo work but were conceived or sometimes even recorded while the Beatles were still together (e.g., much of George Harrison's first post-Beatle solo album, All Things Must Pass).
Recently, news has emerged that whets this speculative appetite even more. In a September 8 story in The Guardian, Beatles historian Mark Lewisohn revealed the contents of a heretofore undiscovered tape from almost exactly 50 years ago, in which the Beatles (sans an unwell Ringo Starr, for whom the recording was made) discussed their future plans. This despite the fact that, as Lewisohn points out, the Beatles had, at that time, already wrapped production on Abbey Road, which would be their last recorded album (though not the last released). And yet, on the tape, the three discuss plans to get a single ready for a Christmas release…to promote their next album! Learning this, I again returned to my own idle speculations, a cold comfort I create for myself in a world in which the Beatles did, in fact, break up. And so, in the Yesterday-esque spirit of Beatles hypotheticals, here is my attempt to imagine what the "next" Beatles album, which I have called Inward and Outward, would have looked like:
SIDE ONE – 22:07
Gimme Some Truth – 3:17 (Lennon)
All Things Must Pass – 3:04 (Harrison)
Let It Down – 3:55 (Harrison)
Back Seat of My Car – 4:30 (McCartney)
It Don't Come Easy – 3:04 (Starr)
Jealous Guy – 4:17 (Lennon)
SIDE TWO – 22:53
Another Day – 3:42 (McCartney)
What's the New Mary Jane – 6:12 (Lennon)
Hear Me Lord – 5:46 (Harrison)
Isn't it a Pity – 7:10 (Harrison)
This album is between 45 and 46 minutes long (depending on which version of some of the songs you use), about the same length as Abbey Road, and roughly standard for a vinyl LP at the time. All of the songs on here either began as intended Beatles projects, were created by one Beatle and shown to others while the band was still together, or were the product of collaboration between ex-Beatles; many of them ended up on later solo Beatles albums. But that is not the only reason I have chosen them, or put them in this order. To give myself an organizing principle, to give the album a "flow," and as a concession to the growing popularity of both concept albums and introspective folk-rock at the time, I decided to make this another loose concept album, following somewhat in the spirit of Sgt. Pepper's Lonely Hearts Club Band.
The theme of the album and the title, Inward and Outward (or Gimme Some Truth, if John Lennon's early-70s narcissism would have demanded the album be named after one of his songs on it), reflect the emotional journey of a single person. It begins with John Lennon—backed by Harrison on lead guitar, and friend of the Beatles Klaus Voorman on bass—asking someone to give him some truth, in a high-energy album opener typical of Beatles' albums (think "Drive My Car" opening Rubber Soul, and "Taxman" opening Revolver). "Gimme Some Truth," a song originating in sessions for the ultimately abandoned Get Back album, also comes with some of the political rancor of Lennon's public life at the time (the first of my album's accommodations to actual reality that might have kept the band together). Several answers follow, including George Harrison saying that "All Things Must Pass." This song gave the title to Harrison's aforementioned first solo album. But its form there was drastically different from the Beatles' demo version, which was performed stripped-down in a manner deliberately aping The Band. That version is better simply, but also better for this album.
Meanwhile, as the suggested answers continue, Harrison and Paul McCartney suggest love as an answer, with "Let It Down" (again, first demoed in the Beatles era in a far simpler, superior form than what appeared on All Things Must Pass), and "The Back Seat of my Car" (a candidate for inclusion on the ultimately abandoned Get Back album), respectively. The version of "Backseat of My Car" ultimately released on Ram heavily features McCartney's then-wife Linda; this is another concession influenced by contemporary reality, as I think if the Beatles would have remained together, they would have had to work out some kind of "settlement" concerning spousal involvement on songs (one of many points of tension for the band in its final years). Next, Ringo reminds our emotional protagonist that "It Don't Come Easy" (a song produced in collaboration with Harrison, who plays lead guitar on it). These answers, while unsatisfactory, bring our protagonist to realize that he's just a "Jealous Guy" (a song born in the White Album sessions as "Child of Nature"; not surprising, when you hear its "A Day in the Life"-esque piano), in a preliminary though not final realization. This ends Side 1.
Side 2 begins with "Another Day," as McCartney (again with Linda), in the same spirit as "Eleanor Rigby" and "She's Leaving Home," details the monotonous life of a female protagonist. (This song also began in sessions for the Let It Be album.) The next song, "What's the New Mary Jane," is an avant-garde composition (on which Yoko Ono, John's "Linda" at the time, for whom he likely would have demanded greater involvement if he were to stay in the band), in the spirit of "Revolution 9" (born, again, in the same White Album sessions as that song) that begins as almost a parody of "Another Day," intimating the narrow line between tedium in life and nihilism when one cannot find purpose. After the emotional anguish of this song, as represented by its concluding atonal clashing, the protagonist cries out "Hear Me Lord" (another Let It Be reject), in an exclamation of redemption comparable to "Love, Reign O'er Me," the song that ends The Who's Quadrophenia.
But side 2 and the album end with Harrison's "Isn't it a Pity." This song, (wrongly) rejected for inclusion on Let It Be, laments the frequent inability of people to connect with others outside of themselves, and to realize the damage they do to others—in a sense, it reflects both mankind's failure to do this, and the singer's own failure, as well as his desire to correct it. In both thematic content and structure, it is similar to "Hey Jude," with which it shares an extended fade-out (perfect for a classic Beatles album closer, though bizarrely it does not close All Things Must Pass) and a nearly identical runtime (7:10 vs. "Hey Jude's 7:11; surely not a coincidence). As the album begins with "Gimme Some Truth," it can be seen as a sort of cycle, connecting the world's people to each other one at a time.
Harrison's music dominates this album, and thus, to a considerable extent, his spirit does as well. This is more real history-based speculation affecting the album itself; I think that's what would have happened. If you look at the solo Beatles in terms of output immediately after the break-up, Harrison wins in both quality and quantity. Plus, in the hypothetical scenario in which the band stays together, surely Lennon and McCartney would have had to accommodate Harrison's growing talents, especially after they suppressed them for so long, and had finally begun to acknowledge them by the time of Abbey Road. The tape, in fact, alludes to this, as Paul says that "I thought until this album [Abbey Road] that George's songs weren't that good." To which George—rightly, in my view, but I'm a big fan of "It's All Too Much," "Within You Without You," and other Harrisongs—replies that "That's a matter of taste. All down the line, people have liked my songs."
Other real-world extrapolation that explains this album's structure could come from the fact that Lennon was in peak "political" mode at this time, and probably would have demanded both time to do this (thus meaning fewer songs), and that his included songs at least somewhat reflect his newly emphasized public persona, and the accommodations for wives, mentioned above. Also, with some exceptions ("Maybe I'm Amazed," for example), McCartney's immediate post-Beatles output wasn't that great. If anything, I am shafting Ringo here, who really came into his own in the early 70s for a bit.
If you're interested in this "album," I've created both a YouTube playlist and a Spotify playlist with these songs (with the versions closest to the form I'd want them in for the album) in the sequence I outlined here. Listen for yourself, and let me know if you think it holds together as an album. And if not, I would enjoy hearing what songs you think should be on this hypothetical album, or what some good single pairings would have been. I deliberately left out some seemingly obvious choices for the sake of making it more of an album, and not simply an early 70s greatest hits collection for the ex-Beatles. But some of those hits would have been great as the Christmas promotional single discussed on the tape. Imagine record-buyers in 1969 staring at a "My Sweet Lord"/"Maybe I'm Amazed" Double-A-Side! The possibilities are endless. And though reality sadly went differently, it's always fun to speculate.
*The answer, of course, is ELO, or, as John Lennon called them, Son of Beatles.
**And yes, that includes my birthday buddy Ringo Starr.
Published in Entertainment