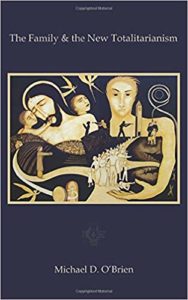 I just finished the book, The Family and the New Totalitarianism (2019) by Michael D. O'Brien. The book was originally published 24 years ago as a compilation of various articles and speeches by the author, as a writer, editor, and speaker. As a father of six, he and his friends' challenges were with the rapidly changing Canadian school system, as they began to incorporate more controversial teachings, such as the introduction of alternative lifestyles and sexual conduct to younger and younger children.
Political and social changes were influencing the content beyond the acceptable norms that most parents would consider appropriate, but they had little say over their children's education. When they met with school authorities, they were met with indifference, and in some cases, hostility. This forced the O'Briens, as well as some of their friends, into homeschooling.
O'Brien however, cites many interesting references that go back decades, predicting the morally bankrupt, irresponsible culture we find ourselves in today. For example:
The state and society as well as the individual still accept humanitarian principles as a "matter of faith". But where humanitarian principles are not involved, there is the same tendency to subordinate moral law and still more the higher truths of religious faith to social conformity and social convenience. Never the less, I do not think that even the secular humanitarian himself can regard the state of things as a satisfactory one. For the contemporary indifference to religion is accompanied by an indifference to many other things which are necessary to society. It is essentially a negative attitude which implies the absence of any deep moral conviction and of any effective social dynamics beyond the appeal to self-interest. It is a sort of spiritual vacuum, which can produce no cultural fruit whatever.

In this respect, it is inferior to Communism, which has a dynamic character, even though in the last resort, its dynamism is that desire for power which is embodied in the part dictatorships and the police state. And this is one of the greatest dangers that threaten the existence of Western culture, when the latter is identified with what we call "the democratic way of life". It produces a society which is spiritual neutral and passive, and consequently, it affords an easy prey for any strong, aggressive revolutionary power, like Communism.

— The Crisis of Western Education by Christopher Dawson, 1989.
Democratic socialism anyone? Further warnings from the past:
In other words, the human person will be increasingly perceived as a cell in a collective, needing not so much redemption by conversion, as re-education and rehabilitation. C.S. Lewis foresaw that programs of reform would be developed and managed by a new class which he called "The Conditioners". They will be highly motivated, and in fact, see themselves as the producers of motivation. They will become more and more dangerous, as they are armed with the powers of an omni-potent state and an irresistible scientific technique. [The control of addictive social media and the politics behind them – my quote]

Their primary point of focus will be the reconstruction of human conscience: "They know how to produce conscience and decide what kind of conscience they will produce." They themselves are outside, above, the dictates of the very conscience they produce, yet they consider themselves the "servants and guardians of humanity".

— The Abolition of Man by C.S. Lewis, 1955.

Aldous Huxley, in Brave New World Revisited (1958), said that the totalitarianism he had foreseen in 1931, was materializing in the Western world at a much faster rate than he had thought possible. He predicted a society in which the family, religion, language and art had been neutered and all conflicts eliminated by genetic engineering. He portrayed the perfect synthesis of technology and paganism, and predicted a society "painlessly regimented by a corps of highly trained social engineers".
I have so many pages of this small volume dog-eared, but it's many quotes eerily mirror our culture today. How did these past visionaries see this unfolding, when we, living in the midst of it, didn't see it coming, felt powerless to confront these changes, or failed to see the profound implications of the re-definition of every element of society, from language to education, to gender, to race to targeting specific people (Christians, Jews, conservatives, even the pre-born) to be intimidated, ostracized and silenced within society by any means? I found myself researching his many references, forefathers of wisdom who predicted the re-engineering of our current society, as well as sympathizing with O'Brien's personal experience as a frustrated parent and how he handled it.
This book is not just for parents, but anyone interested in looking through a broader lens of how we got here, and what we can do to take back control, and try to right the ship of freedom and democracy within our families, our country and in Western society as a whole.
Published in General