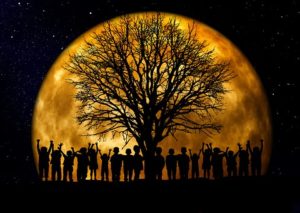 Some people are foolish enough to search for what they call joy just about anywhere: amusement parks, movie comedies, shopping at the mall. We go to places where thrills and laughter abound so we can not only forget our sorrows but have a fun time.
But what is joy, and why do we so desire it? Words like bliss, happiness, delight, pleasure, satisfaction all appear in the dictionary as synonyms. But in Judaism, joy, called simcha, has a specific meaning. Rabbi Jonathan Sacks in his book on Deuteronomy makes this distinction between happiness and joy:
There are fundamental differences between happiness and joy. Happiness is a calm feeling, joy an exuberant one. One can feel happiness alone, but joy in the Torah is always something shared with others…. Happiness depends on things going well, but one can experience joy even in the midst of adversity.
These distinctions between joy and happiness were new to me; yet, I often experience happiness when I am writing, or when I am reflecting on life's blessings, or reading a satisfying book. I experience joy when my husband and I are laughing at ourselves about our latest bouts of forgetfulness, reminders that we are equally imperfect and also love each other. Joy is present when I talk about ideas with others or discuss beautiful photos taken by gifted friends.
In a recent conversation, our friend @iwe shared his understanding of joy, reminding me of a time when joy was absent, and when it was present, as described in his book, The Torah Manifesto:
Lavan, the manipulative father-in-law of Jacob, protested when Jacob left without telling him, and said:

'Why did you flee away secretly and steal away from me; and did not tell me, that I might have sent you away with simcha, and with songs, with tambourines, and with harp.'
Lavan and Jacob had a strained relationship (to say the least), and Jacob had no interest in being gracious with Lavan, nor bringing him joy. Then @iwe explained,
And the second time the Torah uses the word simcha is when G-d tells Moshe,
'. . . Behold [Aaron] comes forth to meet you; and when he sees you, he will be samach (joyful) in his heart'
With Moses and Aaron, we finally see two brothers who not only are not interested in killing each other, but who love each other and experience great joy from their relationship. @iwe adds:
So here we have it. For people such as Lavan, it is a source of simcha, joy, when people separate. And for Jews, it is an occasion for simcha when people reunite.
Although many of us practice our religions primarily alone, there is richness in sharing our practice with others. When we go to synagogue together, when we study Torah with others, when we rejoice at Simhat Torah for the receiving of the Torah, we delight in the joy in these dynamic and loving encounters with others. And of course, we share our lives with others to experience the joy of simply being together. Celebrating together, laughing together, dancing together—in those moments we have the blessings of unmitigated joy. As @iwe says in his book,
The greatest joys in Judaism come from unification, of the coming together of dualisms. Just as holiness is achieved when the physical and the spiritual are joined, when heaven and earth are united, so too do we delight when people come together.
When you reflect on your own life, which situations bring you happiness? Which ones bring you joy?
Published in Religion & Philosophy