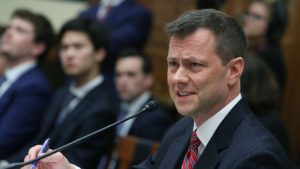 After finally recovering from the smirking, disrespectful and arrogant face of Peter Strzok, and approving of his subsequent firing by the Federal Bureau of Investigation, he's back.
He's decided to file a lawsuit against the FBI and Justice Department, stating that his firing was "politically motivated and in violation of two constitutional amendments." Especially amusing is that he seems conveniently confused about whose actions were politically motivated.
I guess, for starters, we're supposed to feel sorry for him. As the lawsuit says:
The campaign to publicly vilify Special Agent Strzok contributed to the FBI's ultimate decision to unlawfully terminate him, as well as to frequent incidents of public and online harassment and threats of violence to Strzok and his family that began when the texts were first disclosed to the media and continue to this day.
I suppose that some will say that the threats he made against Trump's presidency aren't relevant to this lawsuit. Except they are, as demonstrated in his messages to Lisa Page, with whom he was having an affair:
In an October text message, Strzok wrote to Page: 'I am riled up. Trump is a f***ing idiot, is unable to provide a coherent answer. I can't pull away. What the f**k happened to our country??!?!' [asterisks used to replace offensive words]

'[Trump's] not ever going to become president, right? Right?!' Page wrote Strzok in August 2016 to which he wrote back: 'No. No he's not. We'll stop it.'
The lawsuit claims that his right to free speech was violated, and that his right to due process was violated, since he was denied the right to appeal his firing.
Not surprisingly, Strzok and his attorney seemed to have ignored certain actions that Strzok took. These actions and behaviors violate the ethics of the FBI. Here are just a few examples:
Employees shall act impartially and not give preferential treatment to any private organization or individual. (Consider Strzok's actions on behalf of Hillary Clinton.)
Employees shall not use official authority or influence to interfere with or affect the result of an election. (How about planting a spy in the Trump campaign or submitting the FISA warrant?)
Employees shall not participate in political activities (to include wearing political buttons) while on duty; while wearing a uniform, badge or insignia of office; while in a government occupied office or building; or while using a government-owned or leased vehicle. (Think about the meetings that were held to plan the conspiracy story.)
In the DOJ's evidence collection about the Russian collusion hoax, I suspect they will discover that many people lied, including Strzok.
Since Peter Strzok has repeatedly demonstrated his own arrogance, sense of entitlement as an FBI officer and outrageous statements while being interviewed by the House committee, I'm not surprised that he thinks he can win this lawsuit. From one perspective, I hate that government money and time will be spent against his suit. On the other hand, I hope that he will be brought to his knees through a trial. As the DOJ ethics manual says:
In DOJ, political appointees, career SES, ALJs, explosives enforcement officers in the ATF, and employees of the Criminal Division, the FBI, and the National Security Division are further restricted with regard to political activities, and may NOT engage in many of these actions. These employees should seek specific guidance from their ethics official before engaging in any partisan political activity. 
His actions against Trump and his campaign can't be construed as anything other than political activity.
Many people are skeptical about any official action being taken against people who were involved with the Russian hoax. I think that not only will Strzok lose his lawsuit, but the justification for his firing will be presented at the trial. When you are in the FBI, you don't get special privileges in the political realm.
Announcement to Peter Strzok: No one is above the law. No one.
Published in Politics