When we are discussing the Iranians or others in the Middle East, I understand their dismissing the Holocaust as a real event. It goes with the territory, so-to-speak.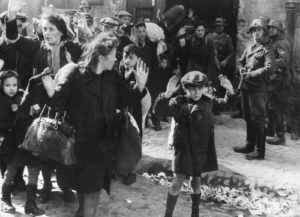 But when I heard that a Boca Raton, FL principal wrote in a 2018 email to a parent that "not everyone believes the Holocaust happened," my jaw dropped.
It appears that Laton Latson, principal at Spanish River High School, was determined to fulfill his understanding of "political correctness" to deal with the situation: the state has mandated since 1994 that the a Holocaust curriculum be taught, but Latson received pushback from some parents; a controversy about the teaching of the Holocaust curriculum at his school had developed. It looks like his idea of soft-pedaling the situation was by writing he needed to be "neutral" about the topic.
Mr. Latson has been moved from his position of principal to another position in the District, and at this writing, a petition to dismiss the principal was set up at change.org and had more than 6,000 signatures.
In addition, several organizations have offered providing additional education and training:
Several Jewish organizations are planning to offer additional Holocaust education to Spanish River and its teachers, including the Ruth & Norman Rales Jewish Family Services, which assists 400 Holocaust survivors in the Boca Raton area, said Danielle Hartman, chief executive officer.

'We are planning on reaching out to Principal Latson to offer a Holocaust sensitivity training for the faculty and administration and to ensure that the memory of the Holocaust is never forgotten and never minimized,' Hartman said.
More than 10,000 survivors are estimated to live in Palm Beach, Broward and Miami-Dade Counties, the second largest concentration in the United States after New York.
* * *
I'm surprised at my own reaction to this situation: I'm ambivalent about how it's being handled.
I think the man was foolish to write what he wrote, and should be counseled on how to address conflicts from students and parents regarding the teaching of the Holocaust; maybe he could even have been suspended for a period. But losing his job?
Is the Holocaust curriculum adequate and age-appropriate? Does it explain to teachers and students the reasons it is taught in the Florida schools?
I appreciate that organizations want to be sure that the curriculum is appropriate, but is Holocaust sensitivity training for the teachers and administrators necessary, because of Latson's bad judgment? (The Jewish organizations "offered" the training, didn't demand it.)
At a time when we keep seeing anti-Semitic activities everywhere, and with Boca Raton having a large Jewish community, I can understand why this situation caused such a stir. But how much of the curriculum should be spent on Holocaust education? Should parents be allowed to pull their children from class when the Holocaust is taught, for whatever reason? I also wonder if the District and local organizations' responses will be helpful to the school and community.
A description of the Florida curriculum is here .
What are your thoughts?
Published in Education