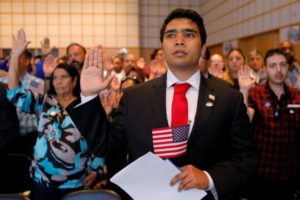 What is still the most desired — by far — destination for potential migrants from those developing countries? America. Which country had a hand in 72% of the Nobel science prizes since 2001? America. Which country has 18 of the 30 most valuable internet companies, as well as the top five? America. Which is the richest large nation on a per person basis? America.
Yet America is "just OK," says The New York Times in a transparent attempt at contrarian Independence Day clickbait. But compared to whom? Other rich nations, apparently. They have lower poverty rates, educate their kids better, and get more bang for their healthcare buck. Journalists Taige Jensen and Nayeema Raza conclude "the myth of America as the greatest nation on earth is at best outdated and at worst, wildly inaccurate." The United States has "more in common with 'developing countries' than we'd like to admit."
Now I haven't heard such America bashing since Donald Trump's 2016 presidential campaign or maybe last week's Democratic debates. But rather than pick apart or give added context to Jensen's and Raza's statistics (I'm not sure why an open, diverse, continent-spanning nation of more than 300 million should be compared to boutique countries such as Luxembourg, Switzerland, or the Nordics. And, for instance, the stuff about poverty rates is sloppy: conflating overall poverty with child poverty and ignoring very low consumption poverty rates. Too much dodgy data), I'd like to approach the issue from a different direction and perspective. Instead of viewing "great" as meaning "best in all categories and topping league tables in everything," think of it as meaning "exceptional" or "indispensable."
Or as economists Daron Acemoglu, James A. Robinson, and Thierry Verdier explain in their paper "Can't We All Be More Like Scandinavians?": We cannot all be like the Scandinavians, because Scandinavian capitalism depends in part on the knowledge spillovers created by the more cutthroat American capitalism … Some countries will opt for a type of cutthroat capitalism that generates greater inequality and more innovation and will become the technology leaders, while others will free-ride on the cutthroat incentives of the leaders and choose a more cuddly form of capitalism.
Sounds like America is still a pretty special place. And let's be honest: America is not only the straw that stirs the drink, it's what keeps this whole planetary mishigash working as well as it does. I'm reminded of the alternate history series "After America" where a mysterious energy wave disappears most of the USA. Almost immediately, as the book's description aptly puts it, "the forces of order and anarchy wage all-out war for postapocalyptic dominance." Not an unreasonable prediction.
But despite all of the above, I wish we'd act like America really is just "OK" and aspire to even greater things as the world's model of democratic capitalism done right. Properly valuing our many achievements doesn't mean resting on our laurels.
Published in General