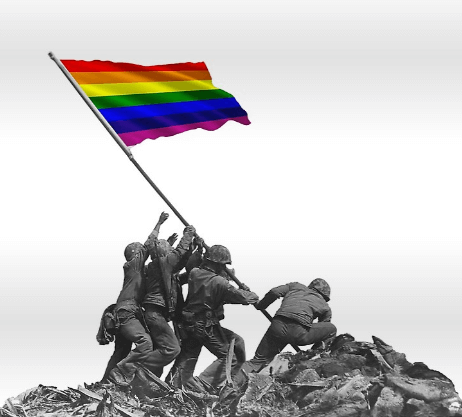 When your kids learn about George Washington at school, what facts might be of importance? It would be good to know that he was Commander of the Continental Army. That he was our first President. The fact that he was a slave owner would also be a pertinent piece of information. How much time would you want teachers to spend telling your children about George Washington's sex life?
While you might expect stoic people like George and Martha to stick to the missionary position, we have determined that to spice things up George liked to . . .
No. I do not think someone's sex life is relevant to their historical achievements. Well, the Governor of New Jersey disagrees with me and has signed into law mandatory LGBT (insert addition initials as needed) history to be taught in all public middle and high schools in the state.
School boards are trying to figure out how to accommodate this new requirement and a school board trustee in Hackensack, Frances Cogelja, commented in an email, "I find it repugnant that someone's sexual preferences have anything to do with their contributions or achievements in society." Her point was if something is historically significant then it should be taught regardless of the person's sexuality and, if it is not historically significant then we shouldn't waste time on it because of sexuality.
With the LGBTQ community representing the states largest bullying group, you can imagine the uproar this comment caused. NJ's two senators, Menendez and Booker, came out against this school board trustee and others like the group Garden State Equality have called for resignation (makes you wonder why we still have local school boards rather than just one Federal overseer, but I digress).
Years ago people pushed for more Black History to be taught because some important African-Americans were left out of the old history books. But is that true today of the LGBT community? Education is one of the most left-leaning fields and I think it would be hard to claim that current history books are not gay enough.
So what will LGBTQ history classes be? There are three different categories I would expect to see:
1.) People who have made significant contributions to society and are already being taught about in schools today. Like my George Washington example above, they will continue to teach about what the person did, then add factual information about their sex live.

2.) People who did not do anything historically significant, but were gay. Each year thousands of Americans are elected to city and state government offices. Not a big deal. Now we will hear, "Yeah, but this guy is outwardly gay." Still not a big deal. We are forced to pretend that someone doing something ordinary is extraordinary because of their sex life. Harvey Milk is "important", why? Because of his desire for teenage boys? Because he ran cover for Jim Jones' cult? No, because he was gay.

3.) The last category is the most disturbing. This is where historically significant individuals will magically become gay with little or no evidence. Speculation will be enough. James Buchanan was never married, so he is gay. There is no historical evidence to suggest he was gay, or straight for that matter, but . . . Considering his record as president, I doubt either gays or straights are going out of their way to claim him. Lincoln succeeded Buchanan as president and, although he had a wife, he was once so poor he had to share a bed with a male roommate. Does that mean he had sex with the guy? No, but people who are into that type of thing will indeed create their own fantasies and teach them to school kids.
In short, teaching history based on feelings over facts really is repugnant. I guess I should resign . . . except I don't really do anything to resign from.
Published in General