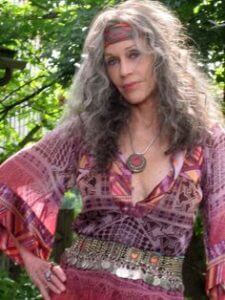 I practice concierge medicine in Hilton Head. As you might imagine in an upscale retirement community like this, my patients tend to be older (average age is around 75) and fairly affluent. I'm starting to notice an existential crisis that many of my patients share. I doubt that many of these people were actually hippies in the '60s, but with peer pressure and societal trends, they've grown to admire and adopt the "flower child" persona of the '60s. But every movement needs a bad guy, and for the flower children, the bad guys were old people and rich people. "Never trust anyone over 30," and "eat the rich" are really cool ideologies to poor college kids, but it grows harder to keep the faith when you've become both old and rich. And white, heaven forfend… So my 75-year-old flower-child wannabes with Obama stickers on their Beamers face an existential crisis, which can lead to odd behavior.
Bernie Sanders has started a trend among aging baby boomers who feel the need to polish their left-wing hippie bona fides. I have had several of my leftist sympathizing patients in their 70's vacation in Russia recently. Don't get me wrong – other people vacation in Russia too – I'd like to go. But the flower child wannabes are flocking to Russia (…and Cuba, although strangely, not Venezuela…), and professing to have life-affirming experiences, rather than just fun vacations. Strangely, despite their incredible, beautiful experiences, learning what an incredible, beautiful place Russia is, they always come back. And they come back eager to talk about it. Our conversations are often a bit strange, as they try to make the following points, either indirectly, or more commonly, explicitly:
There's nothing odd about vacationing in Russia. Those evil, stupid Republicans were attacking Bernie Sanders for simply going on his honeymoon! What's the big deal?
We are just as hip, radical, and cool as Bernie. You gonna attack us? Huh?
Evil, stupid Republicans say that socialism is so bad, but Russia looked like a nice place to us!
The Russian people are very nice. We don't hate them. It's evil and stupid that the evil, stupid Republicans hate them.
World peace is attainable if nice, enlightened, cosmopolitan people reach out to traditional enemies. Nice, enlightened, cosmopolitan people like us, for example.
This trip was not simply old, rich, white people spending an embarrassing amount of money to amuse themselves and drink wine on a cruise ship. No, this was idealistic flower children sacrificing their money and time to save the world.
We conservatives are fortunate that virtue signaling is less important to our sense of self-worth. But it was depressing to me, listening to my third or fourth such conversation, wondering where I would go if I wanted to signal my belief in limited government, personal liberty, and a nation of laws rather than of men. Where would I go? England? Of course not. Singapore? Heck no. Canada? Mark Steyn would say no.
It's sad that socialists and communists have more options than I do.
Anyway, I was having one of these conversations with a patient of mine who had just gotten back from a river cruise in Russia. He was making the above points explicitly enough that he was starting to annoy me. He really believed that he had not been on holiday, but rather on a vital mission to achieve world peace despite the best efforts of Donald Trump and his evil, stupid supporters.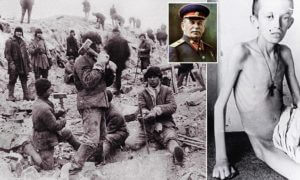 Construction of the White Sea-Baltic Canal (Belomorkanal). The canal was constructed between 1931 and 1933 by forced labor of Gulag inmates. According to official records and accounts in the works of Aleksandr Solzhenitsyn, between 12,000 and 240,000 laborers died during the construction of the canal, Russia, 1933. (Photo by Laski Diffusion/Getty Images)
I rarely respond to this stuff. But then he said, "I don't think that anyone should be allowed to vote Republican until they visit Russia and see what a nice place it is."
So I responded, "I don't think that anyone should be allowed to vote Democrat until they read Dostoevsky and Solzhenitsyn."
I immediately regretted it. I always presume that if someone is a leftist, they just can't be very well-read, or very well-educated. There are exceptions, though, and I immediately wondered if he was one of them. He is a retired CEO of a major retail chain. Perhaps he's a cut above.
Thankfully, he was not. He looked confused for the slightest instant, and then brightly replied, "So true – Russians have such a rich artistic heritage!" I took this to mean that he wasn't sure if Dostoevsky and Solzhenitsyn were poets, or novelists, or philosophers, or whatever. And he apparently had not read them, so he couldn't debate my point.
So Mr. Smooth CEO moved the conversation along quickly. Which both of us were thankful for. He wanted to talk about what a nice, enlightened, cosmopolitan person he was. I wanted to talk about heart disease. Neither one of us wanted to talk about the brutal, soul-crushing disease of socialism. Plus, I had more patients to see, and he had a tee time at Harbor Town right after our appointment.
Us human beings are strange creatures. Mr. Smooth and I are both pretty smart guys. We both look at Russia, and we both believe that Russia has a lot to teach us. But we see completely different lessons to be learned in Russian history. That really is remarkable, if you think about it.
No wonder we can't agree on light bulbs, or Social Security, or vegetarian versus balanced diets, or much of anything else.
What I find most concerning about all this, is that I find this Conflict of Visions to be a perfect argument for federalism, while my patient views this as a perfect argument against it.
Now that is terrifying.
Published in General