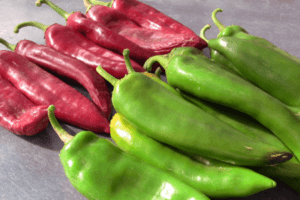 "Red or green?" A seemingly odd question coming from your waiter or waitress. Just about anywhere else, but New Mexico, where it is, in fact, the official State Question.
It refers to these guys, and is asking which one you want smothering your food: red and green chile. They're the same thing, except the red has been allowed to ripen before harvesting.
Not "chillies," "peppers," or "chilis." And they are a way of life around here.
Chile grow natively here, but it wasn't until the 1950s that researchers at New Mexico State University in Las Cruces created a hybrid variety that was actually mild enough to eat. Called the "Big Jim," that chile is the grandfather of all New Mexico chile.
When I say that chile is a way of life around here, I mean it. We put chile on eggs, hamburgers, pizza, beans … pretty much everything. Including, of course, tacos and burritos.
Unlike many Asian chillies and real firestorms like Ghost Peppers and Scotch Bonnets, New Mexico chile aren't exceedingly hot. (At least, we New Mexicans don't think so.) But they are flavorful, which is why we love them so much. (New Mexico grows the vast majority of the world's chile, and we keep 80% of it for ourselves!)
Until relatively recently, it was impossible to get green or red chile outside of this state, but these days, grocers like HEB and Wegman's are trucking in shipments of fresh chile in August, so you might be able to get some fresh chile and roast them yourself. Otherwise, you'll have to content yourself with powdered or frozen chile from Amazon or these guys.
Once you get some, you can try out the helpful recipes in the comments, which are some of my favorites.
Published in General