We actually signed the contract to replace our roof last October. It took six months for the manufacturer to make the tiles. They didn't tell us it would take that long, and that the workers would be toiling in 90 degree-plus weather and afternoon thunderstorms.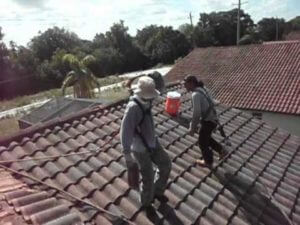 Replacing a roof looks like really demanding work. I can't say for sure, since I've never even been on the roof. I hold my breath as they move around up there, first with the underlayment, now with the tile. And the weather has been brutal.
I wonder who these men are. Most of them speak some English and are polite; others smile and wave. I always greet them, make eye contact when I can, and wave back, because I think there are plenty of people who see them "only as laborers"; they might see them simply as part of the landscape, a means to an end. But I wonder who they are.
I wonder, in spite of all the ice and water we give them, if they become weak and dehydrated. I wonder if they slip up there sometimes, trying to avoid dangerous, life-threatening falls.
I wonder if they have families. I wonder if they dream of doing safer work, more comfortable work, with air conditioning, instead of depending on warm breezes that barely cool them.
I wonder if they have other hopes and dreams: sending their kids to college, becoming a supervisor or manager, working a 9 to 5 job.
I wonder if they speculate on the lives of my husband and me. Do they resent our comfortable conditions? Do they speculate that although we may not have worked difficult jobs like theirs, we had to work for where we are?
Do they wonder about us at all?
Or do they have the good sense to be fully present to their work, paying attention to the placement of their feet and the next tile.
As difficult as their work and conditions are, I hope they know I respect the hard work they do. I respect their tenacity, their reliability, even their politeness.
I hope they know that.
Published in Culture