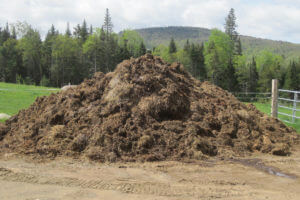 A recent podcast from "The Mark Davis Show" quoted one of the founders of the Dallas Cowboys:
"Money is like manure. If you spread it around it does a lot of good, but if you pile it up in one place it stinks like hell." — Clint Murchison, Jr.,
(As quoted in: Time, Volume 124, 1984, p. 96)
Murchison, who made his money in oil and real estate, was summing up how he had conducted his business affairs for decades. He was one of the founders of the Dallas Cowboys, and involved in the construction of the original Cowboys stadium. A recent Star-Telegram column, by Mac Engel, reported and advocated an effort to have Murchison inducted to the Pro Football Hall of Fame:
Murchison had previously tried to buy NFL franchises before he was granted an expansion team and created the Dallas Cowboys in 1960; he wanted something beyond what a pro football team had become in the 1960s….

Before Texas Stadium, watching a sporting event was basically akin to the Cotton Bowl, where the Cowboys had previously played their home games.

At Texas Stadium, Murchison introduced luxury, suites, fan comfort, amenities to sports in the U.S. that had never been previously experienced. Any time you walk into a pro sports stadium today, you can see Murchison's influence.
Murchison, it turns out, did not create this barnyard phrase. The quote, in its original form, traces back to Frances Bacon in 1625, when he attributed various sayings to a possibly fictional character:
Mr. Bettenham, reader of Grays-Inn, used to say, that riches were like muck; when it lay upon an heap, it gave but a stench, and ill odour; but when it was spread upon the ground, then it was cause of much fruit.
Bacon's concerns were not just about private action, but also state policy. As Adam Smith would later advocate for the superiority of a free market over merchantilism, so Bacon was concerned about state policies that had the effect of reducing the availability of money and land in the national economy. If we understand money to be a representation of wealth, not wealth itself, then we might extend the idea.
The Framers of the U.S. Constitution were keen to both promote communication, sharing of ideas, and to provide protection for a useful period to original, useful, ideas. Consider the inclusion of two grants of enumerated powers to Congress:
Article I, Section. 8.
The Congress shall have Power…

To establish Post Offices and post Roads;

To promote the Progress of Science and useful Arts, by securing for limited Times to Authors and Inventors the exclusive Right to their respective Writings and Discoveries;
Part of the complaint against the lords of Silicon Valley is about concentration, a great piling up, of control over expression of ideas and art. The attendant public stench may be analogous to the piling up of properties under government grants of privilege in Britain, or the great consolidation moves by early American industrialists, which invited the creation of anti-trust law.
George Gilder, in his 2018 book Life After Google, claims that blockchain and related ideas will lead to a great decentralization over the next decade. The subtitle is "The Fall of Big Data and the Rise of the Blockchain Economy." I suggest Whiskey Politics #188 as a good introduction. Perhaps we will see a great breaking up of the great enclosures of digital social space and economy. Perhaps we are witnessing the last grasping moves of the information economy's great barons. If so, then we may be on the verge of another great increase of wealth, induced by a radical decentralization of control. An Army of Davids might finally be freed to take up pitchforks and spread money and ideas around where they judge it will do the most good.
Published in Group Writing