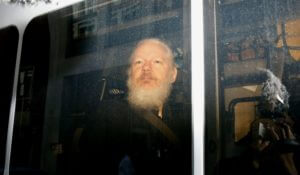 Wikileaks founder Julian Assange has been indicted on 17 counts of violating the US Espionage Act, the same act his co-conspirator, Bradley "Call me Chelsea" Manning was convicted of breaking. But in the history of the Act, no third party has ever been successfully tried and convicted. The 52 were either anarchists directly plotting to overthrow the US government or persons who sold or made available American secrets to hostile powers.
Progressives cheered Assange's arrest in April because they believe him to be an agent of Donald Trump's, the man who helped disseminate the Hillary Clinton/DNC emails that the mainstream press worked so hard to gloss over. Mrs. Clinton herself chimed in, "The bottom line is he has to answer for what he has done, at least as it's been charged." Their mantra has been "Julian Assange is no journalist!" so he is undeserving of First Amendment protection. This is actually been a point of agreement among Progressives and Conservatives. Both National Review and Commentary ran editorials to this effect.
But the cracks are beginning to show. Like a fetus miraculously becomes a baby in the twinkling of an eye, Mr. Assange may be about to become a journalist. In their coverage of the new indictments this was the take of The New York Times: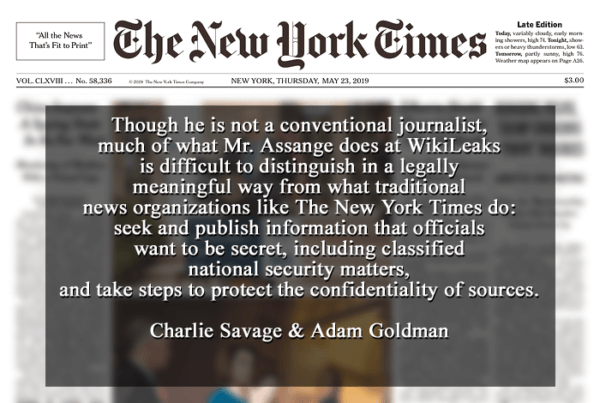 It's starting to dawn on them that maybe they should have been more careful in what they wished for. If Assange is convicted for publishing Manning's treachery or the DNC materials, they, too, are on the thin edge of the wedge. It's not enough to argue "he's not a journalist" because technology has made traditional definitions of "journalist" and "publisher" obsolete. It's also hard to backtrack on all the support they offered both to Manning (who NBC News downgraded from traitor to "whistleblower") and to former President Barack Obama who commuted Manning's sentence on his way out the door in 2017.
But the initial desire was for political punishment as Assange was obviously guilty of sabotaging Mrs. Clinton. But their cheerleading just may have handed a president they detest a new weapon in throttling the power of the press. So like a caterpillar, Assange may emerge into a beautiful First Amendment butterfly.
Published in Journalism