A number of posts have been written about Ilhan Omar and Rashida Tlaib and their anti-Semitic remarks, including my own. Many of us have speculated on the reasons for Nancy Pelosi and Chuck Schumer's silence regarding those comments, or their apologies on behalf of these two representatives. I've looked into the reasons for their not condemning their behavior, and the results were even more disturbing than I anticipated. (For the record, I don't separate attitudes about Israel and the Jewish community.)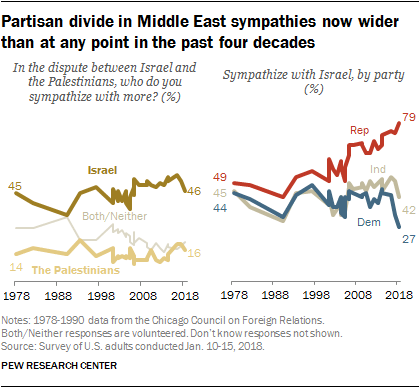 The U.S. has been known, since its inception, as a country that welcomes all religions, particularly Judaism. It's only in the last few years that we've seen a shift in support by Democrats and Republicans. From a 2018 opinion survey by Pew Research:
The partisan divide in Middle East sympathies, for Israel or the Palestinians, is now wider than at any point since 1978. Currently, 79% of Republicans say they sympathize more with Israel than the Palestinians, compared with just 27% of Democrats.

Since 2001, the share of Republicans sympathizing more with Israel than the Palestinians has increased 29 percentage points, from 50% to 79%. Over the same period, the share of Democrats saying this has declined 11 points, from 38% to 27%.
With these numbers from our citizenry, it's no wonder that the Democrats want to please their base. They are also trying to prevent an all-out war between their more moderate members and the far Left. Many people might ask why the Jews themselves are protecting Omar and Tlaib. Rep. Jan Schakowsky made this statement to Politico:
. . . she doesn't think Omar is an anti-Semite. Politico makes much of the fact that Schakowsky is a Jew, and she is. She also happens to be a supporter and devotee of J Street, the Democratic organization that exists to criticize Israel and the pro-Israel community in the United States.
There is also Ayanna Pressley who spoke out about the resolution on anti-Semitism:
We need to have an ­equity in our outrage. ­Islamophobia needs to be included in this. We need to denounce all forms of hate. There is not a hierarchy of hurt.
The message seems to be that the Jews are not victims of hate more than any other minority group. Also, Democratic Jews are supposed to espouse tolerance, so how could they possibly be supporting anti-Semites?
Lastly, as part of stating the obvious, Republicans can be attacked for beating up on Muslim women:
Also, by judging critics based on the identity of those being criticized, rather than on the merits of the criticism, the left seeks to render debate in America impossible. Democrats have argued that scrutiny of Muslim congresswomen represents 'Islamophobic incitement.' This fits the European anti-free speech paradigm whereby 'hate speech'—as defined by enlightened progressive leaders—somehow equates to violence, and is criminalized.
As the Democrats continue to move farther Left, they will have a built-in support system: college graduates. Besides the students' inculcation by the professors on the Left, pro-Muslim and anti-Israel groups on campus (which are supposedly not anti-Semitic) have proliferated.
In terms of the U.S. population, Muslims are growing and Jews are declining:
Muslim Americans will be a political growth industry for the Democratic Party that will offset any losses attributable to Jewish voters and supporters of assumed Jewish causes.

Consider that a record number of Muslim Americans ran for state or national office in the 2018 election cycle, the most in nearly two decades. Nearly 70 percent of Muslims in America are Democrats. The U.S. Muslim population is expected to double by 2050. Presumably, the number of Muslim candidates and voters will only grow.

Conversely, the Jewish population, which also votes reliably Democrat, is expected to decline from 1.8 percent to 1.4 percent by 2050. The only Jewish cohort that is growing, Orthodox Jews, tends to vote majority Republican.
Certainly, the Democrats will take into account the nature of their constituents.
Finally, we have to wonder about the far-left wealthy financiers of Democrats. My guess is that they are willing to do whatever it takes to put Democrats into power and keep them there, no matter who or what they damage along the way.
So the situation looks dire not only for Jews, but also for all religions, those people who embrace free speech and a traditional understanding of the Constitution. I'll end with a quote from Ben Weingarten of The Federalist:
One would be hard pressed to find any Democrat who would condemn Tlaib and Omar and face a political backlash among their constituents for doing so. The silence of the gutless Democratic establishment makes it complicit. As with Western civilization, Israel and the Jews are serving as the canary in the coal mine for the Democratic Party.
Does Weingarten speak in hyperbole, or are the Jews the canary in the coal mine for the Democratic Party? Even more important, what is he saying about the future of our country?
Published in Politics