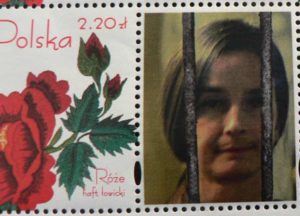 "You are wrong and your God is wrong." A statement that a committed Catholic, Christian, or Jew might hear in China, North Korea, or in any number of countries, but not in Canada, and not from a judge.
Mary Wagner may be known in Canada, and in the United States among pro-life advocates, but she is well known in Poland. Poland is under pressure from the EU to liberalize their abortion laws. Poland is also under pressure to repeal a mandatory retirement age for judges, a law that was written to remove judges that were hearing cases during the Soviet occupation of Poland. As one writer put it, Poland was not impressed with the old totalitarians, and they are not impressed with the new totalitarians. Mary Wagner has been honored with a postage stamp in Poland.
"Speaking of Poland," I said. "Why is there such an affinity between Mary and Poland? Here in Canada, very few people have heard of her, and in Poland a million people came out to see her. I mean, she's not even Polish. That's just incredible."

"The Poles still have the [fullness of the Catholic] faith, so they understand her more than Canadians," said Jack. "The faith is deeper in them. The Polish Church was persecuted, that's why. The Polish episcopate is very strong. The Canadians are weak."
Canadians are not the only weak ones in Western Christianity. Judeo-Christian believers are under siege and there are those that wish to open the gates in a misplaced belief that one can reason with the relentless demands of popular culture warriors.
Mary Wagner has been in and out of jail in Canada because she is considered a dangerous woman. One cannot be too careful when dealing with a woman who hands a woman a red or white rose inside an abortion clinic and asks them to reconsider their decision to abort their child.
"Why do you give pregnant women white roses?" I remembered to ask.

"White or red roses," Mary corrected. She explained that in 2012 she had spoken to a man named John, the survivor of a chemical abortion, who had gone to an abortion clinic on his birthday to give roses to the clinic staff on their way to work and tell them his story. Mary was very moved by that and thought it was a beautiful and non-threatening thing to do.
You can read the entire essay from Catholic World Report here.
Published in Religion & Philosophy