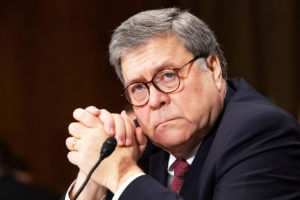 Bill Barr wants to know who started the Russia probe and whether the spying on the Trump campaign was legal. First reported by the New York Times and confirmed by the AP, Barr has appointed U.S. Attorney for the District of Connecticut John Durham to investigate the investigators.
This is actually the third counter investigation and the most serious. FBI inspector general Michael Horowitz is already looking into the government's use of wiretaps through FISA and U.S. Attorney for Utah John Huber's is reviewing FBI misconduct claims.
Durham is a career prosecutor who was nominated for his post as U.S. attorney in Connecticut by Trump. He has previously investigated law enforcement corruption, the destruction of CIA videotapes and the Boston FBI office's relationship with mobsters.

In nominating him, the White House said Durham and other nominees for U.S. attorney jobs share Trump's vision for "making America safe again."

Durham was unanimously confirmed by the Senate in 2018. At the time, Connecticut's two Democratic senators, Richard Blumenthal and Chris Murphy, called Durham a "fierce, fair prosecutor" who knows how to try tough cases.
Sen. Lindsey Graham also said that he wants to "investigate the investigators." I'm guessing there's a lot of nervous chatter bouncing around the Beltway tonight.
Published in General