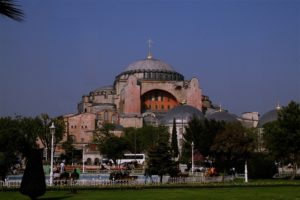 On May 28, the guns were silenced, and the troops were given a rest in preparation for the final assault. Inside the city, the besieged inhabitants, knowing that no relief was coming and that they were no longer capable of resisting another determined battery and push, held a holy procession through the city, a procession which ended at the Great Church. There, they all set aside their own sectarian differences and held the liturgy one final time.
In the early morning hours of the 29th, the Ottoman guns sounded, the armies breached the walls, and Emperor Constantine XI died with his men. By the afternoon, the city had fallen, and the citizens of Constantinople endured three solid days of looting, rape, enslavement, and pillaging as the city was desecrated. In the aftermath, Mehmet II The Great turned Hagia Sophia into a mosque, destroying or covering over the nearly 1,000 years of frescos and mosaics that adorned the great cathedral. It would remain a mosque until Ataturk turned it into a museum, which it remains to this day (though it should be noted that the accursed Erdogan has recently threatened to turn it back into an active mosque).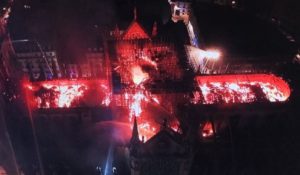 Notre Dame Cathedral in Paris is still smoldering, though it appears that the shell of the building remains. I am certain that it will be rebuilt. I mourn as does all of France, of course, for the terrible losses for one of the greatest Christian buildings of the high Middle Ages. But France is wealthy and will be able to rebuild if it has the will (and I would say it does). It will not be quite the same, I know, but it will still be a church. Or at least that choice is still open to France. Many of Germany's cathedrals, and some of England's too, were bombed into oblivion during World War II, yet most of those have been rebuilt (those that were not were left as ruins deliberately, as war memorials). The Frauenkirche of Dresden was left as rubble by the Soviets, who would not allow it to be rebuilt. In 1993, when I saw her, she was but four broken pillars and a field of charred stones, yet today she is rebuilt. If France wants Notre Dame back, then she will return.
That choice is forever lost to the Orthodox for Hagia Sophia and numerous other churches, not only in Constantinople, but throughout Anatolia. In the aftermath of the Greco-Turkish war of the early 1920s, millions of Christians were forcibly deported from western Turkey, and the cathedral of Nicea was blown up in the war. The many hidden Cappadocian cave churches were looted and defaced as the Turks found them, with frescoes going back to the 800s chiseled away and defaced before the Turkish government seized them for their own protection. Many surviving churches of the Middle East have been destroyed over the past two decades by the ISIS barbarians too. We mourn their loss deeply, but we carry on anyway.
Nothing we make with our own hands can last forever. Neglect, accidents, war, and deliberate destruction await for all things, despite our best efforts, and what is preserved somehow is only preserved for a time. Time will claim everything in the end; it always does. Doubtless, the Athenians hoped the Parthenon would last forever. Certainly, the builders of the Pyramids thought their temples to their dead pharaohs would stand for all eternity, as Percy Shelley wryly wrote in Ozymandias. Herod's Temple in Jerusalem rivaled the Great Pyramid in its sheer scale and wonder too, and it too is lost. But we have no cause for despair (mourning, of course, is warranted and good, but not despair). We create anew, and we go on creating because this is what our own Creator has made us to do, so long as we have breath in us and life in our bones.
I'll close with this, a scene from the film Andrei Rublev. Andrei has survived a massacre and desecration within a cathedral he had painted and is despairing. Yet he is visited by the shade of his old companion, Theophanes, who like him despaired years before. Theophanes has learned the folly of his own prior despair and tries to tell Andrei that Andrei is himself wrong now. Andrei will go on, and will eventually find again that he too can create anew, even with the ever-present threat of destruction.
.
Published in Religion & Philosophy