At Michigan State University, a student reported his roommate for the unspeakable crime of watching a Ben Shapiro video. (This, apparently, constituted a "bias incident." How sitting passively can count as "bias" is beyond me, but that's neither here nor there.) I was at another venerable Wolverine State institution, the University of Michigan, in winter 2017 — only two or three months after the 2016 election — and the students had taken to the bulletin boards to vent: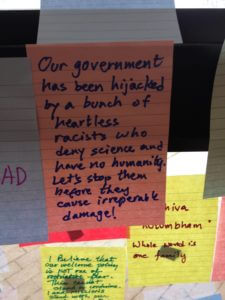 Charming. Most of the surrounding notes were similar — variants of either, "Republicans are mean!" or, "Let's hold hands and emote, and all the world's problems will be solved!" (Politics, it seems, is always on the minds of those who feel the need to opine in public.) A few feet away, a poster advertising the week-long "Sexpertise" greeted passersby with smiling, starry-eyed anthropomorphized phalluses and ovaries.*
. . .
I'm now at a middling state university (quite a contrast to my native Hillsdale, I must say), and the culture is similarly infantilizing. The graduate-student government, headed by one President Lincoln (now, there's an irony!), sends out emails urging us to vent our traumas. (I have a stipend. No, thanks.) At the student health clinic, the principle of harm reduction runs rampant, and the university all but showers complimentary condoms on those who enter. A few weeks ago, two groups of agitated students decided to occupy the administration building, and the university president caved immediately to their demands, which included establishing a "basic needs center" and removing a supposedly offensive mural.
Yes, the lunacy of campus culture leads me to despair. But I think conservatives tend to overestimate its scope. At a few institutions known for their progressive politics, the rot is indeed deep. At the average state school, it infects only a tiny fraction of the student body. (Fewer than 100 students — in a population of more than 20,000 — partook in the occupation described above.) As always, those who yell the loudest receive the most attention, and they wield power disproportionate to their size. The apathy of the average student enables such antics. It doesn't mean, though, that the average student, or even the average employee, care muchs for them.
I'll give one example. My professors are invariably left-leaning, scattered between Biden and Bukharin on the political spectrum. But even they have little patience for the snowflakery so decried by conservatives, and they, too, whinge about the ever-worsening quality of their students. They may agree, in theory, with the picket-wielding radicals, but they practice an older, saner, less-activist form of teaching. The exhortation "Grow up!" ever lingers on the tips of their tongues.
The culture of melodrama, decadence, and political correctness is only a part of a larger tragedy afflicting the American university. I can walk from my apartment to the far end of campus without passing a single piece of evidence that this place is, indeed, an institution devoted to scholarship. Rarely, if ever, do I pass any advertisement for an upcoming lecture. Traditional academic events happen, of course, but they're advertised only within departments. The school's green spaces are festooned with signs for fashion shows, football games, dog-petting events, and free chlamydia screenings.
The modern university is so massive and so fragmented, and its constituent parts so specialized, that all purpose has vanished from it. It exists only for its own sake. It functions as little more than a holding pen for the emotionally and intellectually immature teenagers who flock to it because . . . well, what else are they supposed to do? It's a high school with a bunch of graduate departments attached.
Every year, many tens of thousands of 18-year-olds indebt themselves to an institution they don't particularly care about, sit in classes that don't particularly interest them, and leave not particularly wise, capable, or knowledgeable, all because social pressure demands it. A few are radicalized; most shrug their way through.
Which is worse? I'm not sure.
* I have visual proof, but I don't care to post it.
Published in Education