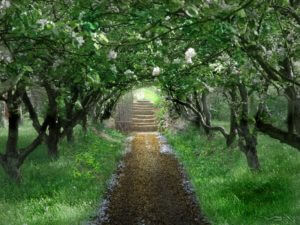 Sometimes, people ask you questions that make you stop. The other day, I was asked what I considered to be the source of my positions and convictions about immigration. This got me to thinking.
A lot of things go into it, of course. Intuitions. Principles. History. As a matter of full disclosure, my own family largely immigrated to this nation in the late 1800s and early 1900s as near as I tell. Not that this particular fact matters a whit with regard to how I formulate my positions. My opinions are generally derived from first principles, and I will employ an analogy to illuminate them.
In my mind's eye, this nation is akin to a prosperous, semi-private orchard. The territory we now know as the United States didn't come to the possession of people (like my immigrant great-great Grandparents) in its current condition of being a prosperous orchard; the nation's initial condition was that of a wilderness largely in a state of nature. Immigrants to this continent (not Amerindians, who lived in technological conditions largely unchanged since the stone age until their contact with Europeans) carved this orchard out of that undeveloped wilderness in accordance with the principles Locke laid out in his Second Treatise on Government. They cleared the land, planted the trees, pulled the weeds, pruned the hedges, built the fences, and chased away nuisance animals. In short, they supplied the capital in various forms such as blood and toil that laid the groundwork for those fruit trees to grow tall and become mighty. They claimed the land and made improvements to it in order to justify their ownership of it in the finest English tradition.
What's more: those people reached general agreements about defending those investments via establishment of their own governments. To refer back to Locke: "Liberty is to be free from restraint and violence from others; which cannot be where there is no law." The Founders of this nation, and necessarily their forebears, understood that the purpose of government was to secure the liberties of its citizens. Thus was born the notion of ordered liberty. Those Founders even enshrined these values in the Constitution, whose Preamble refers to "Securing the blessings of liberty to ourselves and our posterity." Posterity of course meaning, their offspring; their descendants, to whom they would bequeath not only this semi-private property where citizens worked to make improvements (the Orchard) but also the notion of Liberty itself.
For a moment, let's compare this to the condition of other nations. On the other side of America's border lie lands which are not as productive — this is not necessarily due to some natural happenstance or catastrophe. Indeed, much of the land in other places is just as rich and capable of producing orchards of the very same quality as America, but largely due to mismanagement, either political or corruption-based, such places have failed to achieve the levels of productivity which the American Orchard displays. Those who have attempted to plant trees in those places frequently have had them cut down for firewood; the ground has been stripped of its nutrients by misuse.
Some people who live in those desiccated lands now seek to come into this nation in order to pluck the fruits of this orchard (literally, in some cases) and rest in the proverbial shade provided by those well-tended trees. That shade emerges in the form of the relative peace and atmosphere of prosperity which we enjoy from living in this place, which is in turn largely due to the generations of accumulated cultural and physical capital that our ancestors toiled to construct, and bled to defend.
They did not do those things so that foreigners and scofflaws could invade the orchard, shelter under its branches, and enjoy the blessings of ordered liberty while paying no costs for the privilege. Those who are the inheritors of the Orchard have the right to determine (under the principle of freedom of association) who may come into it. The right of freedom of disassociation is the necessary obverse of the right of association.
"But this is unjust! What have Americans done to deserve this right simply by dint of birth?" I can hear some saying. The answer is: it is not what those Americans have done, but what their forebears have done that gives them that right. It was their ancestors who carved this nation out of the bush for the express purpose of gifting it to their progeny. That right — the fundamental right of property — makes this distinction just; and for that reason, I am unabashed in the fact that I prefer Americans over people of other nations. Why? Because our principles and the creedal notion of our ideas hold primacy over humanitarian considerations. Not all people — not even all Americans — are suited to liberty, even though they benefit from it as a function of birth. That is a fundamental reality that we must wrestle with if we look around the world. Freedom is not the style in which most people do or seem to want to live in. That makes America a special place; a place which requires preservation and tending… and a certain degree of selectiveness with regard to whom we invite in to do the tending.
That is the central paradox of our ideals: Only a remnant of people actually want them. We may strive to live up to Jefferson's lofty notions (and frequently fail), but the reality is that we slit our own throats by assuming that everybody else is equally interested in upholding or advancing them. People love the fruits of the Orchard, but don't appreciate the difficulties involved in its creation in the first place.
This only forms the narrative portion of my position, and I feel as if the analogy functions to establish an important narrative regarding why America works and exists as an economic powerhouse where people want to come, and not one from which people typically flee. You can tell a lot about a nation by how people vote… especially with their feet.
Given that my "emotional" appeal of comparing America to a well-manicured orchard which has been constructed, pruned and weeded in order to become a highly efficient agricultural entity has been challenged, I'll switch the discussion to where I normally reside, which is the world of numbers and figures.
To answer the question "why do we have immigration in the first place?" I have in the past provided the answer: "Primarily to benefit Americans" with the interests of foreigners being a distant, trailing concern. World poverty isn't going to be solved by importing the world's poor here, and attempting to do so will end up imposing costs on natives in terms of their quality of life (due to overcrowding and the like) far in excess of the potential benefits they can provide.
Therefore, what are the criteria that we should be using to determine who should gain entry? My initial rule of thumb comes in the form of the WAR (Wins Above Replacement) metric I've previously cited. If we're going to add people to our nation, they should, at the minimum, add to our net reserves of monetary, moral and talent capital at a rate greater than that of the median American, as that is roughly what "replacement" in this case means. To complete the baseball analogy, if you are a General Manager and want to improve your team's batting average, you cannot add players to your roster who bat below the existing team average. (Obviously, you can select the arithmetic mean instead of the median, but the distortion of that signal by high earners drags the average considerably higher than the mode of the middle quintile of incomes.)
The median income of American households in 2013 was about $56K/yr (as a means of comparison between how median and mean values play out, the median per capita GDP in 2017 was about $31k while the average was about $48k.)
What then forms the case that we need to be more selective about the nature of the immigrants we permit? Well, immigrants come in forms which are as varied as Americans, if not moreso. According to the Pew Hispanic forum, the household income of recent immigrants is far below the median household income of Americans. The numbers on the low side are somewhat under-representative as well because there are few households that report zero income to the tax authorities, and those on the lower half of that median receive a variety of transfer payments that increase their purchasing power in ways that economists can occasionally track.
Compare this with the median income of a particular sub-class of immigrants: those with college degrees. According to the Liberal (and pro-immigration) Migration Policy Institute, this number is $65,000, which appears to be individual, not household income. This is an important distinction which reveals the scale of the problem. Although not strictly comparing apples to apples, the numbers for foreign-born, college-educated households would inevitably be higher if they are married and their spouse earned even one dollar more. College educated immigrant households not only earn twice as much as median immigrant households they also out-earn median American households.
The disparity between the income of individual immigrants with a college degree and overall immigrant households deserves further investigation all on its own. Why should we be concerned about this? There are several reasons, starting with the balance of taxes and the existence of social programs.
Imagine for a moment that you have a family of immigrants from Guatemala consisting of a mother, father and two children who are at the median income level for immigrants, or roughly $30,000. The father of this family has obtained employment via a fraudulent social security number (we know this is fairly common as there are at least 6.5 million such social security numbers active whose holders are now 112 or older) and pays taxes to the Federal and state government via that taxpayer ID. Given the nature of the tax system, a person who is married filing jointly with that household income has an income tax liability of $600 (considering a $24k personal deduction and 10% marginal rate) and FICA liability of $4,890 (after considering their employer's obligation to match) which means this family unit provides a net Federal receipt of $5490 before applying any child or other tax credits. That's the positive side of the ledger.
Given that this immigrant has a fraudulent SSN, this also gives them access to the various SCHIP programs for their children (which may even be legitimate if those children are citizens who were born here… because we're incredibly stupid and allow birthright citizenship to the children of illegal parents) and Medicaid for themselves and their Wife. The annual expense of this emerges at various ERs around the country where illegal immigrants show up (like for births) but it's harder to track down the amount of fraud which leaks out of the system via this fake SSN/birthright citizenship problem… because the SSA doesn't really enforce its own rules.
This report from the US Attorney's office indicates that they managed just 1,000 or so convictions for SS fraud in the span of roughly '02-'03, which indicates that really, nobody's trying that hard. The scale of this problem is reinforced via the revelation that over a million SSNs were compromised… and their legitimate owners were never informed.
Via the basis of simple math, I'm just going to state flatly that low-skilled immigrants of this sort cannot under any circumstances be a net economic benefit to the coffers of the nation… and that's before we assess the costs that their children impose on the school system, which in this nation is about $11,000 per student per year. You might argue that such pupils will produce returns in the future which exceed those costs, but that's whistling past the graveyard given what we know about the intergenerational trends of educational attainment for those without a college degree — see Reihan Salaam's Melting Pot or Civil War for the divergent nature of college-educated/non-college educated lifetime income profiles. You would only assume such a thing if you are the type of person who uses the Powerball or a casino as a retirement plan. A relatively complete breakdown of the total fiscal costs of illegal immigration can be found here.
The situation only gets worse when considering the case of immigrants with household incomes below that median level. You would need to go a standard deviation or two to the right in that distribution before you could reasonably expect to hit an income level whereby the nation begins to "break even" on such an immigrant. This is why the median American income level should be a guidepost by which we allow/disallow immigrants to come into the nation — or at least immigrants should demonstrate some level of personal wealth which allows us to impute income to them in excess of that median value.
So, where that leaves us is needing to apply metrics to sort immigrants in a rapid and fair fashion; one which is racially, ethnically, and gender neutral, whose aim is to ensure that we only accept immigrants of the highest sort of quality. My proposal would be that we begin with college graduation in a STEM or similar field as a baseline for admission, along with the promise of employment in a high-demand field with higher than median income. High school dropouts would be automatically declined, barring possession of some very fantastic personal wealth which must be accounted for via legal means. These are the costs and the reality of tending the trees that we have planted.
The ultimate disposition of the Orchard — and its condition when we hand it to our offspring — is up to us.
Published in Immigration