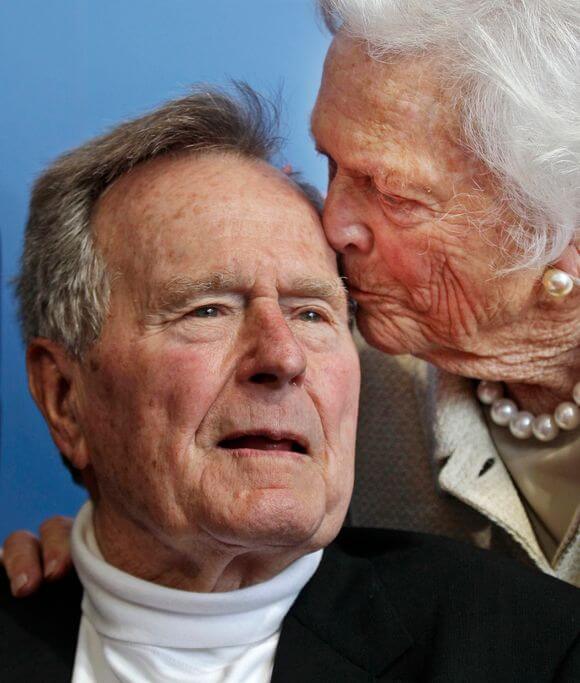 President George Bush's visit to Dartmouth College for an honorary degree in 2011 produced an array of memorable moments. When the former president came forward to receive his degree, to name one, the graduating students rose in an ovation. Then, as President Jim Kim read the citation—"George Herbert Walker Bush…[you have led] one of the most distinguished careers of public service in the history of this Republic"—Mrs. Bush teared up. Minutes later Conan O'Brien began his Commencement address (in accepting the College's invitation, the former president had asked to be excused from any speaking duties himself). "I must point out," O'Brien said, "that behind me sits a highly admired president of the United States and decorated war hero, while I, a cable television talk show host, have been chosen to stand here and impart wisdom." (Laughter.) "I pray I never witness a more damning example of what is wrong with America today." (Roars of laughter, in which the former president and first lady participated.)
To me, though, the most memorable aspect of the fortieth chief executive's visit is that it nearly didn't happen.
A former speechwriter for Bush—in my first job after Dartmouth I worked for him when he was vice president—I nominated him for his honorary degree, then helped arrange the visit. This took some doing. My fellow trustee Trevor Rees-Jones '73, offered to have a private aircraft on hand to fly the Bushes from Kennebunkport to Lebanon, while David Spalding '76, a senior vice president at Dartmouth, handled a dozen tasks, from working with Bush's security detail to having a small lift or elevator installed at the rear of the Commencement platform to hoist up the former president, who would be in a wheelchair.
The day before Commencement, as the temperature in Hanover dropped and rain clouds rolled in, I received an email from Jean Becker, the former president's chief of staff. Bush had had a bad day, she explained. He was unusually tired and might be coming down with a virus. She would make a final decision the next morning, but she asked me to warn everyone at Dartmouth that the former president and Mrs. Bush might have to drop out. The following morning the temperature had fallen farther. Rain had moved in. A sheering wind had begun. Then the emails from Jean Becker began to arrive. First, she explained that Bush's physician had advised him to stay right there in Kennebunkport where he could stay warm and rest up. Then she informed me that Mrs. Bush had had a word with her husband. Never shy in any event, the first lady had sided with the physician–emphatically. In a third email, Jean admitted that she had had a conversation with Bush herself. Her advice? The same as that of the physician and Mrs. Bush: stay home.
And then, just as I was about to tell Trevor and David that the Bush trip had fallen through, Jean Becker sent me one more email. The former president, she explained, had carefully considered everyone's advice—and rejected it. "He doesn't want to let people down," she said.
There are a hundred dissertations still to be written about George Bush and his place in our history. But if you want to grasp his character, this incident—this visit to Hanover on a frigid, blustery spring day seven-and-a-half years ago—represents a good place to start. Eighty-seven years old and confined to a wheelchair, he would still rather put himself out than let anyone down.
Published in General