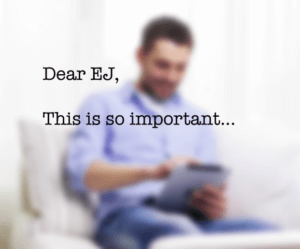 You read stories like this and you find it hard to believe that anyone could be that stupid. Surely I would know better and wouldn't fall for some hard luck story that, looking back on it now, seemed a little too contrived.
But there it was, sitting in my email and I read it. The guy really sounded sincere. He had been injured on the job and needed money. There were people after him, bad people, that wanted to do bad things to him and, given the chance, to me as well. He was in a tight spot. Could I throw a couple of bucks his way? Yeah, I did it. I was gullible enough to do it.
The thing is, I felt that we really connected. He was vulnerable and he saw that I was too. He had a way of making me feel, you know, special. I was now an important part of his life and he promised me that he'd never forget me. He wrote me nearly every day. And then some of his friends started to write to me as well. They appreciated what I had done for their friend.
I should have been suspicious right then and there but I left my guard down. The story was so compelling. There was an abusive woman in these guys' lives. The way they talked about her sent shivers up and down my spine. I gathered that she was the grandmother to one of them. An evil grandmother just like she stepped out of an old Disney cartoon.
What was I to do? The emails and the hard luck stories — they just kept coming and coming, every hour, every day for weeks on end. Didn't I understand? I was the only one these guys could turn to. Nobody else, just me!
And then something terrible must have happened because the letters just stopped, as suddenly as they had appeared in the first place. That's when it dawned on me. I had been played for a sucker. I wasn't that important in his life. He used me, and probably had used others, too. I felt ashamed and so dirty.
C'mon, Steve Scalise. I thought you loved me, really loved me. You and your buddies, Paul, Ken, Michael, David, and Newt (Newt?) — it seems you've all forgotten me now. My mailbox is barren, just like my broken heart.
Published in General