President Trump wears me out just following his schedule, and I'm two decades his junior. He seems to thrive on constant motion. Moreover, the motion is directed, purposeful.
Consider the past week: 17-25 September. President Trump went into the heart of political enemy territory to raise money, then created visuals of real new wall construction, then met with the Australian Prime Minister, set up the Democrats and their media arm, showed he was on top of disaster response in Texas, joined Prime Minister Modi in a large arena venue like a couple of rock superstars, celebrated an Australian opening a new manufacturing plant in Ohio, publicly defended religious liberty on the global stage, placed the globalist climate fraud in perspective, told the world the future belongs to patriots in every land, got multiple international agreements signed, acted as the caring friend of two feuding nuclear powers, demonstrated real transparency, exposed real corruption and collusion, and tied it all up with a bow in a level-headed tour de force press conference Wednesday morning.
Let's break that down. I'll break out each phase with bold and underlined section headers, so we do not get lost.
17-18 September, President Trump went into the heart of political enemy territory to raise money:
President Trump flew into the heart of the leftist cultural elite, making a statement that there is no place he dare not go, no place he will not contest. He was in Southern California, to raise money in Beverly Hills. His host was a real estate mogul who did well by doing the good of building new apartment complexes in Los Angeles, in a region notorious for restrictions, causing consequent shortages and price inflation.
President Trump's Beverly Hills fund-raiser tonight will be held at a mansion of Los Angeles developer Geoff Palmer, according to sources familiar with the event.

Palmer is a major Republican donor in California, and the property Trump will visit tonight was also used for an event for Vice President Mike Pence.

Palmer was one of the pioneers of downtown's revival in 2001 best known for his apartment complexes in downtown L.A.
While this event drew the most attention, because of leftist intolerance and public threats of blacklisting, it turns out that he was also going to the belly of the beast, fundraising in the Bay Area, before transiting back south through L.A., after which he really turned up the political heat.
The dinner, which is expected to raise $5 million for the campaign, is one of a series of fundraising events the president will attend during his two-day stop in California. The events include a lunch in the Bay Area and breakfast in L.A., and will benefit Trump Victory. Combined, they are estimated to bring in $15 million for the campaign, according to reports.
18 September: Created visuals of real new wall construction:
Then… having stomped through the socialists' heartland, he showed the leftist state government could not nullify federal law. He also drew the cameras with him to refute the taunts of both Democrats and their TruCon lapdogs. He can get a real new border wall built, yes he can! Viewers were treated to video of new wall construction, and President Trump shaking hands with real hard hat workers, definitely not costumed suits. He did not just stage a photo op, he looked into the cameras and took questions standing up, without a lectern, notes, or teleprompter. [1]
The California whirlwind tour established the narrative that President Trump is going into the heart of Democrats' territory, as with New Mexico. He established visuals of new wall construction, signed by him with a sharpie. He turned a question about homelessness in California into an attack on Democrats' lack of real environmental care and lack of real compassion for human misery. Knowing the political theater planned at the U.N. the following Monday, President Trump pointed out that far-left Democrats were spending money on pet projects, while their failure to care for the homeless was causing storm drains to become open sewers, pouring untreated sewage into the Pacific Ocean. This was just Tuesday and Wednesday.
20 September, Met with the Australian Prime Minister, set up the Democrats and their media arm:
On Friday, he met with the Prime Minister of Australia, an important ally in the Pacific region. He was seated with the Prime Minister and the two nations' First Ladies, when he demolished the self-evidently fake news media, setting the conditions for the latest fraudulent, diversionary narrative to collapse under its own contradictions. It was truly "Wile E. Coyote's latest."
President Trump took the fake news apart before the weekend started, while appearing as the leader of the free world alongside the leader of an ally since at least World War I. The White House homepage says "100 years of mateship." He got to make the point that the new Prime Minister of Australia was supposed to lose, according to all the polls and the smart set. He praised their environmental stewardship and rich rare minerals deposits.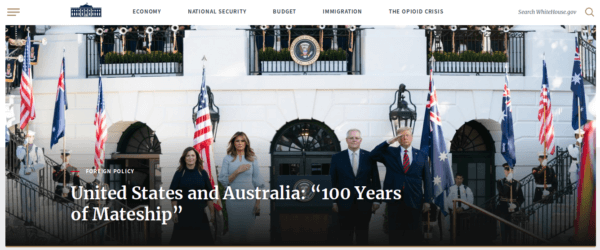 President Trump repeatedly stated that he had sent people to learn from Australia about almost eliminating black lung risk in coal mining. Notice that this builds up an ally, reinforces the message that coal is here to stay, and shows coal miners and their families that he is looking out for both their jobs and their health. [2]
Then First Lady Melania Trump got to shine with an elegant state dinner in the Rose Garden.
22 September, Reviewed disaster response in Texas, joined Prime Minister Modi in a large arena venue like a couple of rock superstars:
In a Texas Tornado tip off, President Trump set the table with his departure remarks [excerpted below, emphasis added, official video here]:
THE PRESIDENT: Good morning. We have a busy day planned. We're leaving now for Ellington Air Force Base in Texas. We're going to spend some time on the floods. We're going to be briefed on the flood. We're going to make a big investment so we can try and help Texas with this terrible flooding that they've been having. So we'll be talking to a lot of people and meeting a lot of people. That's going to be at Ellington Air Force Base.

Then we're going to Houston. Some of you are coming with me, I guess. And we'll be going to Houston, and we'll be at a very nice, big stadium packed full of people with Prime Minister Modi of India. He asked if I'd go with him, and I've accepted. And we're going to have a good time with Prime Minister Modi. We have — I hear it's a tremendous crowd. So that will be in Houston.

And then after that, I'm going to Ohio. Pratt Industries is opening a $1 billion plant. And I told Mr. Pratt, who is a great — Anthony — I told him if he does something really spectacular, I'll go and cut the ribbon. And he did; he invested a billion dollars in Ohio. So that's Pratt Industries. They're great people. It's a great company, headed by a very great businessman from Australia. So they're bringing a billion dollars into Ohio, and I said I'd go and cut the ribbon, and here it is. We're ready to cut a ribbon. It's a great plant. So we look forward to that.

Then we're coming home and then we have a lot of work at the United Nations during the next week.

[…]

Q — talked about the Bidens. Is that correct, sir?

THE PRESIDENT: Listen to me. I assume many people are on the line. I know that before I make the call. And that's what you have — intelligence agencies, everybody listening. That call was a great call. It was a perfect call. A perfect call.

What wasn't perfect is the horrible thing that Joe Biden said. And now he made it a lie when he said he never spoke to his son. I mean, give me a break, he's already said he spoke to his son. And now he said, yesterday, very firmly. Who wouldn't speak to your son? Of course, you spoke to your son. So, he made the mistake of saying he never spoke to his son. He spoke to his son.

But more importantly, what he said about the billions of dollars that he wouldn't give them unless they fired the prosecutor. And then he bragged about how they fired the prosecutor and they got the money.
It is not like Nancy Pelosi and the TruCon really bitter clingers did not get a heads-up, between the Friday and Sunday comments. They had no business being surprised by the president's moves Tuesday and Wednesday. The new president of Ukraine, with his new parliamentary governing majority, was elected for one reason. He was the ultimate anti-politician, a comedian with a satirical television show in which he played a president. The voters were just that fed up with the entire political class. He has a nearly blank check to try to clean up Ukraine of dysfunction, intertwined with endemic corruption.
So, the new Ukrainian president has the green light from the current US President and sees the Democrats waving red flares, threatening his country's future if he dares go against their leaders' dirty deals. Democrats and David French are desperate to protect the grift and graft of our political class. Unfortunately for the "D's," this case is too obvious and cannot be carried forward by a special prosecutor. They should have known better, but it is just in their nature.
It is in the interest of both nations to dig out corruption in links between our two countries. We should be especially concerned with politicians and their families operate in parallel to the benefit of the family bank account. No Bush kid was shaking down countries or corporations during Bush41 or Bush43. No Reagan traveled on Air Force One to conduct commercial business while President Reagan negotiated with other nations' leaders.
The Clintons waited until she was Secretary of State to crank up the graft machine, with Bill doing the shakedowns. This overlapped with the Biden family running its own shakedown operations, leveraging the vice presidency. Come to think of it, there is one thing in common here: they both appear to have gone off the rails during the Obama presidency.
Texas Flood Response: President Trump took a briefing from the Coast Guard and FEMA on flooding again in the Houston area. Tropical Storm Imelda had formed just off the coast and swung inland in mere hours. We are not hearing about this on the national news, perhaps because there is not enough dramatic footage, enough human suffering caused by another slow-moving storm dumping buckets of rain.
President Trump called attention to the storm and the response by all levels of government. He praised the people of Texas for their resilience and self-help. Since the reporters wanted to change the subject, he obliged by pounding the crooked leaker and the Bidens. He praised Prime Minister Modi, the Indian people, and Indian-American people, a preview of his speech. The whole transcript is on the White House page, emphasis added in this excerpt: [3]
Q Mr. President, what grade would you give the Coast Guard in Texas?

THE PRESIDENT: "A-plus." I give the Coast Guard an "A-plus," and I have for a long time. I don't think there's any brand — no matter where you go — that's gone up more than the Coast Guard.

[…]

THE PRESIDENT: But I want — I want to say, FEMA — I want to thank, also, the people from FEMA, the first responders, law enforcement, everybody. And, of course, I'm here with the Coast Guard now. Very special people.

Yeah.

[…]

Q Mr. President, (inaudible) when you see the images of the flooding in Houston yet again, your thought about the resiliency not only of the first responders, but the people of Houston helping each other.

THE PRESIDENT: That's right. That's right. The people of Texas are incredible. They go through some of these really catastrophic floods and hurricanes, and the following morning they're up working and making it beautiful.

[…]

Q Senator Cruz says Texas is in play in 2020. Do you worry about that for your own reelection?

THE PRESIDENT: No, I don't think it is for us. But I mean, I — still, you can't take anything for granted. I just saw polls that we're ahead. But you have to always be careful because, you know, people think you're ahead.

I like the concept of "it's in play." Last time, I won by a lot, and I heard it was in play. And when you hear something is "in play" — that means "close" — you work harder.

So I don't think — I don't see how I could possibly lose Texas. They want border security. They want to protect their Second Amendment. They want a lot of things that I stand for. I don't see how it's possible, but, you know, you never know.

The only way it's possible is if people think you're going to win and win by a lot, and therefore they don't go out to vote. So I think we're doing well in Texas.

Q Mr. President, (inaudible) about the protestors outside of the arena who don't want Prime Minister Modi in the country?

THE PRESIDENT: Well, he's a very highly respected man, Prime Minister Modi. He's very, very highly respected. He's also loved in India. He just had an election. He won by a record number….

He's very popular. The people love him. He's done a great job. And he's been very good to us and me. So he asked me if I'd come and speak and introduce him, and I'm doing that.

[…]

Q (Inaudible) who voted overwhelmingly Democratic. Are you here to try and court some of those voters?

THE PRESIDENT: Well, I think Indian Americans — people from India, people that love India — they like Trump. You know, we've seen that, too. We've seen that even in the polls.

[…]

Q Mr. President, will you meet with the President of Ukraine still? Were are you going to mention Vice President Joe Biden when you do?

THE PRESIDENT: Well, I won't be mentioning much. I mean, it — you know, Vice President Biden did a terrible thing, the way he put it. I'm not looking at — to hold him to anything. I'm not looking to hurt him, with respect to his son.

Joe's got a lot of problems. Joe's got enough problems without that. But what he said was a terrible thing. And, you know, he really made it a — it was an offer. It was beyond an offer. It was something where he said, "I'm not going to give billions of dollars to Ukraine unless they remove this prosecutor." And they removed the prosecutor supposedly in one hour. And the prosecutor was prosecuting the company of the son and the son. And you talk about something that shouldn't have been said — he just shouldn't have said that.

Now, as far as my conversation, it was perfect.
Indian-American friendship celebration, the "Howdy Modi" event:
The #HowdyModi event was absolutely epic, paired with the leader of the largest democracy in the world. They rocked an arena with a reported crowd of 50,000. The drumline crescendo even beat Metallica's "Sandman" as walk-out music. Understand that PM Modi walked up with President Trump over two hours after the massive cultural event had started. The whole event, as recorded and posted to Prime Minister Modi's YouTube channel, runs four hours and 18 minutes.
PM Modi gave President Trump a rock star introduction. President Trump then gave a strong speech of about 20 minutes, with PM Modi closing the event with a longer but clearly powerful speech. The White House posted a transcript of both leaders' speeches. [4] Consider this brief excerpt [emphasis added]:
PRIME MINISTER MODI: Good morning, Houston. (Applause.) Good morning, Texas. (Applause.) Good morning, America. (Applause.) Greetings to my fellow Indians in India and around the world. (Applause.)

Friends, this morning we have a very special person with us. (Applause.)

[…]

Today, he is here with us. It is my honor and privilege to welcome here, in the magnificent stadium and magnificent gathering — (applause) — and I can say I had a chance to meet him often, and every time I found the friendliness, warmth, energy — the President of the United States of America, Mr. Donald Trump. (Applause.)

This is extraordinary. This is unprecedented. (Applause.) Friends, as I told you, we have met a few times. And every time, he has been the same warm, friendly, accessible, energetic, and full of wit. (Applause.) I admire him for something more: his sense of leadership, a passion for America, a concern for every American, a belief in American future, and a strong resolve to make America great again. (Applause.)

And he has already made the American economy strong again. (Applause.) He has achieved much for the United States and for the world.

[…]

Mr. President, this morning, in Houston, you can hear the heartbeat of this great partnership in this celebration of the world's two largest democracies. (Applause.) You can feel the strength and depth of human bonds between our two great nations. (Applause.) People are at the heart of all relationships, from Houston to Hyderabad — (applause); from Boston to Bengaluru — (applause); from Chicago to Shimla — (applause); from Los Angeles to Ludhiana — (applause); from New Jersey to New Delhi — (applause), hundreds of millions are glued to their TV, even though it is rather late on a Sunday night in India.

[…]

AUDIENCE: USA! USA! USA!

PRESIDENT TRUMP: Hello, Houston. I am so thrilled to be here in the great state of Texas with one of America's greatest, most devoted, and most loyal friends: Prime Minister Modi of India. Thank you. (Applause.) Thank you.

And Prime Minister Modi is doing a truly exceptional job for India and for all of the Indian people. It is my immense privilege to be here with him today at this profoundly historic event. We're especially grateful to be joined by over 50,000 incredible members of our nation's thriving, prospering, flourishing, and hardworking Indian American community. Thank you. (Applause.)

[…]

I want to take a moment to address every resident of Houston affected by the recent horrible flooding. The entire American nation is standing by your side. We're ready. We love you. We support you. We will be there with you every single step of the way.

[…]

Prime Minister Modi and I have come to Houston to celebrate everything that unites America and India: our shared dreams and bright futures. I've also come to express my profound gratitude to the nearly 4 million amazing Indian Americans all across our country. (Applause.) You enrich our culture, you uphold our values, you uplift our communities, and you are truly proud to be American. And we are proud to have you as Americans. (Applause.) We thank you. We love you. And I want you to know my administration is fighting for you each and every day.

[…]

Our two national constitutions both begin with the same three beautiful words: "We the people." (Applause.) That means that in America and India alike, we honor, respect, trust, empower, and fight for the citizens we proudly serve.

[…]

In both India and the United States, we're something really remarkable: Our people are prospering like never before, because we are slashing bureaucracy and cutting job-killing red tape. (Applause.)

In the United States, thanks to our massive tax cuts, and all of our great senators and congressmen and women that are here today, and pro-worker policies, our economy is breaking one record after another. Since my election, we have created over 6 million new jobs. We have created over 750,000 jobs right here in Texas. (Applause.) And very importantly, that includes 70,000 new Texas manufacturing jobs. They said that couldn't be done. (Applause.)

[…]

Unemployment among African Americans, Asian Americans, and Hispanic Americans have all reached their lowest levels in the history of our country. (Applause.)

Over the last two years, the unemployment rate among Indian Americans dropped by nearly thirty-three and one third percent. (Applause.) Wages are rising, incomes are soaring, and inequality is falling at the fastest rate in many, many years.

In the past 12 months alone, the average worker has taken home $1,000 extra in rising wages and over $3,000 with tax cuts and all of the other things that we've done. And for the first time in history, most new hires of prime working age are minorities and women. First time that's ever happened. (Applause.)

[…]

Every day, the Indian American community is helping to strengthen our country and build our future. Indian Americans are pioneering groundbreaking medicines to save countless lives. They're developing revolutionary technology that is changing the world. And they're founding new businesses that provide jobs to thousands of our fellow citizens.

[…]

In November, the United States and India will demonstrate a dramatic progress of our defense relationship, holding the first-ever tri-service military exercise between our nations. It's called "Tiger Triumph." Good name. It's a good name. (Applause.) Very good name.

Today, we honor all of the brave American and Indian military service members who work together to safeguard our freedom. We stand proudly in defense of liberty, and we are committed to protecting innocent civilians from the threat of radical Islamic terrorism. (Applause.) Thank you.

Both India and the United States also understand that to keep our communities safe, we must protect our borders. (Applause.)

[…]

And we are further taking unprecedented action to finally secure our southern border and stop illegal immigration. And I want to thank the President of Mexico, who right now has 27,000 soldiers on our southern border. It's been incredible what's taken place in a short period of time.

Illegal immigration is deeply unfair to millions of wonderful, legal immigrants who work hard, pay their taxes, follow our rules, and obey our laws. Yet, there are those in Washington who would raid your healthcare to fund free benefits. They want to fund free benefits to those who enter our country illegally. We don't want to do that.

AUDIENCE: Booo —

PRESIDENT TRUMP: Because if we don't do it, they won't come.

I will never allow politicians to take away your healthcare or give it to illegal immigrants. My administration believes our first duty is to the highest loyalty of all: We must always be for the American people. Whether it's African American, Hispanic American, Indian American, we are going to take care of our citizens first. We are going to take care of our Indian American citizens before we take care of illegal immigrants that want to pour into our country. (Applause.)

We want to build a nation where every family — immigrant and U.S.-born — can live in a safe community with access to a great school, work at a job you love, and have the best chance to reach the American Dream. We love the American Dream.

And just in concluding, I want to say that America has always been a nation of pioneers and patriots, risk-takers and free thinkers, and dedicated workers who have honed a trade, mastered their field, and teach their children to always give their very, very best. (Applause.)

Every day, Indian Americans help write this story of American greatness, and everyone here today has a crucial part to play in building an even grander and greater American and Indian future. (Applause.)
President Trump tied improved trade policy, reduced domestic regulations, and increased immigration enforcement to the success of the Indian-American community, like all others. Once again, he showed appreciation and warmth for immigrants, for people of other than Western European ancestry. He pointed, again to promises kept resulting in a rising economic tide lifting all boats.
President Trump's points about trade and military security indirectly targeted Xi's China, never mentioned. His granting of a state visit to the new Australian prime minister, before the U.N. meeting this week, made those same subtle points, as did a series of meetings with other Asian and Pacific leaders early in the U.N. gathering. China has been expressly trying to replace us and to assert dominance economically, to be followed by military dominance. This week we saw President Trump pushing back, while still holding out the prospect of a new trade deal with China.
Celebrating an Australian opening a new manufacturing plant in Ohio:
President Trump was not done working on this Sunday. He rejoined PM Scott Morrison to honor Anthony Pratt, an Australian entrepreneur who invested $2 billion in a new Ohio manufacturing plant. [5]
PRESIDENT TRUMP: So, a lot of people don't tell you about Anthony, but I'll tell you about Anthony. He is the most successful man in Australia. (Applause.)

And he said, "I'm going to come here and I'm going to spend $10 billion if you win the election." And I won the election. And I said, "Come on, Anthony. What's happening here?" And he's going to — he's spent $2 billion. And he's spending a lot of more — a lot more money and he's a great man. And he's my friend and I appreciate it. Thank you, Anthony. (Applause.)

[…]

Thank you for your tremendous investment in America and the hardworking patriots of Ohio. He's very happy. They said — this force — I said, "How are they? Are they as good as I think you said?" "Even better." (Applause.) That doesn't always happen. That doesn't always happen. (Applause.)

[…]

We're profoundly grateful to be joined today by one of America's greatest friends and most loyal allies — somebody that's become a very good friend of mine. We had an unbelievable event at the White House; you probably saw it on Friday. Australian Prime Minister Scott Morrison. (Applause.)

And he recently won the election in Australia. Some of you know. And it was supposed to be close and he blew them away — (applause) — because he believes a lot of the same things I believe, I guess. That helps. (Applause.) He blew them away. He's a great gentleman and they love him in Australia and they now love him in the United States of America, too. (Applause.) Thank you for being with us. It's a great evening.

[…]

This is a very special occasion. Today, we celebrate the extraordinary economic partnership between our nations and we proudly declare that Pratt Industries and this great, great state of Ohio is open for business. (Applause.) Open for business.

And Pratt has pledged, as I said, to invest many billions of dollars in the United States. It's okay if you come back to Ohio. You know, you can keep coming back here. Do you — I think we want him back. He'll do another couple of plants. (Applause.)

And it's been an incredible victory having Anthony and the whole Pratt Industries here. But it's been really a victory for American workers, American manufacturing, and American jobs. We love jobs. (Applause.)

When this plant is fully operational, hundreds of Ohio workers will have full-time jobs with quality healthcare, retirement benefits, and really great wages. You guys are all getting good wages, I guess, right? Good? Huh? (Applause.) They say "yes." They're so happy you could probably reduce them a little bit, Anthony. (Laughs.) No, we're only — we're only kidding. We're only kidding.

But I'm especially excited to announce that one in four workers at this plant is a veteran — a great American veteran. (Applause.) Right?

[…]

Every year, you will recycle discarded paper into 400,000 tons of high-quality new paper and more than 300 million boxes — all without cutting down a single tree. Not a single tree comes down.

[…]

Proving that we can protect our environment and grow our economy at the same time.

[…]

As Anthony mentioned, over the next decade, Pratt Industries is creating 5,000 new jobs in the United States. This massive new investment is made possible by the historic tax cuts and tax credits that we signed into law. We lowered our business tax from the highest anywhere in the developed world to one that is extremely competitive — even really considered pretty low — meaning a lot of companies, like from Australia and other places are coming over.

Since then, American companies have brought nearly $1 trillion back to our shores. And that's 1 trillion dollars' worth of jobs. So it's great. (Applause.)

And just in concluding, our message is clear: There has never been a better time to hire, invest, build, and grow in the United States of America.
Jobs, jobs, and jobs. The president never tires of hustling for more jobs and celebrating the results, looking for the next record he can tout. He also took this occasion, knowing the political theater coming at the U.N. the very next day, to talk about real environmental stewardship being compatible with more economic freedom and prosperity, completely negating the lab coat left's power grab.
23 September, Addressing the real global crisis of religious persecution, effectively dismissing the leftist fake climate crisis theater:
People are suffering, children are suffering, people are dying, and it isn't by capitalists climate crimes. No, it is thanks in large part to the Islamist-Socialist version of the red-green alliance. President Trump chose to place the full weight of the United States, for the first time, on the side of religious liberty. [6]
RESIDENT TRUMP: That's very nice. Thank you very much. That's very nice. And I want to thank Mike. Today, it's a true honor to be the first President of the United States to host a meeting at the United Nations on religious freedom. And an honor it is. It's long overdue. And I was shocked when I was given that statistic that I would be the first. That's very sad, in many ways. And it's great to be with you.

[…]

The United States is founded on the principle that our rights do not come from government; they come from God. This immortal truth is proclaimed in our Declaration of Independence and enshrined in the First Amendment to our Constitution's Bill of Rights. Our Founders understood that no right is more fundamental to a peaceful, prosperous, and virtuous society than the right to follow one's religious convictions.

Regrettably, the religious freedom enjoyed by American citizens is rare in the world. Approximately 80 percent of the world's population live in countries where religious liberty is threatened, restricted, or even banned. And when I heard that number, I said, "Please go back and check it because it can't possibly be correct." And, sadly, it was. Eighty percent.

As we speak, Jews, Christians, Muslims, Buddhists, Hindus, Sikhs, Yazidis, and many other people of faith are being jailed, sanctioned, tortured, and even murdered, often at the hands of their own government, simply for expressing their deeply held religious beliefs. So hard to believe.

Today, with one clear voice, the United States of America calls upon the nations of the world to end religious persecution. (Applause.)

[,,,]

I've appointed a special envoy to monitor and combat anti-Semitism. We're standing up for almost 250 million Christians around the world who are persecuted for their faith. It is estimated that 11 Christians are killed every day for the following — I mean, just think of this: Eleven Christians a day, for following the teachings of Christ. Who would even think that's possible in this day and age? Who would think it's possible?

[…]

In July, I met with survivors of religious persecution at the White House. And we're honored that many of them could be here today as well. Some of these individuals suffered as a result of state-sponsored persecution; others, at the hands of terrorists and criminals.

[…]

In recent times, the world has also witnessed devastating acts of violence in sacred places of worship. In 2016, an 85-year-old Catholic priest was viciously killed while celebrating mass in Normandy, France. In the past year, the United States endured horrifying anti-Semitic attacks against Jewish Americans at synagogues in Pennsylvania and California. In March, Muslims praying with their families were sadistically murdered in New Zealand. On Easter Sunday this year, terrorists bombed Christian churches in Sri Lanka, killing hundreds of faithful worshippers. Who would believe this is even possible?

[…]

The United States is forming a coalition of U.S. businesses for the protection of religious freedom. This is the first time this has been done. This initiative will encourage the private sector to protect people of all faiths in the workplace. And the private sector has brilliant leadership. And that's why some of the people in this room are among the most successful men and women on Earth. They know how things get done and they know how to take care of things. And they're with us now for the first time, to this extent. First time, ever. And we're really honored to have you in the room. Great business leaders, great people of strength.

Too often, people in positions of power preach diversity while silencing, shunning, or censoring the faithful. True tolerance means respecting the right of all people to express their deeply held religious beliefs.
The private sector initiative can be a true game-changer in the culture war. Here is the president of the United States calling out leftist corporate boardrooms and HR departments for real intolerance and attacks on a true fundamental human right, placing "woke" corporations in the same box as terrorists and dictators. Naturally, the secular leftist media used the twin excuses of their own religion (environmentalism), and the obviously planned fake story of phone calls to Ukraine, to avoid reporting on this major story.
24 September, President Trump says the future does not belong to globalists, but to patriots:
As President Trump arrived at the U.N. for his General Assembly speech, Wile E. Coyote Democrat reporters were desperately running the next lie, projecting the real extortion by Joe Biden onto President Trump: [7]
Q (Inaudible.) I have two questions. The first is your reaction to the Washington Post story about you supposedly asking and withholding or holding the funds and aid for Ukraine.

And the second one is: You're meeting tomorrow with Venezuela — with leaders of Latin America to talk about Venezuela. Nicolás Maduro said that if the United States changed the policies of Obama, they will meet with you and they would love to have talks. What do you think?

PRESIDENT TRUMP: So, here's the story, very simply: We're watching Venezuela very closely.

As far as withholding funds, those funds were paid. They were fully paid. But my complaint has always been — and I'd withhold again, and I'll continue to withhold until such time as Europe and other nations contribute to Ukraine. Because they're not doing it. Just the United States. We're putting up the bulk of the money. And I'm asking why is that.

And I want Europe — and it's always been this, and everybody know it. Every single reporter knows it. Everybody in the administration knows that what I want, and I insist on it, is that Europe has to put up money for Ukraine also. Why is it only the United States putting up the money? And I — and, by the way, we paid that money.

But I always ask: Why aren't other countries — in Europe, especially — putting up money for Ukraine?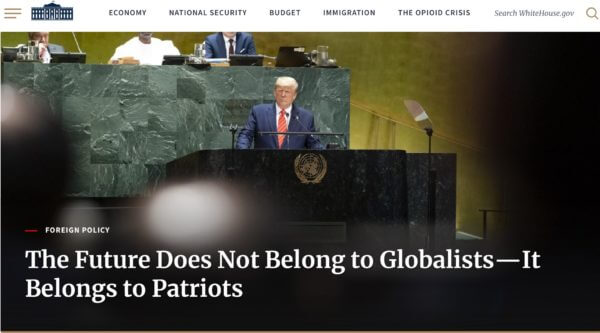 President Trump then delivered a powerful rallying call to nations around the world, calling each to be their own best country and to reject globalists' ambitions. [8]
Like those who met us before, our time is one of great contests, high stakes, and clear choices. The essential divide that runs all around the world and throughout history is once again thrown into stark relief. It is the divide between those whose thirst for control deludes them into thinking they are destined to rule over others and those people and nations who want only to rule themselves.

[…]

Like my beloved country, each nation represented in this hall has a cherished history, culture, and heritage that is worth defending and celebrating, and which gives us our singular potential and strength.

The free world must embrace its national foundations. It must not attempt to erase them or replace them.

Looking around and all over this large, magnificent planet, the truth is plain to see: If you want freedom, take pride in your country. If you want democracy, hold on to your sovereignty. And if you want peace, love your nation. Wise leaders always put the good of their own people and their own country first.

The future does not belong to globalists. The future belongs to patriots. The future belongs to sovereign and independent nations who protect their citizens, respect their neighbors, and honor the differences that make each country special and unique.

[Then, among the issues he called out around the world, we got this moral challenge on illegal immigration:]

[…] Nearly one third of women who make the journey north to our border are sexually assaulted along the way. Yet, here in the United States and around the world, there is a growing cottage industry of radical activists and non-governmental organizations that promote human smuggling. These groups encourage illegal migration and demand erasure of national borders.

Today, I have a message for those open border activists who cloak themselves in the rhetoric of social justice: Your policies are not just. Your policies are cruel and evil. You are empowering criminal organizations that prey on innocent men, women, and children. You put your own false sense of virtue before the lives, wellbeing, and [of] countless innocent people. When you undermine border security, you are undermining human rights and human dignity.
President Trump is rejecting the left and TruCon labels of populism and nationalism, intended by them to not-so-subtly invoke Nazis and other anti-semites. His vision is one of mutual respect rather than global elite tyranny seeking to impose sameness on all its subjects. Moving power further away from the local level causes loss of freedom, not more freedom. This is why the British people voted for Brexit.
Trump goes directly at the moral superiority posture of open borders leftists. He turns moral outrage language back on them. This is a well-crafted passage that fits the speaker's own voice.
25 September: the Wile E. Coyote episode:
Having given the Democrats and their media mouthpieces repeated and ample warning that the latest Acme device was going to blow up in their faces, just like all the rest, President Trump lit the fuse early on the 25th. After consulting with the Ukrainian president, he fully declassified the unredacted official U.S. written record of the phone call the Democrat operative "whistleblower" fraudulently reported.
Then he held a lengthy press conference, referring occasionally to written notes, in which he coolly laid out all the important international accomplishments, both in our hemisphere and in Asia. He charged that the latest hoax was a premeditated distraction gambit and that the media were willing accomplices. He gave facts and reasons in a serious, calm voice. It was powerful. President Trump called them on their fraud and wilful deception of the American people [excerpt with emphasis added]. [9]
The meetings I had on a bilat, or close, were pretty staggering. I think we set a new record, but you'll have to check that out. The — we met very, very — for pretty extended periods of time, either two and two, one on one, or just about at that level with Pakistan, Poland, New Zealand, Singapore, Egypt, South Korea, United Kingdom, India, Iraq, Argentina, Germany, Brazil, France, Japan, Ukraine, Honduras, El Salvador, Saudi Arabia, Jordan, Bahrain, Kuwait, Qatar, Oman, UAE, Chile, Colombia, Ecuador, and Peru. Other than that, we weren't too busy over the last three days.

And, unfortunately, the press doesn't even cover it. You know, we have — we've made some fantastic deals, like with Japan. For farmers, we have a tremendous trade deal with Japan. And that doesn't get covered because you waste your time on nonsense.

The PMI manufacturers' index has gone substantially up, which was an incredible — Larry Kudlow, wherever you may be — Larry, please stand up. He just gave me these numbers. And existing new home sales are through the roof. Just came out. Oil prices have gone down ever since the Saudi Arabia incident, and they've gone down very substantially. […]

We think we'll make this little announcement to you because — important. You know the so-called whistleblower? The one that didn't have any first-class, or first-rate, or second-tier information, from what I understand. You'll have to figure that out for yourself. But I've spoken with Leader Kevin McCarthy and the Republicans — many of them — and we were going to do this anyway, but I've informed them — all of the House members — that I fully support transparency on the so-called whistleblower information, even though it was supposedly second-hand information, which is sort of interesting.

And other things have come out about the whistleblower that are also maybe even more interesting. But also insist on transparency from Joe Biden and his son Hunter on the millions of dollars that have been quickly and easily taken out of Ukraine and China. Millions of dollars. Millions and millions of dollars taken out very rapidly while he was Vice President. And I think they should have transparency for that. I've informed the Leader about that.

And additionally, I demand transparency from Democrats who went to Ukraine and attempted to force the new President, who I met and is an outstanding person. I just met a little while ago; some of you were there. I think he's going to be outstanding. He got elected on the basis of corruption. He wants to end corruption in Ukraine, and I think that's great.

[…]

So, we want transparency. We've informed Kevin McCarthy about transparency. And we said, "Vote for it." So I think you'll have close to 100 percent of the Republican votes, I hope.

And it got almost no attention, but in May, CNN reported that Senators Robert Menendez, Richard Durbin, and Patrick Leahy wrote a letter to Ukraine's Prosecutor General expressing concern at the closing of four investigations they said were "critical." In the letter, they implied that their support for U.S. assistance to Ukraine was at stake and that if they didn't do the right thing, they wouldn't get any assistance. Gee, doesn't that sound familiar? Doesn't that sound familiar?

And Chris Murphy — who I've been dealing with on guns — you know, so nice. He's always, "Oh, no, we want to work it out. We want to work it out." But they're too busy wasting their time on the witch hunt. So, Senator Chris Murphy literally threatened the President of Ukraine that, if he doesn't do things right, they won't have Democrat support in Congress. So you're going to look all of this up.

One other thing — I'm just going off of certain notes and elements of what we've been doing over the last three days, but this just came up a few minutes ago: The "Amazon-Washington Post" just put out a fake article that Acting Director of National Intelligence, Joseph Maguire — who I've gotten to know, and he's a tough cookie — and I was surprised; I was shocked to hear this — was going to quit, blaming the White House for something that they wouldn't let him talk openly, freely. And I was shocked because I know Joe, and he's tough. A tough guy.

And I was really surprised to hear he was going to quit. Before I could even either talk to him or talk to anybody else, he put out a statement — I didn't speak to Joe yet — but he said, "At no time have I considered resigning my position." In other words, the story in the Washington Post was a fake.

"At no time have I considered resigning my position since assuming this role on August 16, 2019. I have never quit anything in my life, and I am not going to start now. I'm committed to leading the intelligence community to address the diverse and complex threats facing our nation." That's from the Acting Director of National Intelligence, a very good man, Joseph Maguire.

[…]

This year, America came to the United Nations stronger than we have ever been before: Since my election, the United States has not only brought our economy to a level that we have never seen, the most jobs that we've ever had — you know you've heard me say it many times — African American, Asian American, Hispanic American, the best unemployment numbers we've ever had. And the most and best employment numbers: 160 million — very close to that number — in jobs. We've never been anywhere close.

Wages are up, and inequality is down. Something that people don't like writing about. But wages are up.

[…]

In a week of active and ambitious diplomacy here at the United Nations, America renewed our friendships. We advanced our values greatly and made clear to everyone that the United States will always defend our citizens to promote prosperity.

I met with Prime Minister Boris Johnson, at length, of the United Kingdom, continuing our discussions on a magnificent, new bilateral trade deal. […] Earlier today, I stood alongside Prime Minister Abe of Japan …we signed a terrific new trade deal, which tremendously helps our farmers and ranchers, and technology. The technology companies are really big beneficiaries. […] We also held very productive conversations with leaders of Pakistan, India… two good friends of mine — I said, "Fellas, work it out. Just work it out." Those are two nuclear countries. They've got to work it out. […] This week, we also made incredible strides on national security with President Duda of Poland. […] Together with Prime Minister Lee of Singapore, I signed an important agreement extending our defense cooperation. […] Then, yesterday, I met with prospective members of the Middle East Strategic Alliance, … the nations of the Middle East are taking more responsibility for securing their own future and their own neighborhood.[…] In recent days, we've achieved historic asylum cooperation agreements with El Salvador, Guatemala, and Honduras. […] And Mexico — I have to say, President Lopez Obrador has been outstanding — an outstanding partner.

[Having laid out all of these specific accomplishments, all the things we want presidents to seek for us, President Trump drops the hammer.]

And the sad part is … with all of this tremendous work that we've done, the press doesn't even cover it. And the Democrats did this hoax during the United Nations week. It was perfect. Because this way, it takes away from these tremendous achievements that we're taking care of doing, that we're involved in in New York City, at the United Nations.

So that was all planned, like everything else. It was all planned. And the witch hunt continues, but they're getting hit hard in this witch hunt, because when they look at the information, it's a joke. Impeachment? For that? When you have a wonderful meeting, or you have a wonderful phone conversation?

[…] I think you should ask for VP Pence's conversation because he had a couple conversations also. I can save you a lot of time. They're all perfect. Nothing was mentioned of any import other than congratulations. But the word is that they're going to ask for the first phone conversation. You can have it anytime you need it. And also Mike Pence's conversations, which were, I think, one or two of them. They were perfect. They were all perfect.

[At this point he is cooling ridiculing the Democrat media, daring them to seek more information that hurts their cause. Then he shifts back to accomplishments, in the face of Democrat obstruction.]

We could do asylum quickly. We could do loopholes; get rid of them.

Instead, we actually made deals with Mexico and with Guatemala, El Salvador, Honduras. And we're doing it with them instead of with our Congress, but we're doing it. We get it done.

The wall is being built, by the way. It got little coverage. I went to the border. It's going up in New Mexico. It's going up in Arizona. It's going up in California, believe it or not.

[…]

To combat the malice, corruption of both the Venezuelan and Iranian dictatorships, today I issued proclamations suspending the entry into the United States of senior regime officials and their families.

And further, to promote American values, on Monday I was proud to be the first President in history to host a meeting … at the United Nations, on protecting religious freedom and liberty for people around the world.

While some partisans and unelected bureaucrats in Washington may choose to fight every day against the interests and beliefs of the American people, my administration is standing up for the American people like no administration has in many, many years. You forgot the American people. You totally forgot the American people.

[…]

So we could take a couple of questions. I'd love some questions on some of the things that we accomplished at UNGA, instead of the witch hunt — the phony witch hunt questions, which I know that's what you want to ask because it's probably better for you, but it's not better for the country.
We are left with one question: is President Trump the Roadrunner or Energizer Bunny?
---
Cited Documents:
[1] Remarks by President Trump During Visit to the Border Wall [Excerpted here, emphasis added]
Otay Mesa Border Wall Site
San Diego, California

September 18, 2019
3:11 P.M. PDT

THE PRESIDENT: Yeah, why don't you start, Kevin? And this has been a very exciting project, as you know. It's — for many years, people have wanted the proper wall and we have a wall that — the likes of which, very few places have ever seen.

And I want to thank all of the people. General Semonite from the Army Corps of Engineers — we're working very closely with them. I want to thank Kevin and all of your staff —

ACTING SECRETARY MCALEENAN: Thank you, sir.

THE PRESIDENT: — because what they've done is beyond.

And I wanted to show you some of the details of the wall. You can see — you can see a pretty good view. This is going to be close to 500 miles by the time we finish. Those are the areas that are most important.

After we're completed 5- — that should be done pretty close to next year. Over — it'll be over 400 miles. And we think we can get it close to 500 miles by the end of next year, depending on certain terrain conditions. But we're doing all of the most important areas. We have a lot of natural barriers, like mountains and streams and rivers and — some pretty vicious and violent rivers, actually. But it's — it's an amazing project.

And I think what I'd like you to do is if you could explain the interior of these pipes. The wall is 30 feet high. We also have 18-foot wall. We have a combination of 30 feet and 18 [feet], depending on the area, depending on the — on the importance.

Tijuana is right over here. There are thousands of people over there that had been trying to get in. Tremendous cooperation from Mexico. And the President of Mexico has been fantastic. All of Mexico has been fantastic. As you know, right now they have 27,000 soldiers. So, in addition to the wall, we have the soldiers.

Now, the wall still, obviously, has a ways to go, but we're building it at a breakneck speed. I wanted them to show you the interior of parts of the wall and what's inside of each individual slat. And you'll see it's a combination of steel, concrete, and — as one of the folks just said — it really is virtually impenetrable. Any walls that were put up would get knocked down very quickly, very easily. This wall is not something that can be really knocked down. I guess anything can, but this is very tough.

And it goes down six feet. It's three and four feet wide. The concrete — you see it right here; it's exposed. And I might ask General Semonite to say a few words about it.

And I'd like to bring them right up — look at the inner tube — to see what happens. Because after the wall is up, we pour concrete, and concrete goes into the tube. And in addition to that, we have rebar. So if you think you're going to cut it with a blowtorch, that doesn't work because you hit concrete. And then if you think you're going to go through the concrete, that doesn't work because we have very powerful rebar inside.

So it's a very powerful, very powerful wall — the likes of which, probably, to this extent, has not been built before.

[…]

GENERAL SEMONITE: So, Mr. President, I want to build on your comments. This is a system. It is both the two walls, but it also is the road networks, down through the middle and the back, so that the Customs and Border can go ahead and continue to be able to move around it. Also, a lighting system.

And if you think about this, I mean, it really is kind of a defense in depth. When you think about these panels going up — right now, we're putting in about 270 panels a day that are going in the ground. We've got over 44,000 panels that are already built. And you think about the depth of how we're doing it.

Without getting into a lot of details: 66 miles today are already completed. There's 251 miles that are under contract, going in the ground right now at 17 other sites. There's 163 miles that are actually on contracts that are going to be (inaudible) in the next 90 days. And the remainder of the miles the President talked about is mainly private land that takes a little bit longer to get.

[…]

THE PRESIDENT: Come on over here, if you want. You can bring the cameras. It's sort of interesting.

[…]

ACTING COMMISSIONER MORGAN: Yeah. Thanks, General. So a very important part of this — and that's why the President was talking about the (inaudible). Right here, what we — part of what the wall gets is, is it gets the men and women of CBP, specifically Border Patrol, operational capacity to get to the area where people are trying to illegally cross.

Before — the old landing style — they could cut through that in seconds. Sometimes, they could come in a vehicle and just knock it over, and literally, within seconds, they were in the United States illegally. This makes it almost impenetrable.

Right now, they've had four attempts to cut through this. All four times it's failed. Border Patrol has been able to respond and interdict those individuals.

This, right here — this design — it's a game changer.

[…]

So the days — and I tell you this very strongly: No more people can come in. We wanted Congress to help us. It would have made life very easy. And we still want them to get rid of loopholes, but we've done it a different way. We've done it with the help of Mexico. We've done it with the help of Border Patrol. And we've done it with the help of Kevin and all of your great people, and Mark. We've done it a different way.

We still want them to do it because it would be a little bit easier, but Congress wouldn't do it. When I say "Congress" — the Democrats just wouldn't do it. So now we have a world-class security system at the border, including the highest technology. I would think that there's no place like this anywhere. There's no place has anything like this or even close to it.

[…]

And a big beneficiary, frankly, is going to be Mexico. And one of the things that is happening, and I've heard it from the top echelons on Mexico, is they're breaking up the cartels. The cartels have been disaster. And that's a good thing for Mexico because they have their own problems.

[…]

Q We are dealing with the homeless issue as well, and you said —

THE PRESIDENT: Well, that's a different issue. And I'll be talking about that soon. But you do have a homeless issue. And in the case of San Diego, the mayor is doing the right thing. He's doing a good job.

In the case of Los Angeles, it's a disaster. In the case of — if you look at San Francisco, it's a total disaster what's happening, where they're going to ruin those cities. And I — we're going to get involved very soon on a federal basis if they don't clean up their act.

One of the things we're very upset about and angry about is we're paying a lot of money to Los Angeles to build the subway system — billions and billions of dollars. And yet, you have tents all over the place. And you have — you really have a sanitary condition, because this water is rushing into the ocean and this is supposed to be storm water. It's not supposed to be sewage. And it's turning out to be sewage.

And if these Democrat, liberal politicians don't straighten it out, the federal government will have to come in. We're not going to lose cities like Los Angeles, San Francisco, and others that are great cities. We're not going to allow that to happen to our cities.

And we also want to take care of the people. And I'll even put the people first. Let's say we're going to take care of people. But they shouldn't be living like that and it's destroying the city. And they're being destroyed. They're being further destroyed.

But that's for a different day. It's going to be very soon though. We're going — we're working on that right now. It's a very good question. Okay?

[…]

PARTICIPANT: Mr. President, there is a tradition here on the border that anyone who works on the wall signs the wall for us. Would you be —

THE PRESIDENT: Sign it.

PARTICIPANT: Would you do that for us today?

THE PRESIDENT: I'll sign it. Let's go. I'm going to sign it.
[2] Remarks by President Trump and Prime Minister Morrison of Australia Before Bilateral Meeting
[3] Remarks by President Trump After Coast Guard Briefing on Tropical Storm Imelda
[4] Remarks by President Trump and Prime Minister Modi of India at "Howdy, Modi: Shared Dreams, Bright Futures" Event
[5] Remarks by President Trump and Prime Minister Morrison of Australia at Pratt Industries Plant Opening
[6] Remarks by President Trump at the United Nations Event on Religious Freedom | New York, NY
[7] Remarks by President Trump Upon Arriving at the U.N. General Assembly | New York, NY
[8] Remarks by President Trump to the 74th Session of the United Nations General Assembly
[9] Remarks by President Trump in Press Conference
Published in Politics