Back in the late 1940s and throughout the 50s, as the motion picture studios sought to fight off the advancement of the one-eyed monster called "television," film studios experimented with gimmicks to lure their once faithful audiences out of their living rooms and back into the theaters. It saw the introductions of wide screens, curved screens, 3-D glasses, even a run at "Smell-O-Rama." One of those early attempts to redefine the motion picture experience was Rope, Alfred Hitchcock's 1949 attempt to replicate a "real-time" experience by shooting a single-set story in long uncut takes, the longest of which pushed it to the limits of a 10-minute film magazine (10:06).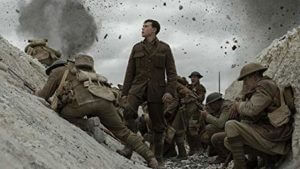 We seem to be back in that era. Sam Mendes' latest picture, 1917, harkens back to Hitchcock and creates a movie with a single two-hour tracking shot. Like Hitchcock, Mendes and his editor use blackouts and other distractions like a plunge underwater to hide the seams. At first, you might think it's rather a nifty technique and it does work very well during the action sequences. But the rest of the time it becomes an annoyance, but maybe it's me. Having directed my share of television over the course of my career and watched others much more talented than I do it even better, I believe the best direction is almost transparent and should always enhance the story and never do anything that ends up saying, "Look at what I can do!" That's also the danger of CGI.
The film becomes a slave to the technique. The main actors, Dean-Charles Chapman and George MacKay needed to be "on set" even before there were any sets. How many trenches should we dig? Well, how long does it take for the boys to recite their lines while they're moving? That's how many trenches we want.
Like another film set in the era of George V, 1917 has garnered a boatload of Oscar nominations. But even Titanic (1997) managed to grab two nominations for its actors (Kate Winslet and Gloria Stuart). No such luck here, it's almost as if the actors are secondary to the whole art of the modern motion picture.
1917's story could have been better. At times it seems like Mendes and his co-writer, Krysty Wilson-Cairns, felt obligated to touch certain preordained emotional buttons: This is where they long for the girl (or family) back home, this is where we show that civilians are too often the victims of war, and here is where we concentrate on the sheer ugliness of armed conflict. The characters come with very little backstory and seem to express very little hope for a post-war world. They inhabit our world for two hours and when you get to the end you don't even briefly wonder what happens next. And that's a shame because the experiences of the First World War set the stage for the Second – a conflict that still rules the structure of our modern age.
It's a good but not great motion picture. It may scoop up its share of BAFTAs and Oscars but this is where you remind yourself that such accolades are only received in the context of the other offerings of the previous 12 months. If you're looking to educate someone on the realities of that time in history I would recommend Peter Jackson's documentary They Shall Not Grow Old instead.
Published in Entertainment