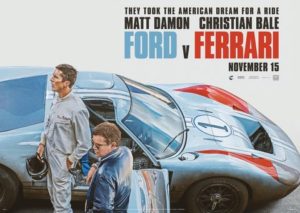 Go see it! You won't be disappointed. Just watch your speed departing the theater parking lot.
My only complaint: while at a Thanksgiving get-together, I mentioned that I loved this movie, some car snob, know-it-all kept talking about how it wasn't the "real" story. Then we all had to hear the real story. Jerk.
But the movie is awesome. Normally I'm not a fan of Matt Damon because of his liberal politics but for this movie, I overlooked it and, boy, I was not disappointed. Christian Bale is damn good and really steals the show. And, overall, there wasn't a weak performance to be found.
Matt Damon plays Carol Shelby, black hat and all. He's always driving a Cobra — Red-Blooded American males take note — and has his foot in it all time. Bale plays a driver, the driver, Ken Miles, who knows his car: wrenches on it and drives like Hell. Funny too!
They take shots at Ford Motor Company, the suits, the bureaucracy, but finally bend Ford enough to race in and win at Le Mans.
The plot offers no real surprises — and shouldn't! This is a classic story of the underdog overcoming and beating the top dog, Ferrari. What could be more American!? The race scenes had me sitting on the edge of my seat even though its one of those fancy new theater La-Z-Boy recliners. Throttle — brake — throttle!
It's got some funny parts in all the right places and the dialog is a dream. Note to Hollywood: make more movies like this!
Oops. Sorry, was I yelling out loud? Good.
The cars are great: Cobras, GT-40s, Ferraris and Mustangs. The setting and scenes are terrific.
Haven't you bought your ticket yet!?
Published in Sports