During this long break of the Paschal season, which ends with the Ascension, I thought I would turn to another iconographic theme post, similar to my essay on why we have icons in the first place, and specifically of Christ, and discuss what may be the most popular icon type (in terms of numbers of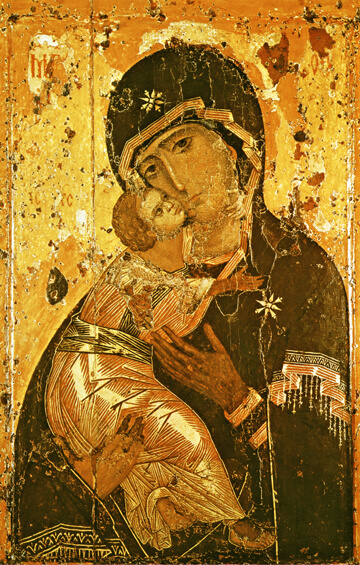 icons): The Theotokos, Mary, the mother of Jesus. Next to Jesus Christ, the second person of the Trinity, no other person is so highly venerated within Orthodox or Catholic churches. Due to the length of this subject, this essay will be in two parts. In the first part, I discuss why she is so highly esteemed, from both historical / traditional reasons, and from experiential reasons. In the second part I will present a sampling of the major forms her icons take, and by what names they are called.
At the outset it bears noting that, outside of Orthodoxy and Catholicism, Mary is rather a controversial figure. Within the Protestant churches, aside from the more liturgical Lutherans and Anglican / Episcopalians, Mary is rarely mentioned aside from Christmas, and traditional understandings of Mary (that she had herself no further children, that she was far younger than Joseph, and that she was taken up bodily like Enoch) are disputed. This is somewhat surprising as both Martin Luther and John Calvin esteemed her greatly, and for all else over which they broke with Rome, on these they remained in agreement. For inquirers into either Orthodoxy or Catholicism, the veneration of Mary remains stumbling block – not just for the imagery all over the churches, but for the liturgical prayers and entire feast days dedicated to Mary. For anyone coming from a church where In Christ Alone is a popular praise song, encountering Mary face to face is jarring, and may feel heretical or bordering on pagan. This need not be the case.
More