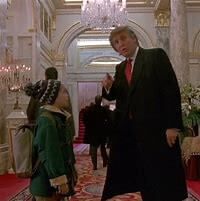 "He does not live in men's hearts one day of the year, but in all days of the year. You have chosen not to seek Him in your heart. Therefore, you will come with me and seek Him in the hearts of men of goodwill." 
A Christmas Carol, 1951, with Alistair Sim.
The holiday decorations are put away, except for the greenery, the sprigs of fresh spruce, pine cones, and red berries. I have to leave a few things to overcome the shock of no more sparkling gold lights, glittery ornaments, decorated lamp post, even "a candle in the window". My favorite holiday is tucked away for another year. So I am counting down, only 359 days til Christmas!
More