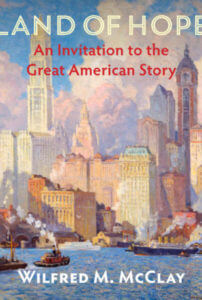 It's about time! Wilfred M. McClay has decided it's time to take back history from the dominance of Howard Zinn, who disparaged America in his history books and wrote with an extreme, Leftist perspective. His books still dominate the market; his publisher claims over two million in sales (nine years after Zinn died). Although Professor McClay will not be able to change the history education of our children overnight, he has taken a major step in providing a balanced view of American History.
In an Opinion piece in the Wall Street Journal (it may be behind a pay wall so I cite a number of other articles here), McClay decries the current state of history textbooks:
'They're completely unreadable because they're assembled by committee, by graduate students who write little bits and pieces of them. I'm not convinced that most of the textbooks that have the names of very eminent historians on the cover were actually read by them, let alone written by them.'

There are also the committees that approve them—state and local school boards, which answer to a variety of 'stakeholders.' Members of every racial, cultural and religious group want a say in how they and events important to them are described. Mr. McClay opted to dispense with that process, and 'Land of Hope"' is being published by a conservative house, Encounter Books.
So what makes McClay's writing so special?
McClay also focuses on America as a story—something that is more than the sum of its parts—with threads that run through the narrative and tie it together: individual liberty, self-reliance, and relentless optimism. Because of this focus, Land of Hope is more than just a list of dates, battles, and important people. It also contains poetry (including Robert Frost's "And All We Call American"), excerpts from literature (a large section on the American essayist Ralph Waldo Emerson, for example), and even music (including the lyrics of "WPA," a satiric song by the Mills Brothers and jazz great Louis Armstrong).

Of course, it also includes all the obligatory history book stock features: maps of the country as it evolved from 13 colonies to 50 states, excerpts from famous speeches, and important political changes. They are woven into America's story to provide the rich detail that makes history interesting.
He also explains the pathetic job that historians have done in trying to make American history come alive:
What gets him most riled up is what he sees as an abdication. 'When you teach an introductory course in American history," he says, 'you really have a responsibility. . . to reflect in some way the national story, in a way that is conducive to the development of the outlook and skills of a citizen—of an engaged, patriotic, serious citizen.' Most professional historians don't 'take that mandate very seriously at all,' and instead provide 'a basically negative understanding of American history.'
Today's history books are tedious, with lists of events, dates, and ideas that are supposed to be memorized, without understanding the context or the times.
McClay also understands the dilemma of young scholars who want to find a place in the academic world but are faced with many barriers simply because they are Christian or conservative or both; he also knows that the environment will be slow to change.
Most conservatives realize that our education system has been hijacked by the political Left, and there is little effort to provide a deep and balanced view of our own history. We realize that, to take back the system, we will need to make inroads one book, one teacher, one school, one proponent at a time.
I'll end with this quote that I think demonstrates Professor McClay's role in this effort This article shares a powerful quote by Professor Mark Bauerlein:
This book is THE antidote to abysmal levels of historical knowledge our high school graduates possess. History bores them; the textbooks are dreary; lessons play up guilt and identity politics. It turns them off. They want powerful tales and momentous events, genuine heroes and villains, too—an accurate but stirring rendition of the past. This is Bill McClay's Land of Hope, a superb historian's version of the American story, in lively prose spiced with keen analysis and compelling drama. Every school that assigns this book will see students' eyes brighten when the Civil War comes up, the Progressive Era, the Depression, Civil Rights…The kids want an authentic, meaningful heritage, a usable past. McClay makes it real.
I can't wait to receive my copy!
Postscript: After completing this post, I saw that Powerline and Steve Hayward interviewed McClay. You can hear it here