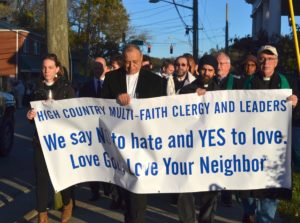 After two synagogue shootings, a local Episcopalian priest joined forces with the Rabbi and other left-to-moderate clergy to encourage solidarity in spite of differences in beliefs. Soon campaign size white signs appeared upon the lawns of many in our little mountain community that say "Say No To Hate. Say Yes To Love. Love God. Love Your Neighbor." After much thought and a couple of revisions, here are my thoughts that will likely be a letter to the editor:
The recent proliferation of the "Say Yes to Love Say No to Hate" signs are controversial because we are at a cultural moment where the various factions of our society no longer agree on what love and hate, or good and evil, consists of. A conspiratorial reading of the signs may be that love means "accept all narratives of LGBT advocacy groups without question" while hate means "voting for Donald Trump" or "robbing a woman of the same autonomy men have by advocating for the unborn."
Such a reading might be excused due to the way political parties have historically used euphemistic phrases that obscure specifics for political gain – love wins, women's health, build the wall. But, in fairness, the signs say nothing of the sort.
Herein lies the problem. The first two lines of the signs don't really say much of anything at all – at least nothing anyone would disagree since the vast majority of people don't consider themselves haters. If it is pointed towards mass shooters, it seems futile to see "yes to love, no to hate" Facebook memes as a meaningful strategy to recover isolated young men lost in their own heads of poisonous ideology or nihilism.
Further, the signs provide no specific message against what prompted the campaign in the first place: the antisemitic sympathies denying Jews' rights to exist and worship that resulted in synagogue shootings. Rather we are left with words more akin to a pious garden ornament keeping company with "Blessed!" and "Believe!"
Nevertheless, there is weight behind the second half of the sign "Love God, Love Your Neighbor" only if one is willing to delve into the context.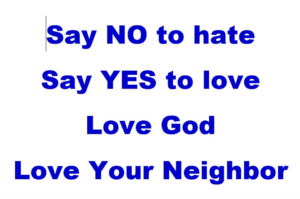 Love in a Christian sense is less of an emotion or a political ideology but the "willing the good of the other" — even those who are violently on the other side. It is less focused on affirming the beliefs and virtues of one's own tribe but actively seeking the good for those who withstand you – your enemy.
"Love your enemies and pray for those who persecute you," says Jesus and, to our perplexion, teaches, "For if you love those who love you, what reward do you have?"
If we truly understood the import of the Law quoted at the end of those little white signs, it would cut against our tribal boasting and demeaning of the other side, it would dissipate our Twitter outrage and humble us towards seeing others created in the image of God; it would pull the rug out of the need for our side to win and replace it with the willingness to serve; it would force us to pray with earnestness for grace to change our hearts and grant us the capacity to live rightly and unnaturally in this very odd and contrary Kingdom Jesus speaks about.
But if the sign is easy to pluck onto the lawn without much turmoil of heart and the troubling need to change oneself, we've spectacularly missed Jesus' point. The signs then become nothing more than pious garden ornaments set out in Pharisaical hopes that the other tribe can learn to think more like us when they drive by.