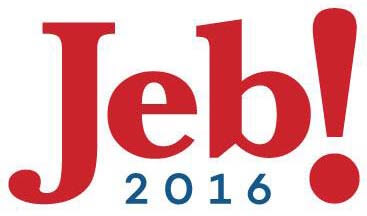 John Ellis Bush, a.k.a. Jeb, tweeted out his campaign logo Sunday; an amuse–bouche before the big campaign announcement. The reaction was not positive, though I've yet to see presidential branding highly praised in the online fever swamps.
As a graphic designer, I'm often asked what I think of various campaign logos. Reactions usually span from "meh" to "that's atrocious" and Jeb's entry falls betwixt the two. I rather like the Baskerville Bold font for the "Jeb" and the Hypatia variant for "2016."
But that exclamation mark.
In a company logo, this punctuation can imply playfulness, a la Yahoo! But adding an exclamation mark to a candidate's name is a screaming admission he is boring. Worse still, adding !!! can't generate excitement if the subject does not. "Cabbage!" doesn't make me want to eat the stuff.
Granted, Jeb has used this formula since his first gubernatorial campaign, but it's not 1994 anymore. And it's not as if the punctuation is a winner electorally. Let's review every presidential candidate who tried the !.
| | |
| --- | --- |
|   | In 1968, Nelson Rockefeller ran a stealth campaign, hinting he was the best candidate for the Republican nomination! Richard Nixon won the nomination on the first ballot! |
|   | In 1972, Edmund Muskie was the strong favorite to win the Democratic nomination! After barely eking out wins in Iowa and New Hampshire, the party dumped him for George McGovern! (When McGovern is viewed as the exciting candidate, you have a problem!) |
|   | In 1996, Lamar Alexander finished third in Iowa and New Hampshire, after which he dropped out! In 2000, he took dusted off the exclamation mark and tried again, this time quitting after the Ames Straw Poll! |
|   | Sen. Paul Wellstone began touring early primary states to test the waters for a 2000 run! Despite the impressive punctuation, he didn't have enough support to officially announce his candidacy! (Aren't all these exclamation marks annoying?!) |
What unifies these four candidates is their dullness and their failure. It remains to be seen if Jeb's exclamation mark can ignite the passions of a weary nation, but history indicates he'd have been better off using a period.